Most people can't get their hands on the COVID-19 vaccine given the strict eligibility standards and limited supply of doses.
Then there's the concern that after the first dose, the second dose won't be available — both the Pfizer and Moderna vaccines require two shots, given several weeks apart.
Not to worry, says Chicago Department of Public Health Commissioner Dr. Allison Arwady: When someone gets their first shot, the city provides them with a QR code to sign up for their second shot.
But the city is having challenges with that system.
"We've been seeing people share that QR code, which is designed for second doses, inappropriately — with friends, with family. And then we get people coming in trying to take up our second dose slots to get their first dose," Arwady said Tuesday.
The city has "ways to track that" and requires people receiving the vaccine to certify that they are among those eligible under the current 1A or 1B phases, such as health care and essential workers, and those ages 65 and older.
"But I can't emphasize enough, please do not try to game the system. Please do not try to share if you get a code or you get an appointment that's been directed for you," Arwady said. "When you share that, or if you feel like, 'Oh, I've found a secret way to get this,' like off a message board or something, all you're doing is extra work for the health department or for the people who are trying to get vaccine, who need to make sure people get those second doses on time."
Demand outstripping supply is but one of the challenges with the vaccine rollout.
There's concern that white people are getting vaccinated at higher rates than people of color; there's also confusion surrounding where to get the shot; and librarians, restaurant servers, college food service employees and university faculty who can't work remotely are upset they won't be eligible until the 1C phase. Also, Illinois was slow in getting vaccines into the arms of residents of long-term care facilities.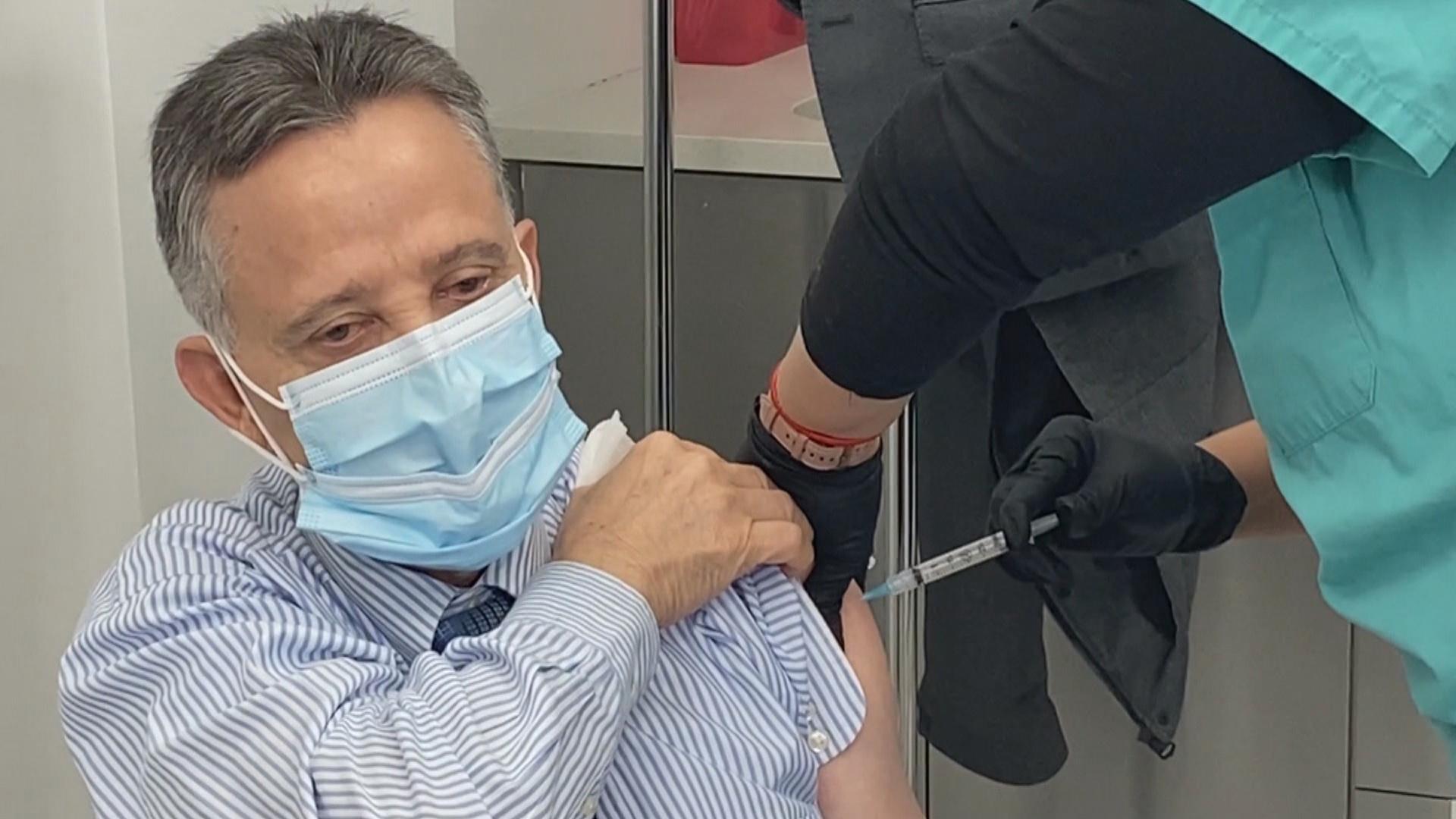 (WTTW News)
CVS and Walgreens were contracted by the feds to give vaccinations in long-term care and assisted living facilities.
During a panel hosted Tuesday by the Executives' Club of Chicago, Walgreens President John Standley said the program's on track for completion by mid-April.
Getting it done required coordinating with nursing homes over the holidays, building an ultra-cold storage supply chain to store and transfer the vaccine, and training 27,000 pharmacists.
Giving the shot "takes special gloves and procedures, monitoring the storage very carefully to make sure it stays at temperature, and then go through a very careful defrosting and mixing procedure prior to vaccinating patients. We had to build all those processes out across the entire chain, across the entire country," Standley said.
The coordination between the federal government, local public health departments and private business is complex, says Dr. Matthew Hepburn, the Department of Defense's lead on Operation Ward Speed.
"We should marvel at how difficult that task is, to do in the setting of a pandemic, in the setting of an emergency," Hepburn said.
The goal isn't just to get it done, it's to get as much of the American public vaccinated as possible, and to do it in record time.
Still, the wait can feel excruciatingly long for those who want the shot but can't get it.
The short supply of vaccine is why Chicago hasn't opened any mass vaccination sites, Arwady said.
She said Chicago will open mass vaccination sites when there's more vaccine; come spring, it'll also be warm enough for people to practice social distancing outdoors.
Hepburn didn't share anything more about when vaccine production and distribution may ramp up, but he said efforts are already in the works should a variant strain of the coronavirus necessitate something like a booster shot.
He compared it to a movie sequel.
"A lot of times the sequel's not as good as the original, I get that. But did you like 'Empire Strikes Back' better, did you like 'Godfather II' better than 'Godfather I'? The sequel, I think, is going to be better this time," Hepburn said. "Because we've actually learned the lessons, for RNA as example, to say look how fast we could go. As fast as we went, we can go faster."
The doctors also say that when the pandemic is finally over, the systems put in place to deal with COVID-19 can be redirected toward outreach to help end other long-term health care issues.
But first, the focus is on getting people vaccinated against COVID-19.
Walgreens and Uber formed a new partnership in which people in underserved communities can get free rides to Walgreens pharmacies and vaccination clinics.
Standley said Chicago is one of the markets where the pilot program will debut.
Follow Amanda Vinicky on Twitter: @AmandaVinicky
---