The first round of COVID-19 vaccination administration to skilled nursing homes in Illinois is complete, and assisted living sites are set to finish their first round by Feb. 15. 
This comes just over a month into the state's vaccine rollout to long-term care facilities, which has been criticized for its slow progress.
Long-term care facilities in Illinois have been allocated 496,100 doses, but only 163,592 have been administered, according to the latest data available from the Illinois Department of Public Health. That's about a third of the allocated doses. 
The Centers for Disease Control and Prevention has partnered with CVS, Walgreens and Managed Health Care Associations to distribute vaccines to long-term care facilities. It's a federal program called the Pharmacy Partnership for Long-Term Care Program. 
"That's not a crazy idea," said Tamara Konetzka, a professor who studies long-term care at the University of Chicago. "It's good to have economies of scale, and to have the same company doing it over and over and over. That should probably produce some efficiencies, but I think they've probably reached some capacity constraints. It's hard to have enough personal to get through all of the long term care facilities in this country."
It may be too early to tell if vaccinations have directly contributed to a decrease in COVID-19 infections and deaths in nursing homes, she said. 
"We certainly expect dramatic decreases in cases and deaths in nursing homes as the vaccine gets rolled out," Konetzka said. "I think it's actually still a little too soon to see that in the data."
Not all nursing home residents have gotten their second dose, and there are other long-term care facilities that need to get vaccinated, she said.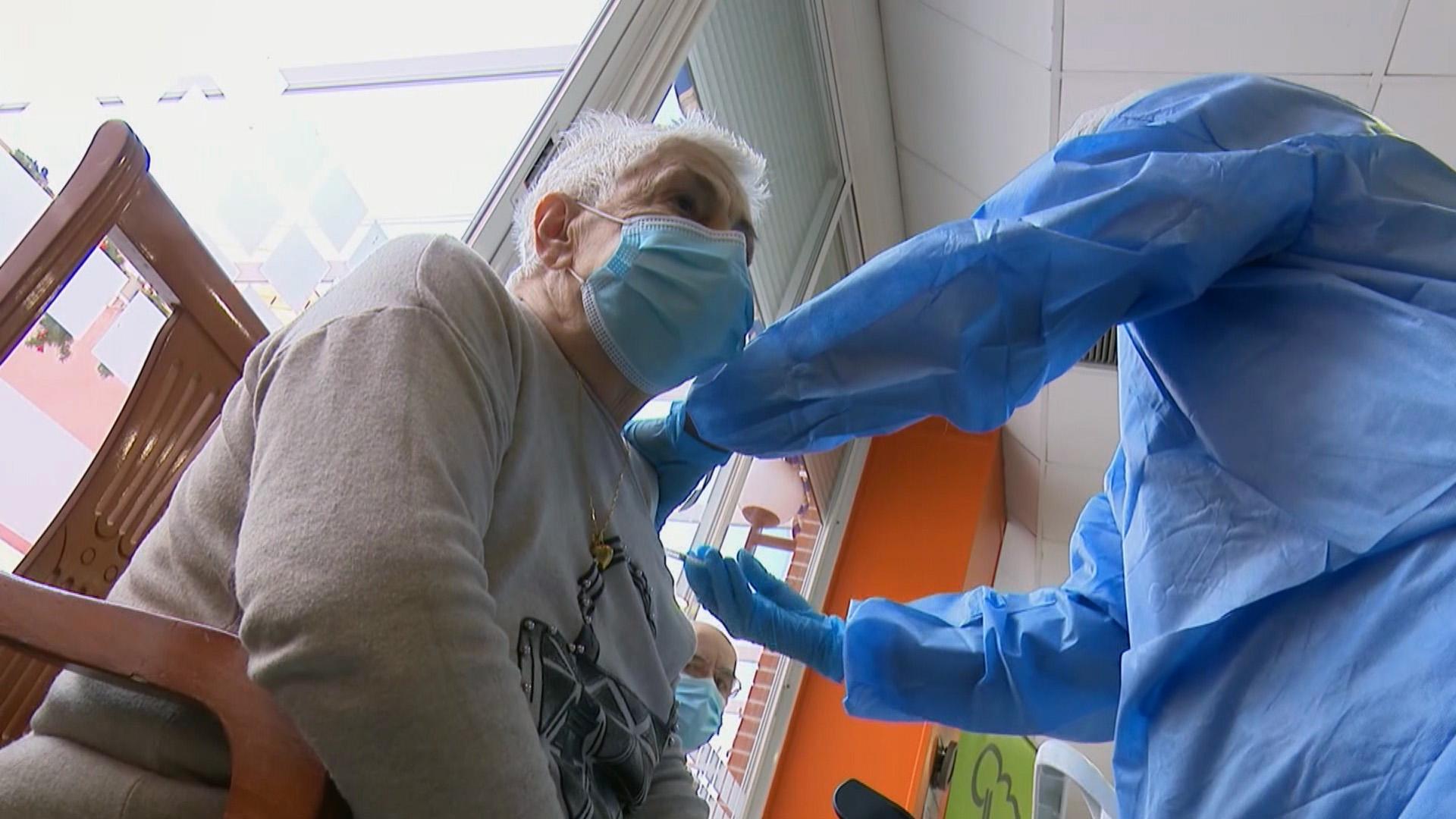 (WTTW News via CNN)
Data from the CDC shows nursing home staff members appear to be hesitant to get the vaccine. 
The CDC reviewed more than 11,000 nursing homes and skilled nursing home facilities that hosted at least one vaccine clinic between the middle of December and the middle of January. 
Data shows that while 78% of residents offered the vaccine have gotten it, and about 37.5% of staff members offered the vaccine have. 
Dr. Rajeev Kumar said he is seeing similar rates of hesitancy among staff in his facilities. He's the medical director at two suburban facilities: Burgess Square Healthcare and Rehab Centre in Westmont and Plymouth Place in La Grange.
Roughly 90% of residents have chosen to be vaccinated, while about 40% to 50% of staff have, Kumar said
"It goes back to the composition of our staff," Kumar said. "The front-line staff are made up of ethnic minorities and our country has had a long history of inequities, health and social, and also a history of governmental distrust. All of this combined together with the prevailing misinformation in the community … a lot of people are questioning these vaccines, and that has trickled down to our front line health care staff."
However, after nearly 11 months of the pandemic, residents who have received the vaccine are feeling optimistic, he said. 
"Hope is prevailing," Kumar said. "Residents are overjoyed. They know now that there is a light at the end of the tunnel." 
---