Chicago Public Schools and Chicago Teachers Union negotiators spent Tuesday back at the bargaining table and will continue talking into the evening as they attempt to reach an agreement on how to reopen schools safely for the first time since the coronavirus forced students and teachers into remote learning 10 and 1/2 months ago.
"It is critical that we work through the remaining issues in a timely manner so that our families and staff can fully focus on the high quality education our students deserve," Mayor Lori Lightfoot and CPS CEO Janice Jackson said in a statement Tuesday night.
Districts and teachers throughout the Chicago area have likewise worked to broker agreements, to varying degrees of success: Morton High School District 201 on Tuesday filed an unfair labor practice charge, while a hearing was held Tuesday morning on an unfair labor practice charge previously filed by Cicero District 99. Meanwhile, elementary and middle schools in Oak Park reopened Monday with the approval of the union representing District 97 teachers and staff. District 300, which encompasses schools in Algonquin, Dundee, Carpentersville and Hampshire, have, with the union's blessing, had students back in school since mid-January.
Anthony LaCivita teaches world history to Morton East freshman — they're currently studying the Middle Ages.
"Difficult topic, the Black Death, because it's so close to some of these kids. But there's some very, very good comparisons —comparisons and contracts — about the way people are behaving towards it and the way we're behaving towards it today," he said.
LaCivita, president of West Suburban Teachers Union, Illinois Federation of Teachers Local 571,  said while teachers have been back in their buildings since mid-January, it's mostly been without students.
Per an agreement with the district, teachers held office hours that a students could attend, and students who needed internet access could go to common areas, like cafeterias, at schools.
But the union members, he said, are not on board with the district's reopening plan, which had in-person classes resume Tuesday, prompting the unfair labor agreement charge.
"There's some ventilation issues that we had concerns about and still have concerns about. And a metric, we want to discuss what a metric would look like that would cause the district to return to remote," he said.
Those are similar to the top-of-mind issues for members of the Cicero Council of the West Suburban Teachers Union. 
"Cicero is a predominately Latinx community. Low-income. They don't have necessarily the same access to health care as other communities do. And Cicero has really been hit hard by the COVID pandemic, in the fall we were 25% positivity rates all across the city," said council president Rachel Esposito.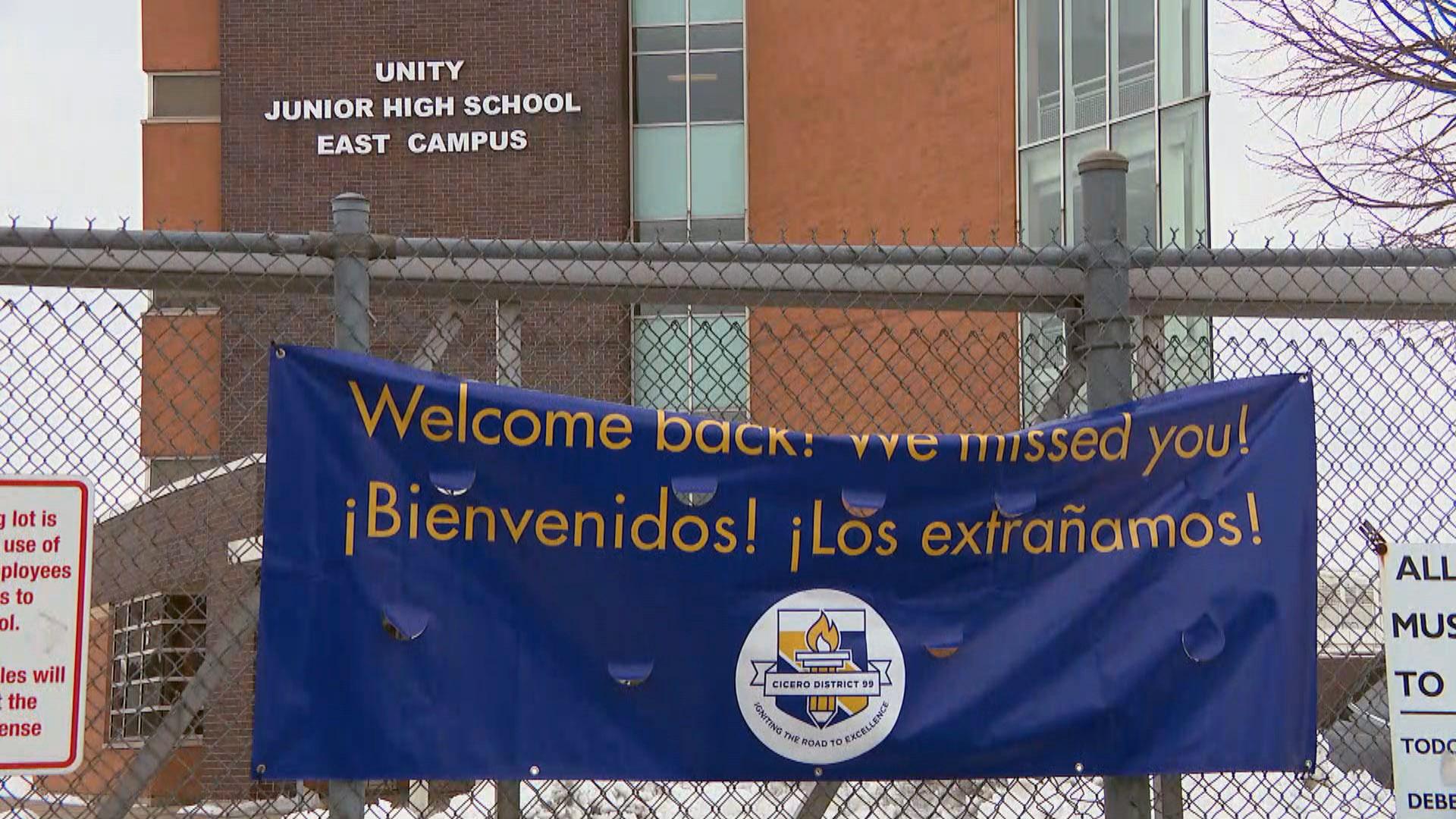 (WTTW News)
As of Tuesday night, there was no word on the result of the Cicero teachers hearing earlier in the day.
"Our hope is that we will be able to have some sort of mediation with the district to be able to work out this MOU, this memo of understanding," she said.
Among the union's requests: A metric, so that if the community spread of the virus is high, there won't be in-person school (the union has proposed in-person learning once the 14-day average positivity rate is below 8%), and bringing in a professional to perform a hazard analysis on the ventilation system.
Esposito, a junior high language arts teacher, is among those who have refused to return to the classroom, prompting verbal and written warnings from the district, she said.
"I am one of the individuals that said no, so I've been teaching from home — from the safety of my home — since the beginning of the school year," she said.
Local Education Association of District 300 (LEAD, the local Illinois Education Association/IEA chapter) President Michael Williamson said every day feels somewhat like walking on eggshells since schools in Algonquin, Carpentersville, Dundee and Hampshire returned mid-January, but he credits the district with having the money and staff to retrofit buildings and to perform a robust contract tracing operation. 
Some of the union's teachers have already received the coronavirus vaccine after local medical centers and hospitals had leftover doses; large-scale teacher and staff vaccinations are planned for this month.
For high school students it's a hybrid model — some days in school, other days remote. "Some kids are there on Monday and Wednesday and others that are there on Tuesday and Thursday," Williamson said. "And we are doing live and synchronous at the same time, so hats off to teachers who can pull this off. It's like being in two classrooms at the same time."
"Synchronous" means that teachers are simultaneously giving lessons to students physically at their (socially distanced) desks as well as to students who, by choice or because it's their day to be virtual, are learning remotely.
Elementary classes are kept to 20 students, maximum.
"If possible they're back full time, if the class can't be made smaller than 20 then they might be on a hybrid model too," Williamson said.
Passing periods between classes had to be lengthened to give students and staff time to make the revised hallway circuit.
Group work, once encouraged among students, isn't feasible.
"We've had to redo cafeterias with plastic dividers between where each of the kids sit, and depending on the population that comes you sit them several seats apart from each other. It's a very different environment," he said. "As far as high schools go, there's not really anything you can do to help having people in a hallway. But if you can direct people so they're all going in the same direction, and everybody's wearing the masks that they need to wear, and you know, not signing or yelling or whatever — which was kind of what was interesting about hallways in the first place — so hallways are kind of directed now."
Oak Park social worker and Oak Park Teachers Association co-president Hannah Boudreau also says the hallways have been quiet these past couple of days since students came back Feb. 1.
She said students have been "following the rules, staying social distanced.
"Even gentle reminders when they start to cluster — cause they're excited to see each other; I'm excited to see them, you know!" she said. "Super compliant, super cooperative."
Sixth grade science teacher and OPTA co-president Lary Grimaldi couldn't greet his students in person this week, given that he's in quarantine due to close contact with someone COVID-19 positive.
But he says part of the agreement the district reached with the IEA chapter was that teachers in a position like his could continue remotely.
A substitute teacher monitors the in-person students while he's teaching remotely via a large screen at the front of the class.
"Even though I can't be with them in person, I'm still with them and I'm still leading the instruction," he said. "It's hard to get them to kind of come out of their comfort zone in this new situation, but I'm still with them … and we're learning. And that was the goal, is to get these kids in and learn and get them structured. And that's what's happened."
He supports CTU members for pressing their demands.
In Oak Park's case, he says, administrators have gone out of their way to work with the union, to reach an agreement, and to work out any kinks.
Local donors also fundraised thousands to buy teachers and staff KN95 masks.
"I get it, they want their members to be safe," Grimaldi said. "We fought really hard to make sure absolutely everything was in place safety-wise. Did everything work without a hitch yesterday? No. Of course not. But we worked through it. Our admin teams worked through it with us."
Follow Amanda Vinicky on Twitter: @AmandaVinicky
---