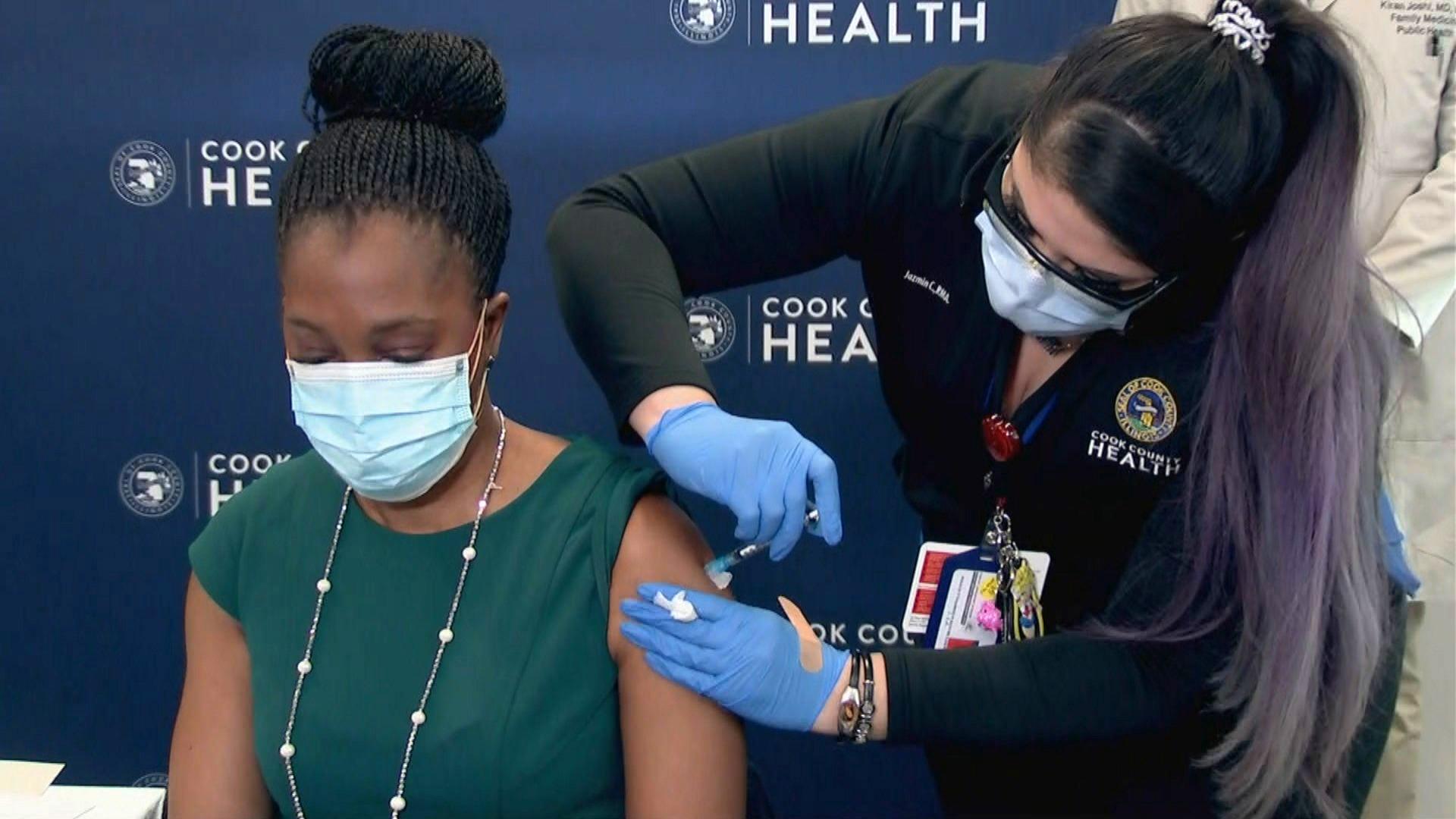 Illinois Department of Public Health Director Dr. Ngozi Ezike receives her first dose of the Pfizer COVID-19 vaccine on Tuesday, Jan. 12, 2021 at the North Riverside Health Center. (WTTW News)
In the 12 months since Illinois identified its first case of COVID-19, more than 1.1 million infections have been reported in the state and 18,750 people have died after testing positive for the virus.
To mark that grim anniversary, Illinois Department of Public Health Director Dr. Ngozi Ezike is reminding everyone to wear masks and take other actions aimed at slowing the spread of the virus, even as the state relaxes restrictions in many regions and moves into the next phase of its vaccination efforts.
Illinois is reporting more than 500 deaths each week and thousands of new infections, while new variants "have the power to cause more infections, and potentially even more deaths," Ezike said in a 3-minute video posted to Facebook on Sunday, one year after a Chicago woman became the first person in Illinois and the second person in the U.S. to have a confirmed case of COVID-19.
"We have to double down on things that we know work," she said. "Vaccines won't get us out of this by itself. There aren't enough vaccines. They're not coming in fast enough at this time."
According to the latest IDPH data, more than 680,000 COVID-19 vaccination doses have been administered in Illinois, with about 136,000 people so far receiving both doses of the vaccine — 1.07% of the state's population.
IDPH on Saturday announced that limited indoor dining and drinking can resume at bars and restaurants in Chicago and suburban Cook County, a much-anticipated move into what the state calls Tier 1 of its reopening plan. 
Tier 1 also loosens capacity restrictions at retail stores and other businesses, expands indoor fitness class sizes and allows more youth sports to restart games and practices, according to the state's rules.
To move to the next level of restrictions, referred to as phase 4, a region must average a test positivity rate of 6.5% or less for three consecutive days, based on the seven-day rolling average, as well as no increase in COVID-19 hospitalizations for seven out of the past 10 days and more than 20% of its ICU and hospital beds available, according to the rules.
As of Sunday, the statewide test positivity rate is 6.0%, according to IDPH — a week ago, it was 7.1%. 
In both Chicago and suburban Cook County, that rate is 7.2%.
"I know the truth is hard, but I don't want to be here Jan. 24, 2022 issuing this same proclamation," Ezike said Sunday. "Let's all vow to do all that we can to minimize any additional lives that are lost."
---
---