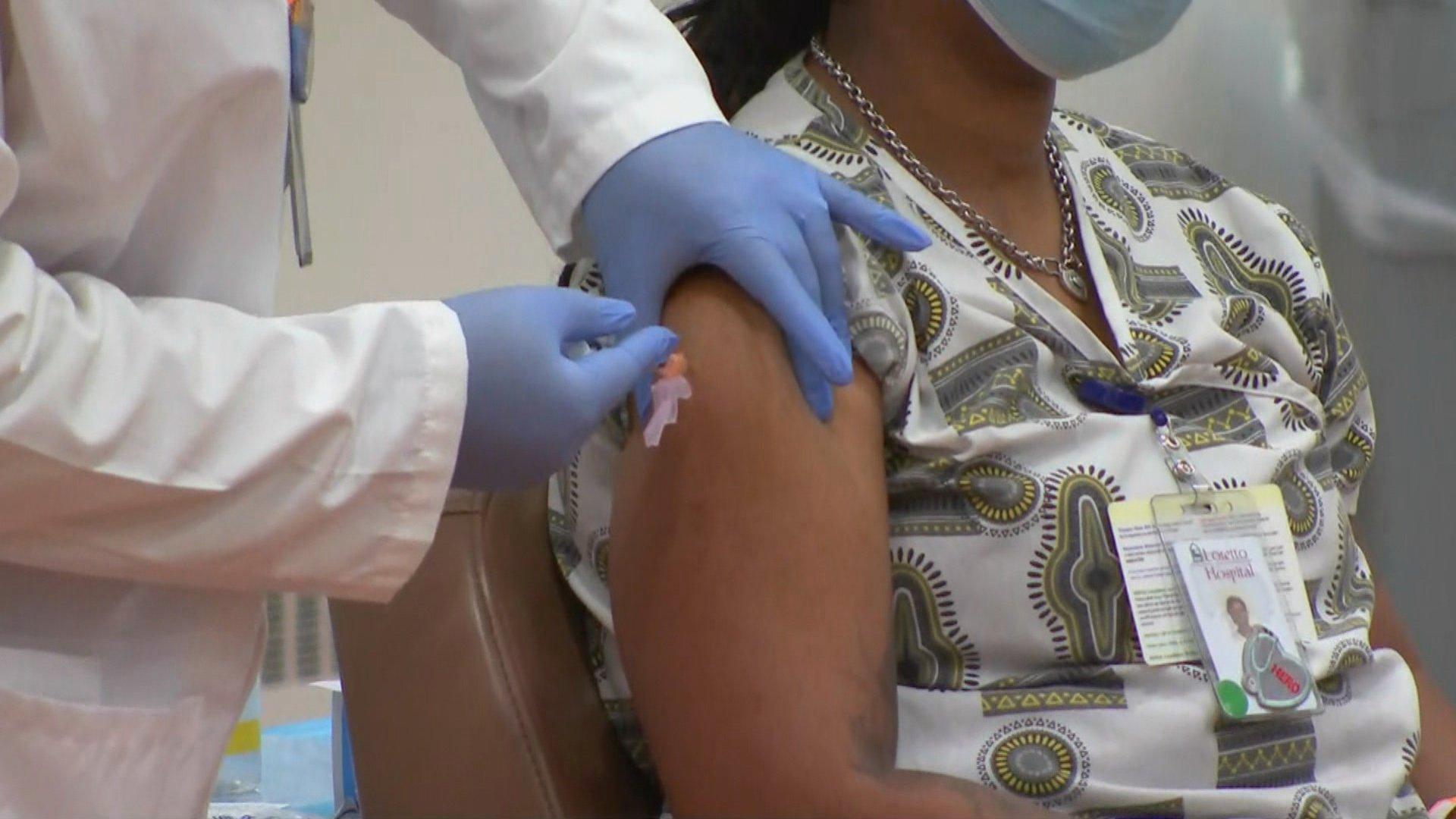 The first doses of the Pfizer vaccine in Chicago were administered at the Loretto Hospital on Tuesday, Dec. 15, 2020. (WTTW News)
The effort to inoculate all 850,000 health care workers and long-term care facility residents in Illinois from COVID-19 will be "substantially complete" next week, Gov. J.B. Pritzker announced Friday.
That will allow health departments across the state to begin the next phase of the vaccination effort on Jan. 25, which will allow Illinois residents 65 and older as well as front-line essential workers to get doses of the coveted vaccine, Pritzker said.
There are 1.3 million essential workers in Illinois, including police officers, grocery store workers, transit workers and child care providers. Another 1.9 million Illinois residents are 65 or older, according to data provided by the state.
Local health departments who have "substantially completed" efforts to vaccinate health care workers and long-term care facility residents can start vaccinating Illinois residents 65 and older as well as essential workers immediately "to leave no vaccine on the shelves," according to a statement from the governor's office.
City health officials will allow Chicagoans 65 and older to be vaccinated against COVID-19 starting Monday — if there are doses available after health care workers and residents of long-term care facilities are vaccinated, officials said.
The city's guidance for health care workers encourages doctors to prioritize older Chicagoans with health issues that put them at risk from severe illness or death from the coronavirus for the first available shots.
Vaccination clinics will open at hundreds of additional pharmacy sites on Monday and the Illinois National Guard will help staff local health department vaccination sites starting Tuesday, according to the governor's statement. Those sites will only vaccinate health care workers for the next week, officials said.
However, members of the guard will be slower to deploy to vaccination sites than planned after Pritzker's decision to send an additional 100 members of the Illinois National Guard to Washington, D.C. to protect the inauguration, joining approximately 200 members of the guard that were previously activated by the governor.
An additional 250 members of the Illinois National Guard will be deployed to protect the Illinois Capitol in Springfield, Pritzker said.
The National Guard will send two teams to two sites in Cook County and partner with St. Clair County to deploy to sites there in the coming weeks, alongside additional deployments statewide, according to the statement.
Chicago officials announced Thursday that the city will have six mass vaccination sites up and running by Tuesday for health care workers.
Only health care workers — including dentists, home aides and morticians — with appointments are eligible to be vaccinated at those sites, officials announced. Registration is available at chicago.gov/covidvax.
In all, Illinois has received 995,000 doses of the COVID-19 vaccine, and 45% have been administered, according to data provided by the Illinois Department of Public Health.
Through Thursday, 66,602 Chicago residents have gotten the first dose of the vaccine, and 22,096 of those people have gotten the second and final dose, according to CDPH data.
Approximately 2.5% of the city's population has gotten at least one dose, according to the data.
Approximately 40% of vaccine doses are going to people who work in Chicago but live elsewhere, officials said.
Contact Heather Cherone: @HeatherCherone | (773) 569-1863 | [email protected]
---