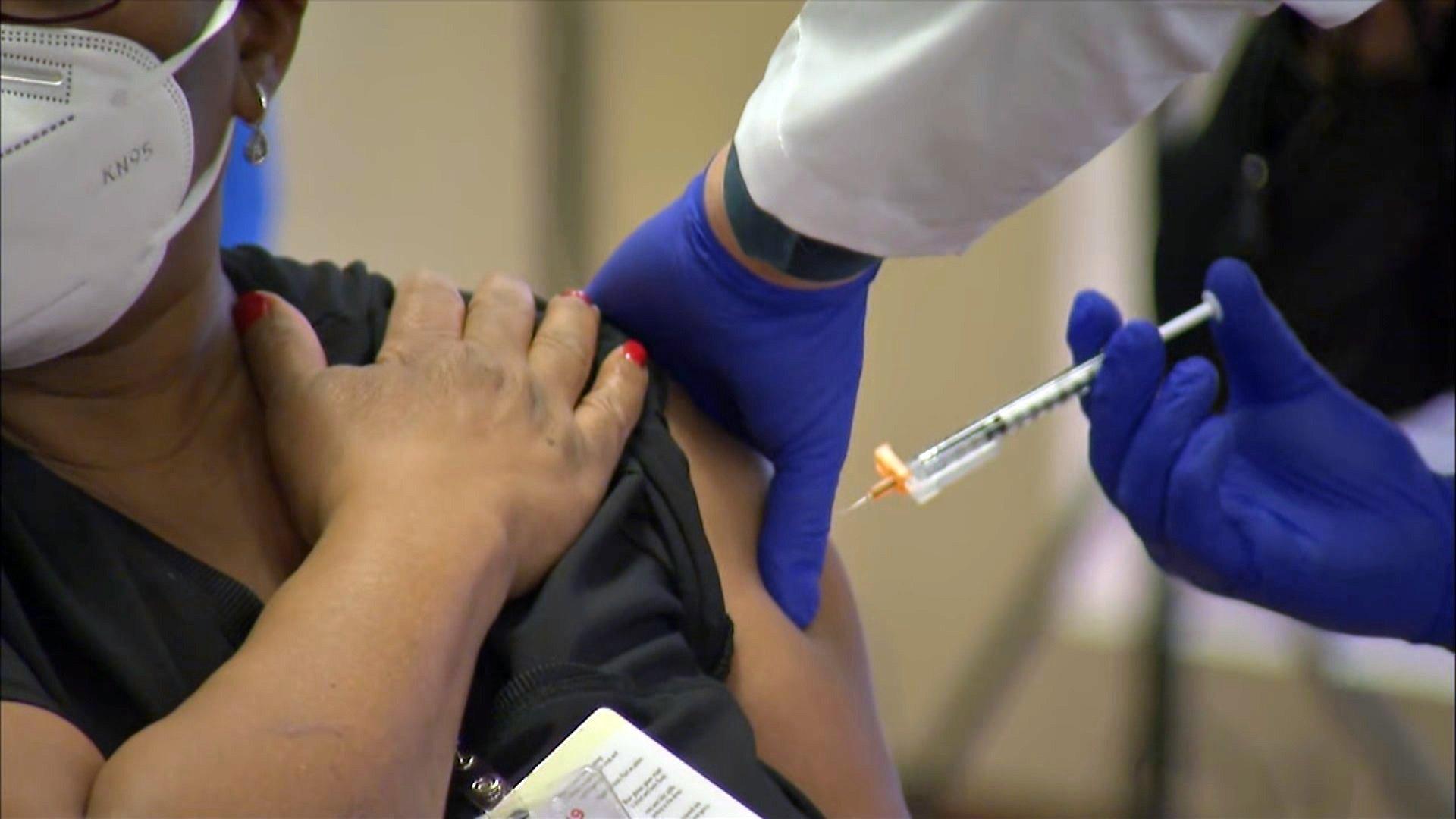 The second doses of the Pfizer vaccine in Chicago were administered at Norwegian American Hospital on Tuesday, Jan. 5, 2021. (WTTW News)
Chicago Public Schools said it plans to begin vaccinating eligible teachers and staff in the middle of next month, when the district expects to begin receiving doses of the COVID-19 vaccine.
"I want to be clear that the ultimate goal is to vaccinate all of our staff members as quickly as possible," CPS CEO Janice Jackson said Friday. "Since last spring we have worked as one district — students, teachers, staff and parents — to overcome all of the challenges that COVID-19 has presented us. Today marks one of our first (glimpses) at the future with this pandemic behind us."
The state of Illinois is expanding vaccine eligibility on Monday, meaning school-based staff and other front-line employees will be able to start getting inoculated, though vaccine availability ultimately depends on the number of doses the city receives from the federal government.
As part of the city's plan, the Chicago Department of Public Health will start distributing vaccines to CPS beginning in mid-February. The district will then begin a multi-month effort to administer the vaccine through school-based sites for CPS employees. Employees will also be able to independently pursue vaccines through their own healthcare providers or pharmacies.
CPS said it will be setting up four vaccination sites exclusively for its employees.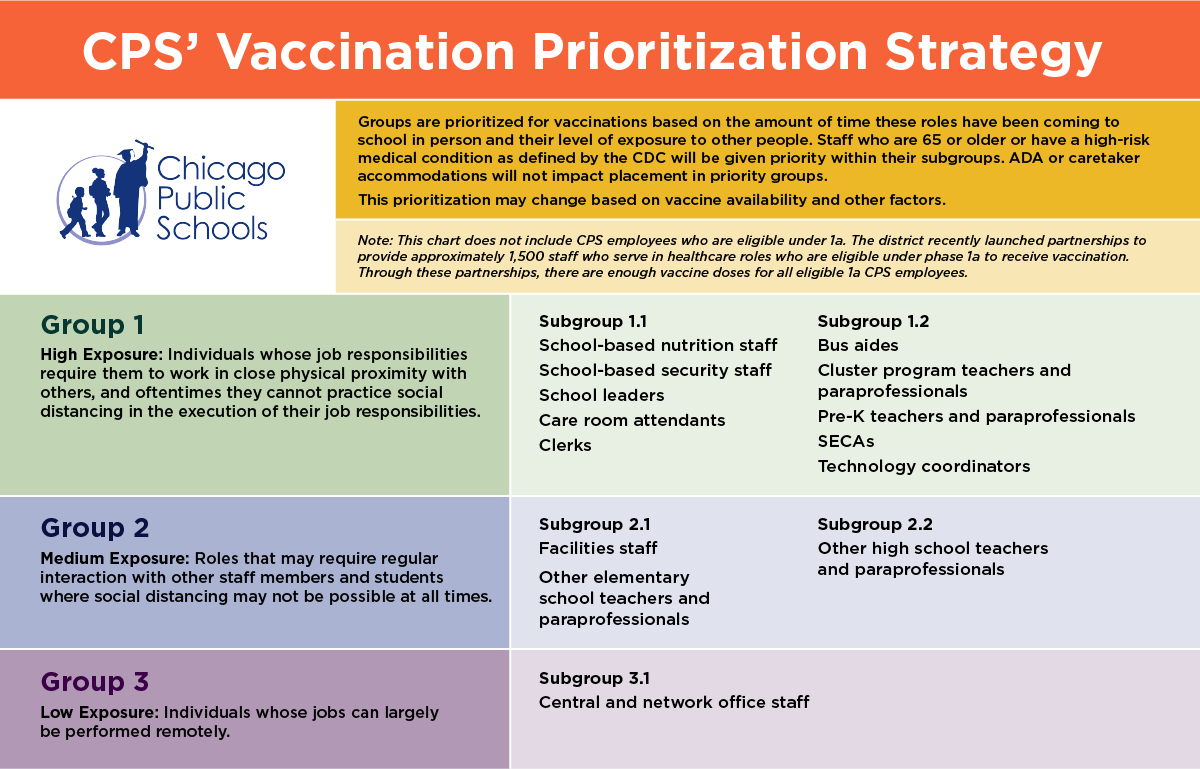 (Chicago Public Schools)
The district will prioritize vaccines for employees based on whether their job requires them to be in close contact with others. For instance, school-based staff such as teachers, clerks and paraprofessionals, will be up first, followed by those who are in contact with fewer people and those who can work remotely.
Even with these plans in place, it will likely take months for all eligible employees to be vaccinated. Beginning Monday, Illinois will move from phase 1a of its vaccine distribution, which prioritized health care workers and long-term care facility residents, into phase 1b. This new phase includes essential workers and residents aged 65 and older.
Dr. Allison Arwady, the commissioner of the Chicago Department of Public Health, said Friday the amount of doses the federal government is sending the city — about 34,000 per week — is miniscule compared to what is needed.
"That sounds like a lot of vaccine," she said, "but 34,000 doses per week have to be spread across more than 360,000 Chicagoans who are over the age of 65 and more than 300,000 front-line essential workers, approximately half of whom are in the education space."
CPS' push to vaccinate its employees comes amid a vote by rank-and-file members of the Chicago Teachers Union that could lead to a strike next week.
Educators will decide on a measure which, if approved, states they will work remotely and not go into schools until the union can reach an agreement with CPS over a safe reopening plan.
"Our commitment remains the same: to protect lives as we work to land an enforceable agreement to safely return to our school buildings," the union said in a statement. "Only Mayor Lightfoot and her team at CPS can trigger a work stoppage. Educators choose safety."
In-person learning officially began last week for some pre-kindergarten and special education cluster program students, but about 70,000 elementary school students are expected back on Feb. 1.
Thousands of educators and school staff have been told to return to their buildings beginning Monday to prep for that return. But the union has consistently pushed back against that plan, saying it's not yet safe to resume in-person learning.
CPS said it has invested more than $100 million to ensure school buildings are safe and has put in place safety protocols like mask wearing and social distancing to help prevent spread of the disease.
Arwady said Chicago's private and parochial schools that have been open for weeks have actually had lower rates of COVID-19 among students and staff than what's been seen in the general community.
CPS said in a letter to its employees Thursday that if teachers don't show up for work Monday, that would constitute an illegal strike. Asked what legal recourse the district could take if that strike does come to pass, Jackson declined to answer stating: "We're not going to discuss our legal strategy at a press conference."
"We will continue to negotiate, we've increased the amount of bargaining (sessions) trying to reach a deal by the end of this weekend, so I'm still optimistic that that could happen," she said. "But I want to be clear, if teachers refuse to come to work on Monday, that is a strike, that is not a lockout."
Contact Matt Masterson: @ByMattMasterson | [email protected] | (773) 509-5431
---