In January 1966, Martin Luther King Jr., his wife Coretta, and their four children moved into a West Side tenement and set to work addressing a major facet in his lifelong battle against poverty: quality affordable housing. His mission was to bring an end to the discriminatory housing practices that forced many Black Chicagoans to live in terrible conditions.
Upon his arrival in Lawndale, King and three civil rights organizations seized a three-flat on south Homan Avenue, where tenants were living with no heat, electricity, or hot water. Though he did so without legal permission, King termed the seizure "supra-legal." He and the building's tenants worked together to make the building livable.
But King's vision for Chicago went far beyond fixing up dilapidated housing. In a 1967 speech, King said, "If there is to be genuine equality, there must be a radical redistribution of economic and political power." 
Two years later, King was preparing to launch the Poor People's Campaign, his movement for economic justice, when he was assassinated. One of the pillars of that campaign reflected his work in Lawndale to secure fair housing, which he saw as crucial to enabling families to lift themselves out of poverty.
Today, the redistribution King hoped for has yet to reach Lawndale.
Though the neighborhood was struggling with poverty when King lived in it, 16th Street was still lined with shops and apartment buildings. Now, vacant lots dominate 16th Street and affordable, quality housing is still in short supply.
Lawndale Christian Development Corporation manages several mixed-income housing developments, among them the Dr. Martin Luther King Legacy Apartments, which stand on the site of the tenant apartment where King lived. Executive director Richard Townsell says that while similar developments have been built across Chicago to good effect, there's more to be done, and it starts at the federal level.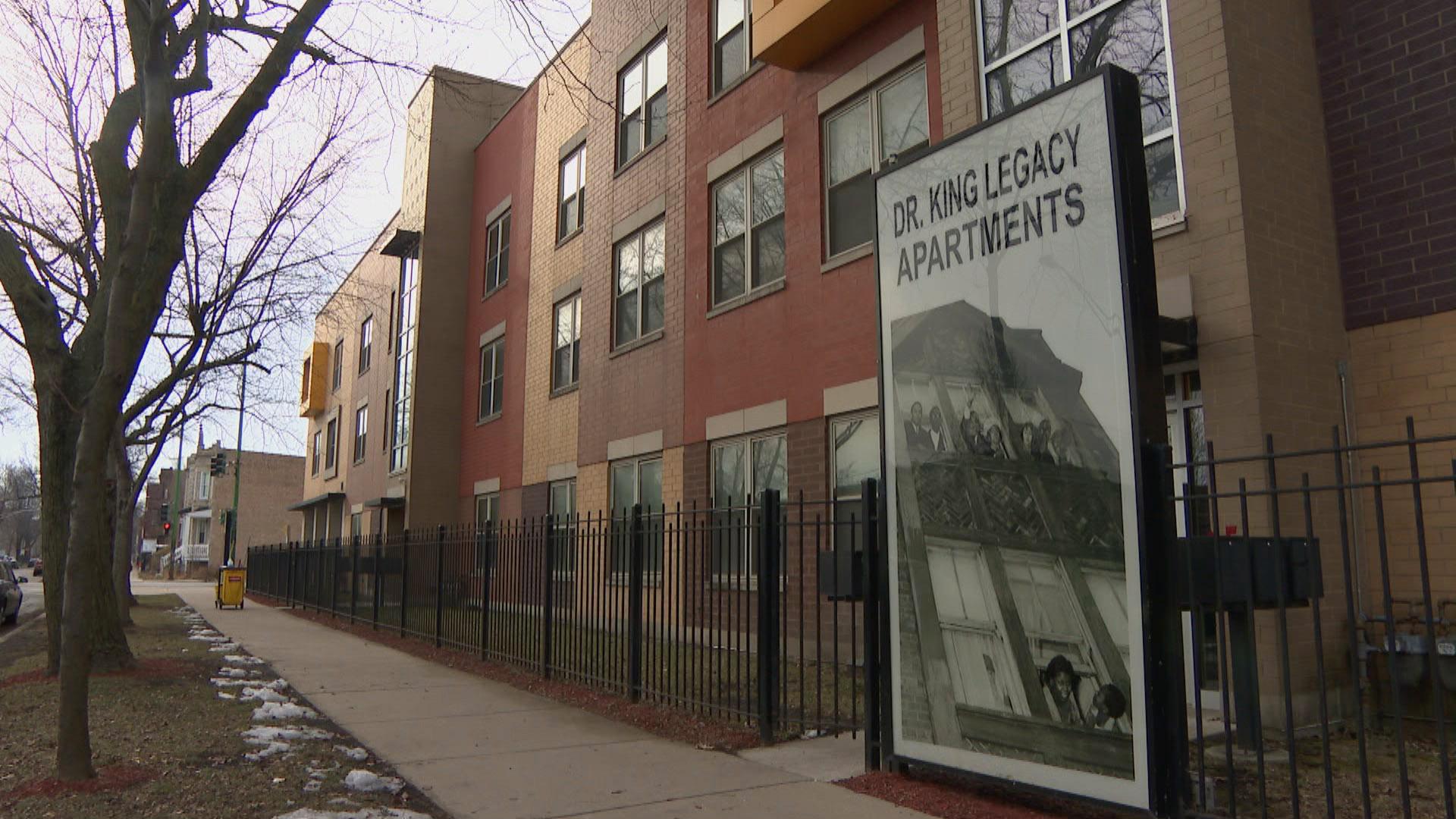 (WTTW News)
"In the same way that Chicago goes after dollars for transportation every year … they have to do the same thing around affordable housing. There is short supply of it," he said. "For every person that wins an award with the Department of Housing to do a development like the Martin Luther King apartments, there are probably 10 or 15 that don't get it. We need resources to do this work."
Townsell says that an upcoming LCDC project is aimed at stabilizing housing in Lawndale via homeownership.
"Our goal is to build 1,000 homes on the South Side and West Sides for working families, and we're working with the city to realize that and start the first 250 homes in North Lawndale," he said.
Wilonda Cannon, senior director of development for faith-based nonprofit Breakthrough Urban Ministries, says that quality, affordable housing can affect people living in poverty. "When a person is housed, they're safe, they're living in a way that's honorable to them," Cannon said. "That impacts everything in their lives."
She recalls how a lack of stable housing cost a friend her job when her employer learned she was sleeping at her workplace. "That's where she would sleep or wash up or things like that. When they found out that she was doing that, she lost her job … that simple thing that many of us take for granted, that's major," she said.
Cannon, who is also a real estate agent, says there is help out there for people who want to purchase homes in communities like North Lawndale. "There is down payment assistance. … Lenders are stepping up," Cannon says. "Get connected with the North Lawndale Homeowners Association, or find out what's going on in your community. Find a real estate professional or lender, and make sure they are educating you about what resources are available."
As a lifelong North Lawndale resident, Cannon says she's optimistic about the future of her neighborhood.
"We want to show that great things do come out of North Lawndale," she says. "There's just nothing like what you experience here in North Lawndale."
---