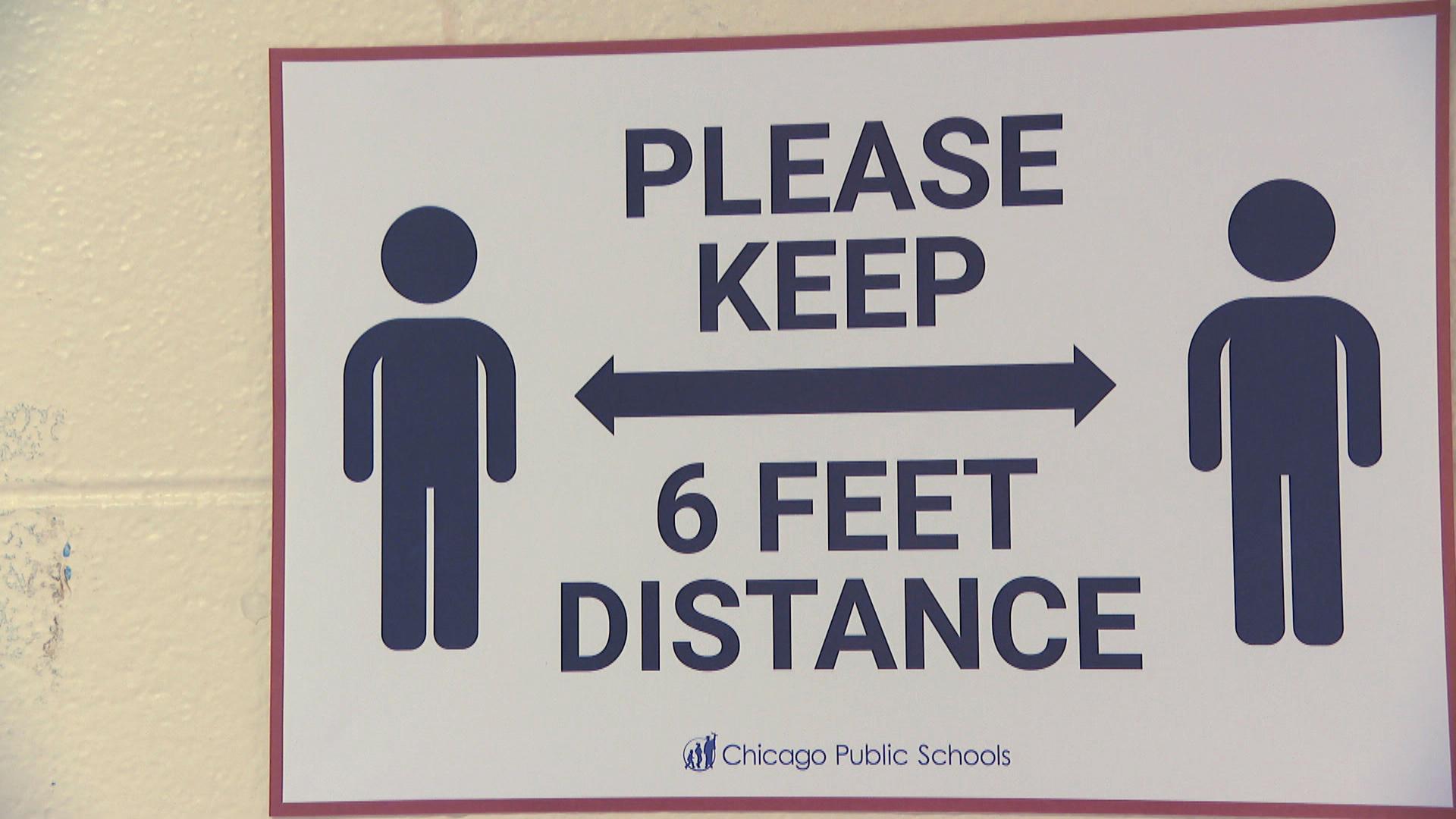 A sign promoting social distancing is shown inside a Chicago Public Schools building. (WTTW News)
The head of Chicago Public Schools said the district is "willing to compromise" on an agreement with the Chicago Teachers Union to safely reopen schools as the first week of in-person learning since last spring comes to a close.
Members of the Chicago Teachers Union gathered at Union Park on Friday morning to call on Chicago Public Schools to reach an agreement with the union on school reopening.
"We're hoping the message gets through to CPS," CTU President Jesse Sharkey said during a press conference Friday. "It's been frustrating."
Chicago teachers closed out the week with a car caravan in support of their colleagues who have been locked out of their Google accounts after refusing to show up to their schools. Some teachers reportedly also used sick or personal days Friday in solidarity with those teachers and support staff who'd been locked out.
CPS CEO Janice Jackson said she didn't have exact numbers on how many teachers were out Friday, but she wasn't aware of any "widespread issues" across the district.
She said parents don't want to "keep score" of the back-and-forth between CPS and CTU, but rather they want a compromise.
"The district's posture is that we're willing to compromise and reach an agreement in order to assuage a lot of the concerns teachers and other staff in the union have expressed to us, but the goal has to be how do we get students back in school?" Jackson said. "We cannot have a discussion or a debate or negotiate whether or not students should be in school."
Sharkey added that he and CPS in the last few days have had "better conversations," but stressed the sides were "really getting down to the 11th hour."
"We need an agreement," he said.
The union has also called on CPS to return access to educators who have been locked out of their teaching accounts. Beginning this week, the district said employees who refused to go to their school as required would be deemed absent without leave, meaning they wouldn't be paid and they would lose access to their Google Classroom and Gmail accounts.
As of Wednesday night, CPS said 100 employees — including 62 teachers — had been labeled as AWOL. That was down from the 143 employees who were absent without leave after Monday.
Currently, only pre-kindergarten and some special education cluster program students have been allowed back into schools.
According to CPS data, 73% of teachers and 78% of all employees who'd been ordered to return to schools had done so as of Wednesday. The district has not yet said how many students have returned to the classroom this week.
Sharkey noted that thousands of other teachers and staff are due to report to schools on Jan. 25, one week before some 70,000 K-8 students are set to resume in-person learning.
Jackson said some of the union's requests are "impossible to achieve" but she said the sides need to sit down and "have a real conversation" about the union's concerns and possible resolutions.
"We're hopeful that we can come up with a resolution," Jackson said. "That means spend time at the bargaining table … We need more movement at the bargaining table. I would love to have a plan that is focused on health and safety and educating students."
Contact Matt Masterson: @ByMattMasterson | [email protected] | (773) 509-5431
---