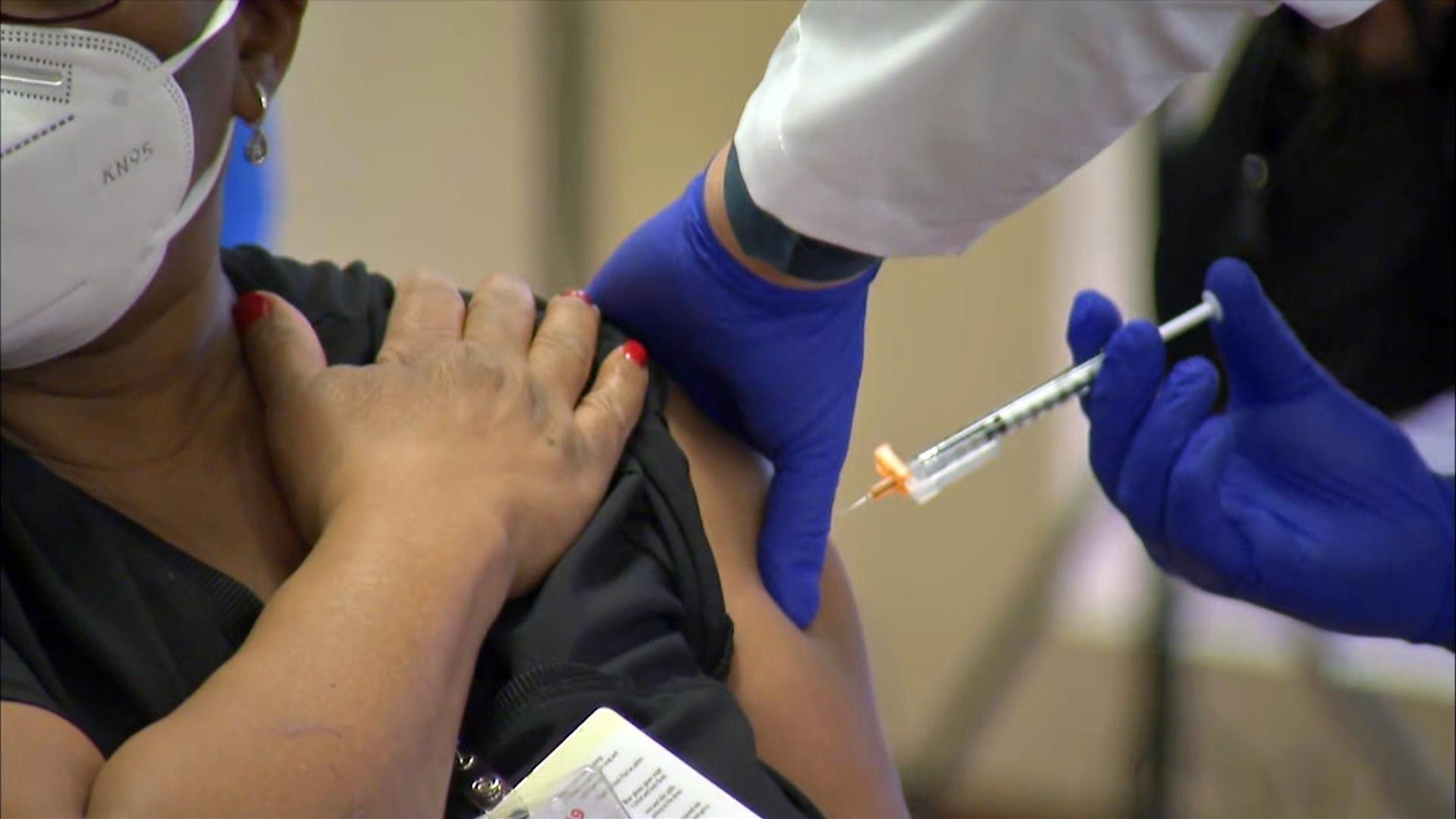 The second doses of the Pfizer vaccine in Chicago were administered at Norwegian American Hospital on Tuesday, Jan. 5, 2021. (WTTW News)
The Chicago Department of Public Health will have six mass vaccination sites up and running by Tuesday for health care workers, as officials ramp up efforts to speed COVID-19 vaccinations while encouraging Black and Latino Chicagoans to be inoculated.
Ten representatives of the Southwest Organizing Project were among the first to be vaccinated Thursday at the site at Richard J. Daley City College on the city's South Side. The community group is working with the city as part of its effort to stop COVID-19 from spreading in Black and Latino neighborhoods.
In addition to mass vaccination sites now open at Daley and Malcolm X city colleges, mass vaccinations will start on Friday at Olive Harvey City College, on Tuesday at Kennedy-King City College and on Wednesday at Truman City College, officials announced Thursday.
Only health care workers — including dentists, home aides and morticians — with appointments are eligible to be vaccinated at those sites, officials announced. Registration is available at chicago.gov/covidvax.
"My only wish is that we had enough doses to vaccinate everyone right now," Mayor Lori Lightfoot said.
Chicago has nearly 400,000 health care workers who are now eligible for the vaccine. Once all who want to be vaccinated are vaccinated, the sites will be shifted to the next phase of vaccination efforts, which includes Chicagoans 65 and older and essential workers.
There is no citywide registry to sign up to get the vaccine, said Dr. Allison Arwady, commissioner of the Chicago Department of Public Health. But that could be available "very soon," she added.
Through Tuesday, 57,611 Chicago residents have gotten the first dose of the vaccine, and 16,441 of those people have gotten the second and final dose, according to CDPH data.
Approximately 2.1% of the city's population has gotten at least one dose, according to the data.
Approximately 40% of vaccine doses are going to people who work in Chicago but live elsewhere, Arwady said.
While reassuring Black and Latino Chicagoans that the vaccine is safe, Lightfoot again pleaded with the federal government to send more vaccine to Chicago.
Chicago is set to get 34,550 doses of the vaccine next week, an increase of just 2,500 doses from last week, Arwady said.
City health officials will allow Chicagoans 65 and older to be vaccinated against COVID-19 starting Monday — if there are doses available after health care workers and residents of long-term care facilities are vaccinated.
The city's guidance for health care workers encourages doctors to prioritize older Chicagoans with health issues that put them at risk from severe illness or death from the coronavirus for the first available shots.
The new rules are designed to ensure no doses of the vaccine are wasted, Arwady said.
There has been more hesitancy among health care workers based in hospitals, especially those who work in support roles, and long-term care facilities than Chicago officials expected, Arwady said.
There are 362,000 Chicagoans who are 65 or older who will be eligible for the vaccine in the next phase of the vaccination, along with between 300,000 and 400,000 essential workers, including teachers, Arwady said.
Those Chicagoans will also need an appointment to get vaccinated, Arwady said. No doses will be administered to those who arrive without an appointment, nor will they be distributed on a first-come, first-served basis.
The city's COVID-19 test positivity rate is 10%, according to CDPH data. Seven days ago, it was 10.6%.
There is now an average of 1,215 confirmed cases of COVID-19 per day, based on a seven-day rolling average. That's up 20% in a week, according to city data.
Contact Heather Cherone: @HeatherCherone | (773) 569-1863 | [email protected]
---