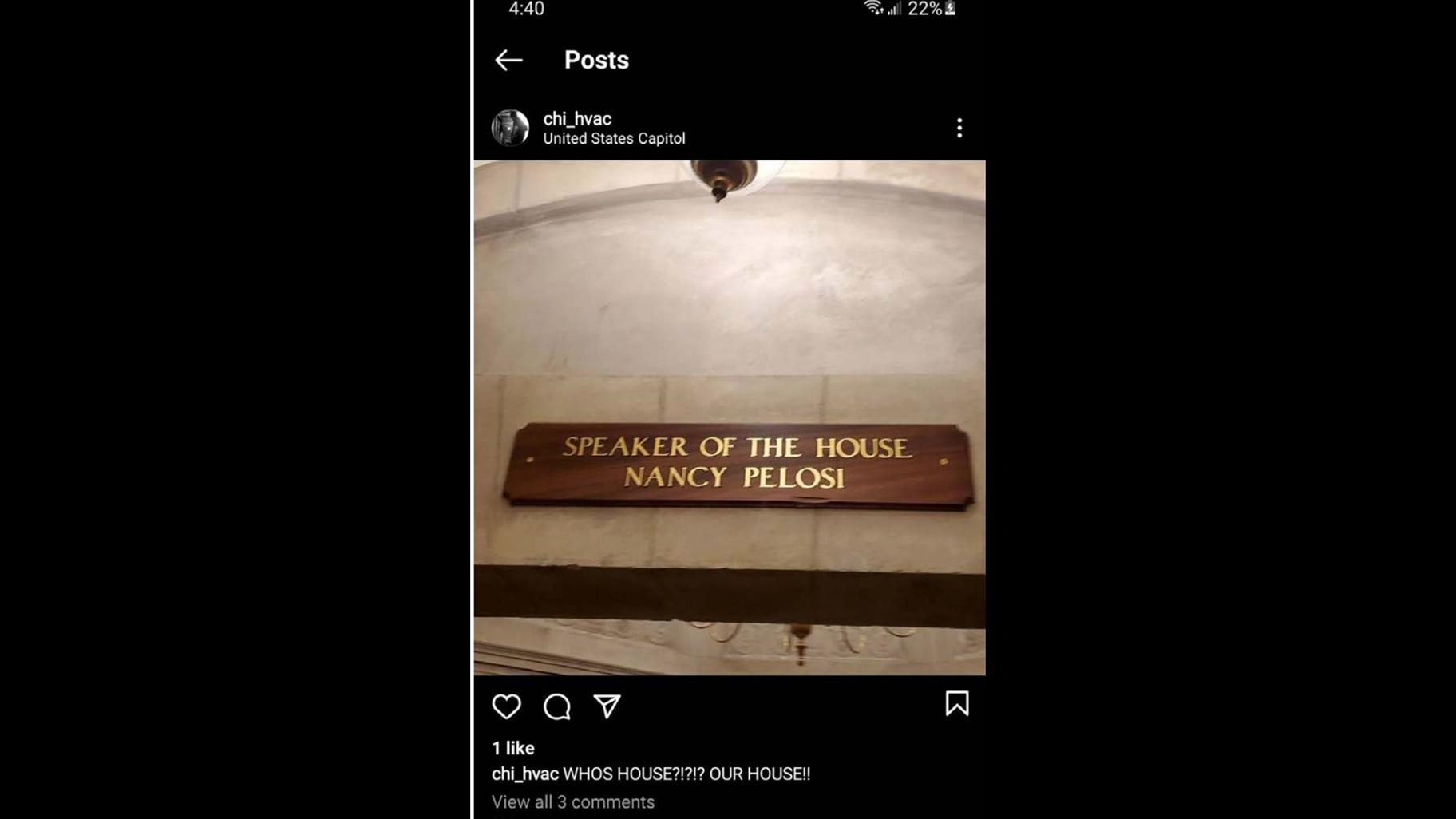 A screenshot provided in the criminal complaint. Click to expand.
A Chicago man from the Far Northwest Side has been charged in connection with the pro-Trump riot that swept the Capitol on Jan. 6 after he posted a picture on Instagram outside House Speaker Nancy Pelosi's office with the caption "WHOS HOUSE? OUR HOUSE!"
Kevin James Lyons, 40, of Gladstone Park, was charged with entering restricted grounds without lawful authority, as well as violent entry and disorderly conduct. Both charges are federal misdemeanors. 
Lyons was ordered released on bond Wednesday on the condition he not have any contact with anyone involved in the riot or planning to disrupt the U.S. House or Senate, officials said.
Lyons came to the attention of federal authorities because of two pictures he posted to his Instagram account, @chi_hvac. The first on Jan. 5 showed a Google map of the route between Chicago and Washington, D.C., by car with the caption: "I refuse to tell my children that I sat back and did nothing. I'm heading to DC to STOP THE STEAL! #MAGA #KAG."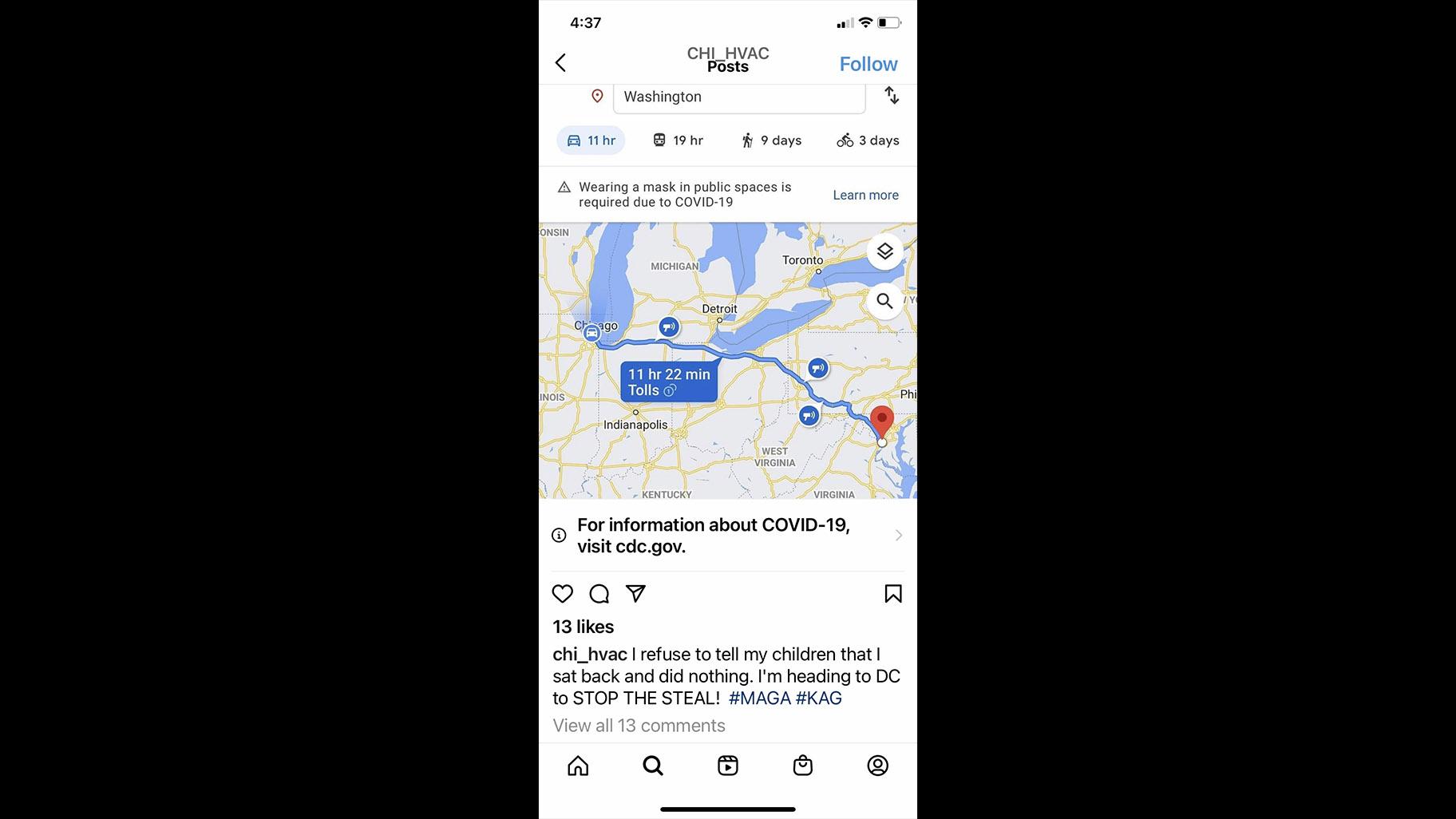 A screenshot from the Instagram account @chi_hvac. Click to expand.
The hashtags referred to President Donald Trump's campaign slogans: Make America Great Again and Keep America Great.
The picture outside Pelosi's office has been deleted from Lyons' Instagram but was captured by authorities, according to the search warrant that was unsealed Wednesday. Lyons' followers left three comments and one like on the photo, according to the version captured by federal authorities.
When he was questioned by federal authorities, Lyons "was evasive about whether he was in the Capitol building," according to court records. 
"Lyons stated that he '100% guaranteed, without incriminating himself,' that he saw nothing being damaged," according to court records. "He further stated that in a dream he had, he saw a lot of banging on doors, paper being thrown about, and a mob of people. According to Lyons, in the dream, people really didn't have much choice of where they were going because of the mob. Lyons advised that if he was inside, he was inside for approximately 45 minutes."
Lyons said he attended the rally where President Donald Trump spoke and then could not "escape the crowd because he weighed 140 pounds" and walked up Pennsylvania Avenue to the Capitol, and entered through an open door, according to court records. Lyons said he tried to wear a bulletproof vest, but could not fit it over his sweatshirt, according to court records. 
When shown the photo from his Instagram account, Lyons told agents, "Wow, you are pretty good that was only up for an hour," according to court records.
Lyons later told agents he still had that photo and videos from outside and inside the Capitol on his cellphone, which he shared with agents, according to court records. 
Lyons agreed to upload those videos to YouTube and send agents a link to it via email, according to court records. He did so from his email account, identified by his name, with this introduction: "Hello Nice FBI Lady, Here are the links to the videos. Looks like Podium Guy is in one of them, less the podium. Let me know if you need anything else. Kevin Lyons."
Lyons was apparently referring to a Florida man who was photographed with Pelosi's podium in one of the enduring images of the damage at the Capitol.
Lyons admitted to agents that he was in Pelosi's office, but left when a Capitol Police officer entered the office with his gun drawn and ordered him to leave, according to court records. 
Lyons said he drove home to Chicago immediately after leaving the Capitol, according to court records. 
Lyons is the second person from Illinois to be charged in connection with the riot at the Capitol.
Contact Heather Cherone: @HeatherCherone | (773) 569-1863 | [email protected]
---