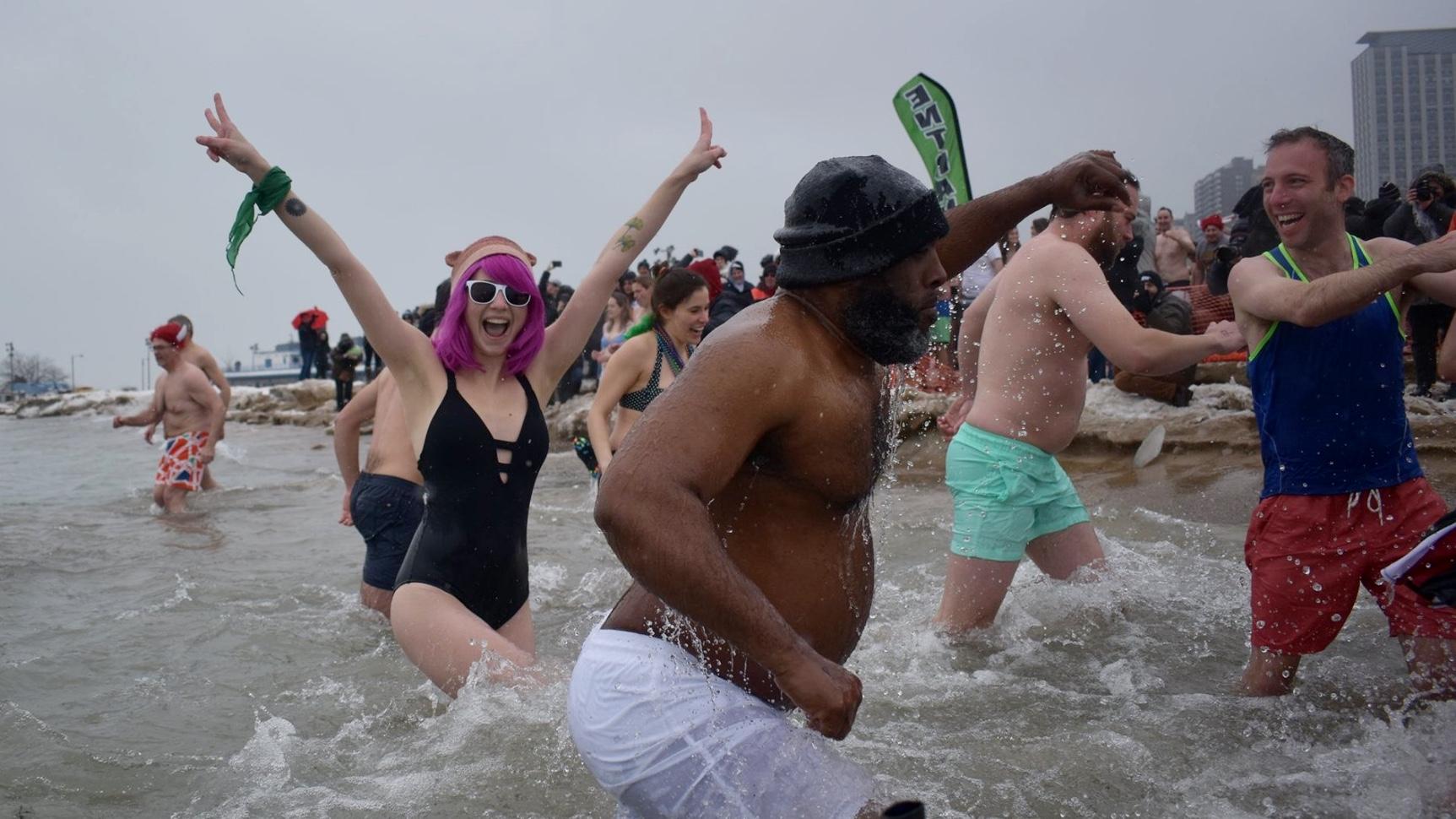 A scene from the 2020 Chicago Polar Bear Club's plunge into Lake Michigan. This year's "plunge where you are" will look different. (Courtesy of Chicago Polar Bear Club)
Have you ever wondered what goes through a person's mind as they prepare to plunge into Lake Michigan's frigid January waters, dressed in little more than swim trunks?
Brian Marchal, founder of the Chicago Polar Bear Club, says it's pretty much what you'd expect.
"It's the whole fight-or-flight thing. You're running in thinking, 'Ohmygod, ohmygod, ohmygod, ohmygod,'" said Marchal. "When you go under, it is sheer panic. Your whole body is alive. You want to scream and shout all the things at once. It's just the best feeling. It's my Christmas and Super Bowl rolled into one."
For Marchal, who started in 2002 what was then named the Lakeview Polar Bear Club, a huge part of what makes the club's annual plunge so special is the sense of community it creates. It's popping up out of the water, taking a deep breath, and then seeing the looks of shock and awe on everyone else's face.
But in 2021, "COVID is canceling all our shared experiences," Marchal said.
Back in May 2020, when the club began planning for this year's plunge, the team thought the worst of the coronavirus pandemic would be behind us by now, and that getting 350 people together on Oak Street Beach would require little more than some social distancing protocols. Come early fall, they realized that wasn't the case and devised Plan B: Plunge in place. 
"We can jump in the lake next year," Marchal said. "People are just going to have to plunge where they are."
In Marchal's case, that meant filling the tub with ice water in his London home — where he and his wife have lived since 2013 — and jumping into the chilly bath. He posted a video of the improvised plunge to the club's social media channels and is encouraging others to get creative as well, and to likewise share the images as a way of being alone, together. 
"Do snow angels in a Speedo. Give us a unique take," Marchal said.
People who sign up for the plunge can choose the time and place and method of chilling out — as long as it's in the month of January.  
Admittedly, it would have been easy to skip the plunge in 2021. But Marchal, who returns to Chicago for the event every year, said there were two reasons to keep the tradition alive. One, it's a way for regular plunge participants to reclaim a tiny bit of normalcy ("normal" being a relative term when talking about polar plungers). But more importantly, the event raises funds for local families in need, and this year, that need is greater than ever.   
(Note: The Chicago Polar Bear Club is a grassroots organization, not to be confused with the Polar Plunge, which raises funds for Special Olympics and has attracted celebrities including Jimmy Fallon and Lady Gaga. That event is also going virtual in 2021.)
The club's charitable aspect dates back to 2003, the second year of the plunge. Marchal, who comes from a huge family in Ohio's farm country, had learned that one of his cousins needed a lung transplant, a crushing financial blow on top of a health crisis.
"They're just blue-collar people, working hard, and his illness wiped them out," Marchal said.
The plunge turned into a fundraiser and after collecting thousands of dollars for his cousin, Marchal said a light bulb clicked.
"We were like, 'If we know somebody in this situation, everyone does,'" he said.
To date, people who've taken the plunge have raised more than $440,000, which has been distributed to more than 30 families. This year's plunge will benefit three Chicago families, chosen from nearly 20 nominated, struggling with mounting medical bills, domestic violence and homelessness.
The joy in their faces when they receive a check that will cover rent or other expenses: that's why Marchal couldn't give up on the plunge in 2021, he said.
Donations are holding steady so far, he said, and roughly 50 people have so far signed up to plunge in place. The registration fee has been waived for 2021, and anyone who raises $100 will receive free registration in 2022.
All registrants are invited to a culminating virtual event, set for Jan. 30, during which Marchal is planning a montage of the videos people submit of their plunges. 
"That's what I'm excited about," he said. "I think the videos are going to be stupid, ridiculous and perfect."
HOW TO PLUNGE LIKE A PRO
Brian Marchal has a few words of advice for anyone attempting a bonafide polar plunge in Lake Michigan, either for charity or just for kicks.
"It's fun, stupid and crazy, but it's still dangerous," he said. "It's always about safety."
Protective footwear is a must, because who knows what's lurking in the sand or shoreline during the mad dash to and from the water. Towels should be immediately available to step onto out of the water, and friends should be on hand with even more towels for drying off, Marchal said. If they have a mug of hot chocolate ready, even better.
It goes without saying that warm socks and a warm hat are essential, but Marchal also recommended a bathrobe for a quick, yet discreet, change out of wet clothes. 
Though Marchal is a proponent of the full immersion plunge, everyone sets their own personal bar, he said.
His parents have often shown their support for him by turning up for annual plunges, and his mom hates putting her face in the water, Marchal said. So she only goes in chest-high.
"I got nothing but respect for that," he said. 
---
Contact Patty Wetli: @pattywetli | (773) 509-5623 |  [email protected]