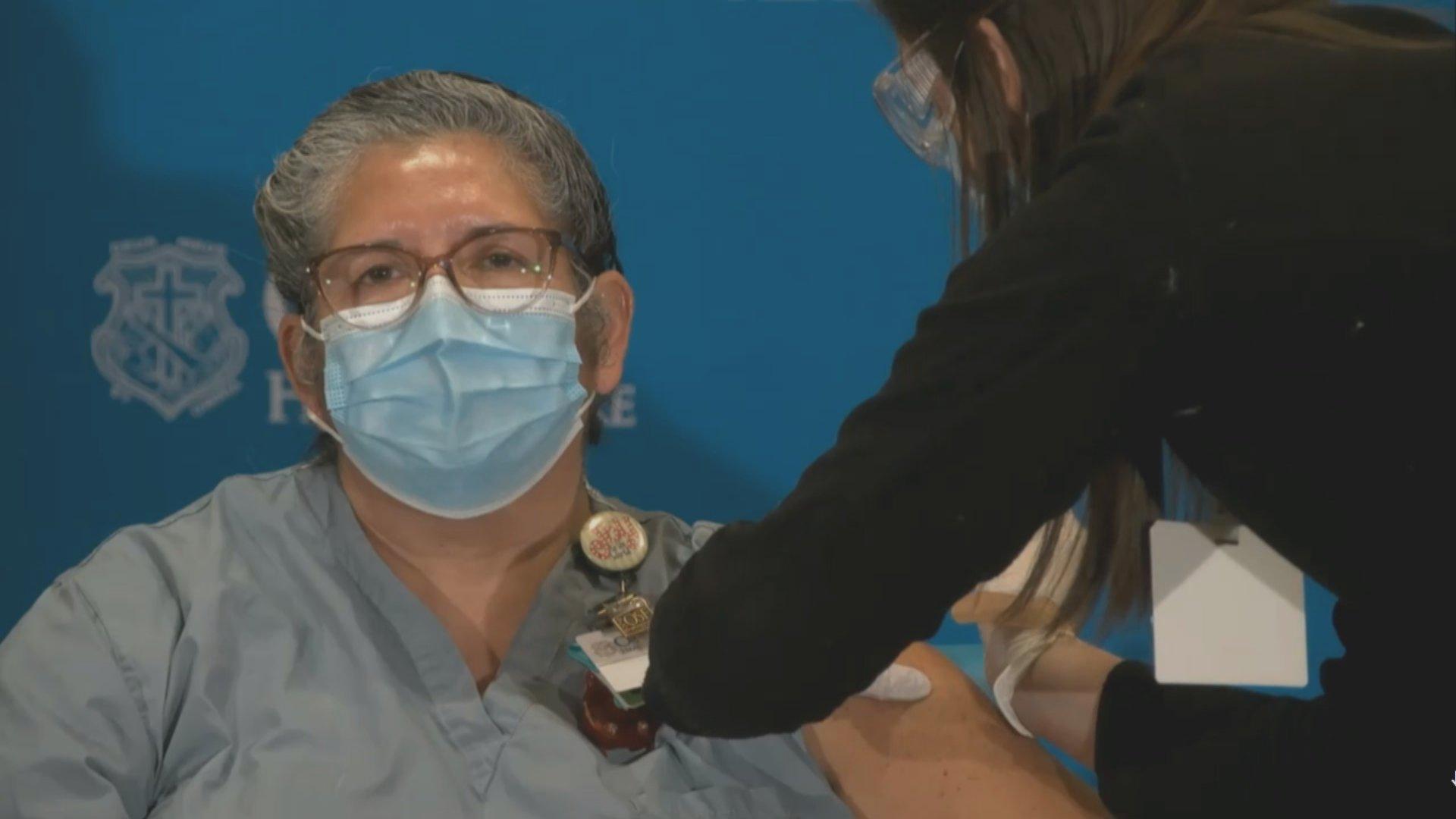 A health care worker gets the COVID-19 vaccine in Peoria, Illinois on Tuesday, Dec. 15, 2020. (WTTW News)
Once efforts to inoculate health care workers and residents of long-term care facilities from COVID-19 are complete, Illinois residents 65 and older as well as essential workers will be eligible for the vaccine, Gov. J.B. Pritzker announced Wednesday.
Illinois will deviate from federal guidelines set for the distribution of COVID-19 vaccines in an effort to protect Black and Latino Illinois residents, who are more at risk of serious illness and death from the coronavirus, Pritzker said.
Lowering the age limit will allow Illinois residents to "more strongly pursue equity," Pritzker said.
The average age of death from COVID-19 is 81 for White residents, 72 for Black residents and 68 for Latino residents of Illinois, according to data from the Illinois Department of Public Health.
"Generally, Latinx and Black populations have been disproportionately impacted by COVID-19 with data showing related deaths at younger ages," said IDPH Director Dr. Ngozi Ezike. "We are hopeful that by lowering the eligibility age to 65 years we can help reduce this disparity."
However, Pritzker said he did not know when that second phase of the vaccine distribution effort would begin. 
It will take at least "a few weeks," Pritzker said. 
The governor said he was hopeful that once President-elect Joe Biden was inaugurated he would invoke the Defense Production Act to speed up the manufacture and distribution of the vaccine.
"I consider this a race to get vaccine into people's arms as fast as possible," Pritzker said.
Since vaccinations started in Illinois on Dec. 15, 207,106 residents have received at least one dose of the two-dose regimen, according to state data.
There are 1.3 million essential workers in Illinois, including police officers, grocery store workers, transit workers and child care providers. Another 1.9 million Illinois residents are 65 or older, and could also get the vaccine.
Pritzker said he would instruct the Illinois National Guard to set up mass vaccination sites to speed its distribution once the next phase launches.
Contact Heather Cherone: @HeatherCherone | (773) 569-1863 | [email protected]
---