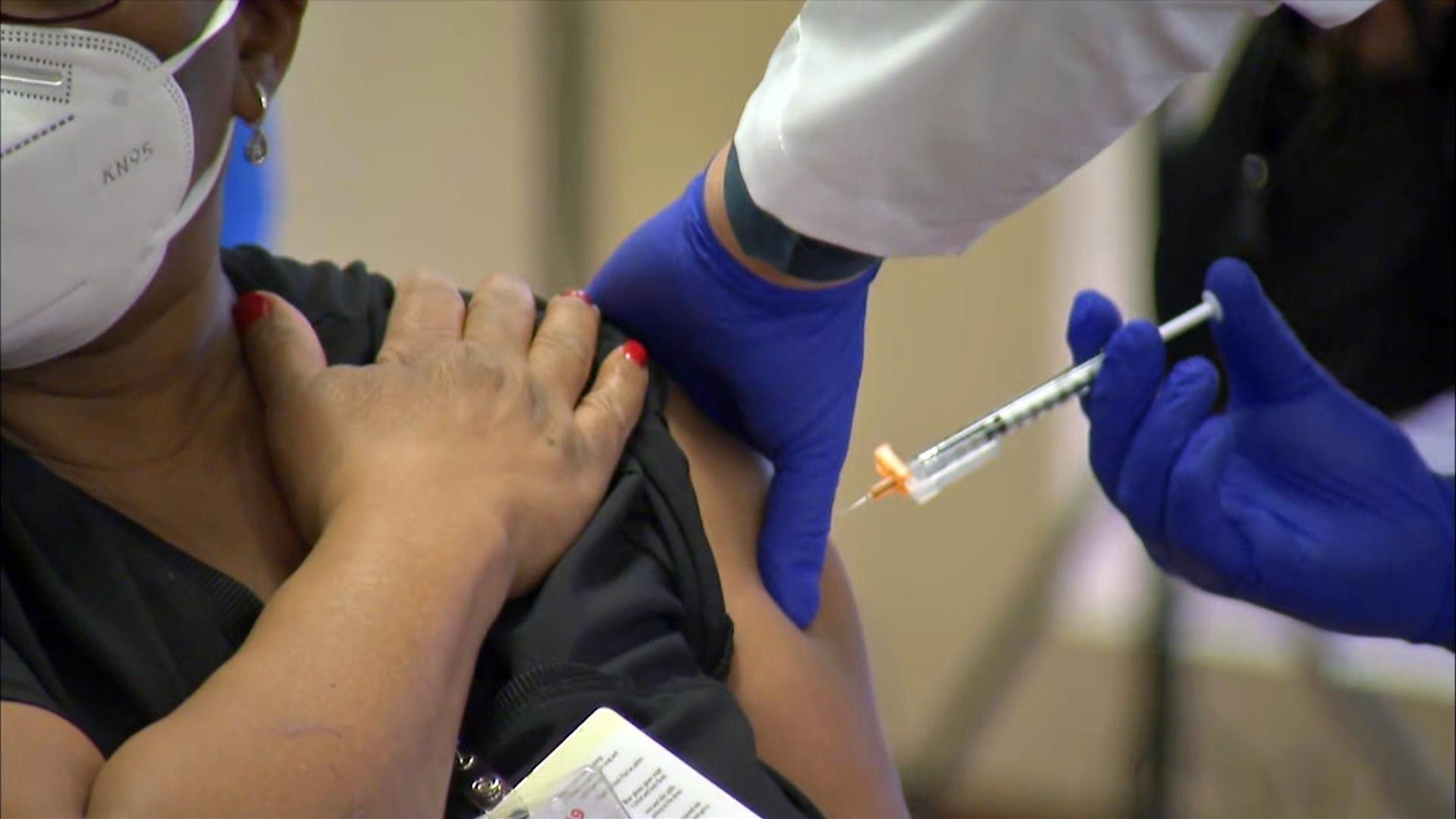 The second doses of the Pfizer vaccine in Chicago were administered at Norwegian American Hospital on Tuesday, Jan. 5, 2021. (WTTW News)
Mayor Lori Lightfoot said Tuesday that Chicago does not have enough COVID-19 vaccine, and called on the federal government to "step up."
Lightfoot spoke at Norwegian American Hospital in Humboldt Park after five nurses and doctors became the first people in Chicago to get both doses of the Pfizer COVID-19 vaccine. Trials showed the vaccine was nearly 95% effective at preventing COVID-19 after two doses and caused no serious side effects.
Through Sunday, 33,607 Chicago residents have gotten the first dose of the vaccine, which amounts to about 1.2% of the city's population, according to Chicago Department of Public Health data.
Chicago residents account for approximately 58% of all of the people who have been vaccinated at Chicago hospitals, which includes residents of suburban Cook County and other counties, said Chicago Department of Public Health's Dr. Allison Arwady.
Chicago health officials have distributed 95% of the vaccine sent to the city by federal officials, Lightfoot said, but has the capacity to handle more doses.
The current pace is "frankly, unacceptable," Lightfoot said. "The federal government must step up."
Lightfoot acknowledged that little is likely to change before President-elect Joe Biden is inaugurated on Jan. 20.
Chicago expects to get approximately 16,500 doses of the Pfizer vaccine and 16,200 doses of the Moderna vaccine this week, according to Arwady. 
"That's not enough," said Arwady, who received the first dose of the vaccine on Dec. 29.
Vaccine distribution efforts in Chicago have gone smoothly, and no significant safety concerns have occurred, Arwady said. 
Lightfoot acknowledged that city health officials still have work to do to convince skeptical Black and Latino Chicagoans to get vaccinated.
Polls show Black people are more skeptical about the safety and efficacy of the vaccine, in part because of the legacy of inhumane medical experiments such as the Tuskegee Syphilis Study that exploited Black people. 
Anecdotal data shows that while doctors and nurses at Chicago's hospitals are quickly signing up for the vaccine, there is more reluctance among support staff workers, Arwady said, adding that everyone should be vaccinated as soon as possible.
While the city does not have complete data on the race or ethnicity of Chicagoans who have been vaccinated, it appears White and Asian health care workers are more likely than Black or Latino residents to be vaccinated.
The city's COVID-19 test positivity rate is 10.2%, and has been rising since Dec. 24, according to data compiled by the CDPH. Seven days ago, it was 8.6%.
There is now an average of 945 confirmed cases of COVID-19 per day, based on a seven-day rolling average. That's down 13% in a week, along with a 34% drop in tests, according to city data.
Contact Heather Cherone: @HeatherCherone | (773) 569-1863 | [email protected]
---