Whether you loved it or hated it, it was something everyone had growing up: a school picture day. 
But that isn't the case for some Chicago-area students who've been learning remotely since last spring. 
To help out some friends and their kids, one local couple took it upon themselves to recreate the tradition. 
---
TRANSCRIPT
Brandis Friedman: Earlier in his career, Chicago photographer Jeff Dahlgren says people were surprised he didn't have kids.
Jeff Dahlgren: As a photographer and photographing lots of kids, people always assumed that I had kids. And people would always ask, and: "I can't believe you don't have any kids. You're so great with them, you sort of act like a kid all the time."
Friedman: But that changed when he and his wife, Jen Dahlgren, welcomed home their son, Kender. 
Jen Dahlgren: We adopted him from Haiti. The process took about two and a half years. We had a home, and he needed a home. That's kind of the short story of it really.
Jeff Dahlgren: He's changed everything in our world and I can't say enough about that. It's pretty awesome. And to see him grow up, it's pretty cool.
Friedman: The Dahlgrens have taken pictures over the years and cherished Kender's schools photos. Like many families this year, they've had to adjust their son's education due to the pandemic. But being at home didn't mean they were going to skip tradition: a classic school picture for Kender and his friends.
Jen Dahlgren: I had had the thought kind of in the fall and then I put it aside and then when it started coming around to Christmas, which is when I usually put Kender's school pictures in the Christmas cards to family, it kind of hit me again in a more strong, solid way. Like, we need to do something.
Friedman: So to make up for a lack of a picture day at different schools, a COVID-19 picture day was born at the Dahlgrens' studio, Throop Studio.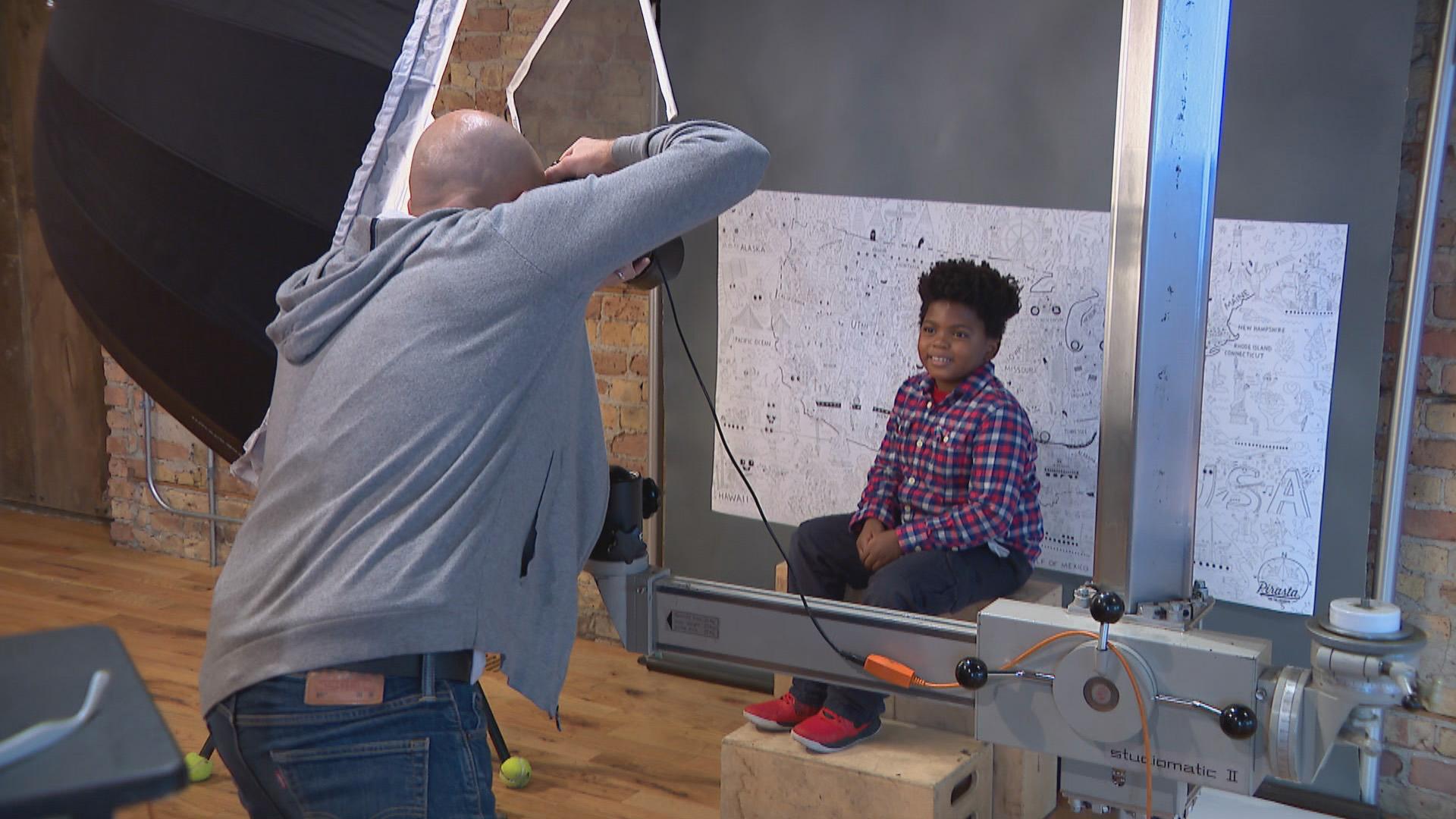 Chicago photographer Jeff Dahlgren takes a portrait at Throop Studio. (WTTW News)
Jen Dahlgren: The studio is set up really nicely because it's basically shaped like a big donut and it has two doors, so we had people enter one way.
We had a sign greeting them, instructing them, in case I wasn't here telling them what to do. I did a temperature check of everybody that came in.
They had their picture taken and then they moved out the other door so nobody crossed any paths and we timed them out at 15-minute intervals. I kind of wiped things down in between, just to make it safe. 
Friedman: But first, it's lights, camera, school picture. 
Oh, and Kender's playlist.
Jeanne Careva: We know Jen and Jeff from the neighborhood. We walk to school together under normal circumstances and they were nice enough to include us in this picture day.
I think it's really meaningful to have their photos taken because we do it every year, and every year we do something special for the grandparents and the family and to miss a year would have been really sad, so this is – this was such a pleasant surprise to have this call and to be able to have this opportunity to do it. 
Katrina Bowman: Jen and Jeff are actually friends of ours. I know she has a son around Jonah's age, that she was thinking about how we could get school photos and I thought it was really interesting, especially since so much about the school experience is not traditional for kids. 
So we if can kind of create a picture day experience, I thought it was cool. 
When I got the phone call, I was like "Yes! You're doing it."
Cameron Krieger: I thought we weren't going to get school pictures until Jen called. 
It's a nice nod to the tradition of having one every year with the same setup, with the same way. We have a little gallery of his school pictures from every year, from preschool and it would have been a slight disappointment – I mean, a minor with everything going on – to not have that gap in the third year. So it's nice to have this. It's a small thing, but those little traditions are, I think, what's been missed a lot of during this pandemic. 
Friedman: Jen Dahlgren says a big part of the tradition is the pose. 
Jen Dahlgren: If doesn't feel like it's a class picture if it doesn't have that kind of forced smile. There's something really great about it. Everybody has those pictures and everybody has some good ones, and some bad ones.
Friedman: Everybody … including the parents. 
Collette Manning: All the bad hair through the years. 
Careva: Haircuts and missing teeth and maybe my teeth weren't brushed. You know. Some bad stuff. Which is all good stuff. 
Bowman: One of the youngest photos I have of myself is a kindergarten photo. 
And I remember everything, from my mom curling my bangs that morning to the itchiness of the wool dress that I wore. So picture day is just really like a hallmark of the school year, whichever year it's been for me. 
Krieger: It's a small thing but school picture day was always a big deal. Even with as much photographed as our kids are these days with phones always available they're photographed all of the time, but somehow it's still a special event.
Friedman: The Dahlgrens say it's special because kids grow up too fast.
Jeff Dahlgren: They go from just this little kid sitting there … and then next thing you know, you're having a negotiation about how you're supposed to go put your jacket on and head out the door.
Jen Dahlgren: I don't want to miss it. 
I feel like sometimes you look back at like and wonder why didn't I do this? Why didn't I do that? It seems so small but when it look back, it kind of – not that it was big, but it was significant in some way. 
---