Volunteers load up cars in Washington Park as part of the third annual Be Part of the Light event Saturday, Dec. 5, 2020. (Ariel Parrella-Aureli / WTTW News)
With swift precision, impeccable organization and clockwork collaboration, volunteers with the youth-focused Chicago nonprofit My Block My Hood My City distributed boxes containing holiday decorations, Christmas wreaths, blankets and a branded holiday sweater among more than 100 cars lined up at Washington Park on Saturday. With a nod or a wave and a click of their trunks closing, drivers were sent out to "Be Part of the Light" along Dr. Martin Luther King Drive and brighten up homes with holiday decorations and spread much-needed cheer during a tumultuous 2020.
The third annual Be Part of the Light event, which tackles the group's decorating goals over three weekends, looked different this year due to the coronavirus pandemic, but that didn't stop people from pitching in. In fact, this year's kickoff event drew the help of 500 volunteers — more than expected — from all over the city and suburbs, said My Block My Hood My City founder Jahmal Cole. 
"The really magnificent part about it is you got people from all over Chicago meeting on Dr. Martin Luther King Jr. Drive to do something positive when the city is so segregated," Cole said. "You see that at My Block My Hood My City, we draw people from all different colors, genders, opinions, religions, ethnicities — everybody comes out and I want that to be on King Drive because he stood for interconnectivity and positivity."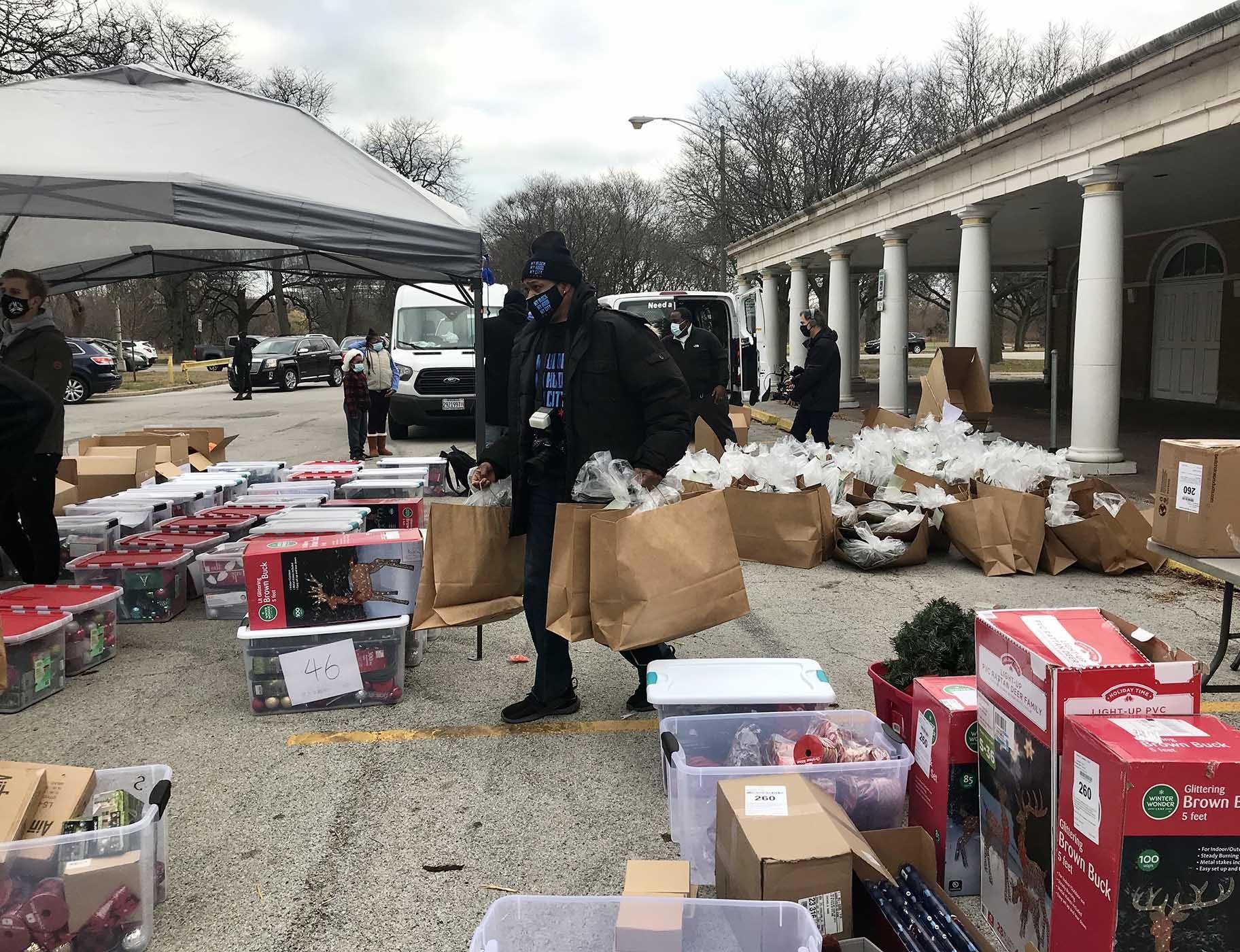 Volunteers distribute a mass of holiday lights, wreaths, ornaments and other decor. (Ariel Parrella-Aureli / WTTW News)
This year, the organization aims to decorate a 12-mile stretch of King Drive, from 35th to 115th streets, in addition to 500 homes along the route. Saturday's launch made a hefty dent in that goal, with about 200 homes and street poles from 35th to 87th streets complete — nearly 8 miles. Last year, the group put holiday lights, bows, ribbons, garland and ornaments on 250 homes and 475 poles along a slightly longer stretch of King Drive, from 51st to 115th streets. And with all of the volunteer support the event received Saturday, Cole said that next year he wants to decorate 1,000 homes. 
Cole said the event would not have been possible without Donna Hampton-Smith, president of the Washington Park Chamber of Commerce. A regular supporter of My Block My Hood My City and the annual event, she said it was "exactly what the doctor ordered." 
"This is a pick-me-up spirit time for people to feel like although we are in a pandemic, we still need to be happy, cheerful and Christmas brings happiness to people," said Hampton-Smith.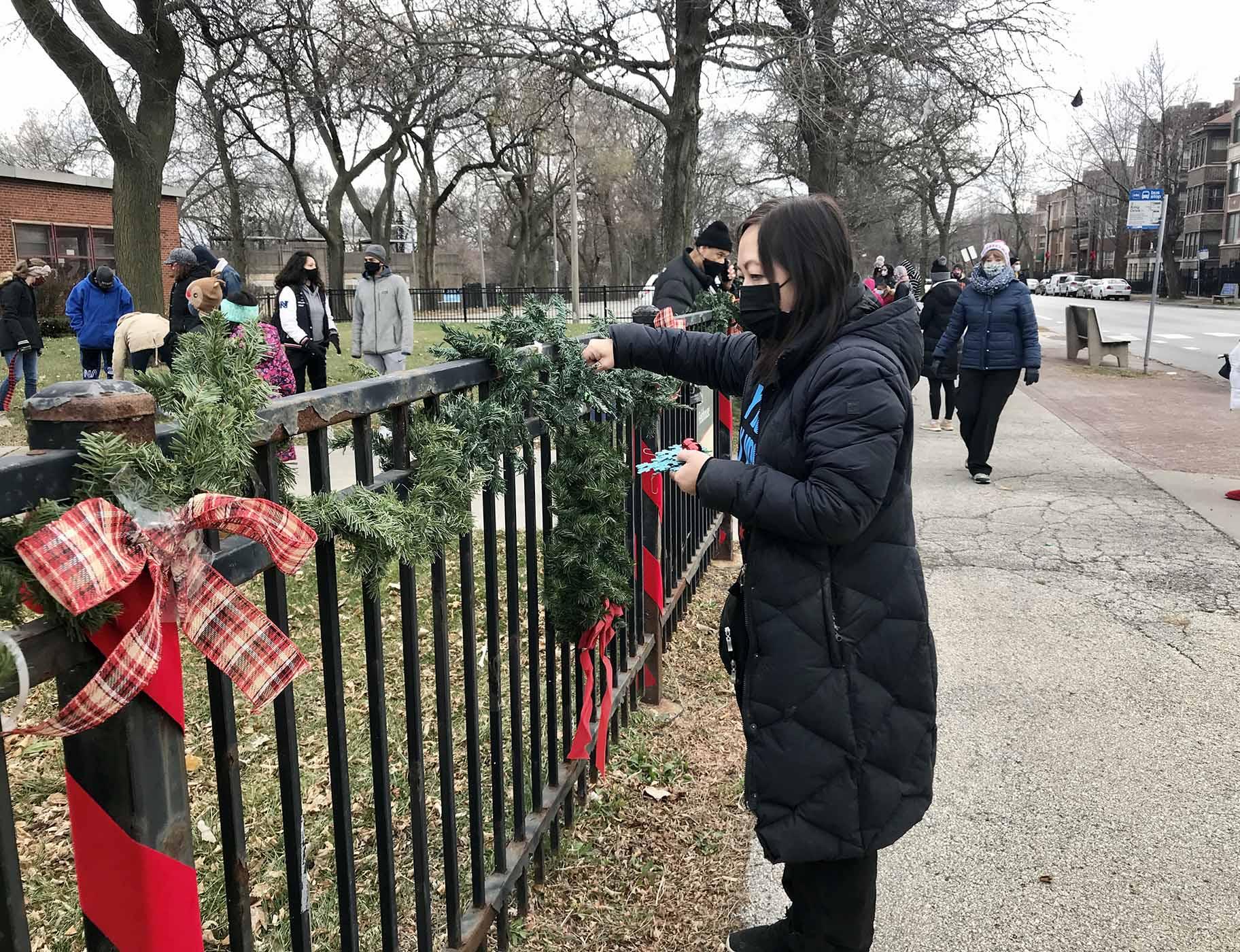 The Milton family decorates the Washington Park field house. (Ariel Parrella-Aureli / WTTW News)
In addition to the hundreds of people who signed up to decorate houses, other volunteers eager to spread holiday cheer were sent to decorate the Washington Park field house with a bundle of wreaths, ribbons and Christmas lights. 
The Milton family was among those at the field house, decorating trees and fencing with ornaments and lights. They came from suburban Hinsdale to join Saturday's volunteer event.
"Coming from a more fortunate neighborhood where I can see lights everywhere, I want all the other neighborhoods to be able to have the same opportunities to see that too," said 15-year-old Hannah Milton. That's exactly what her parents, Colin and Monita, want to instill in their children: the value of helping others and giving back.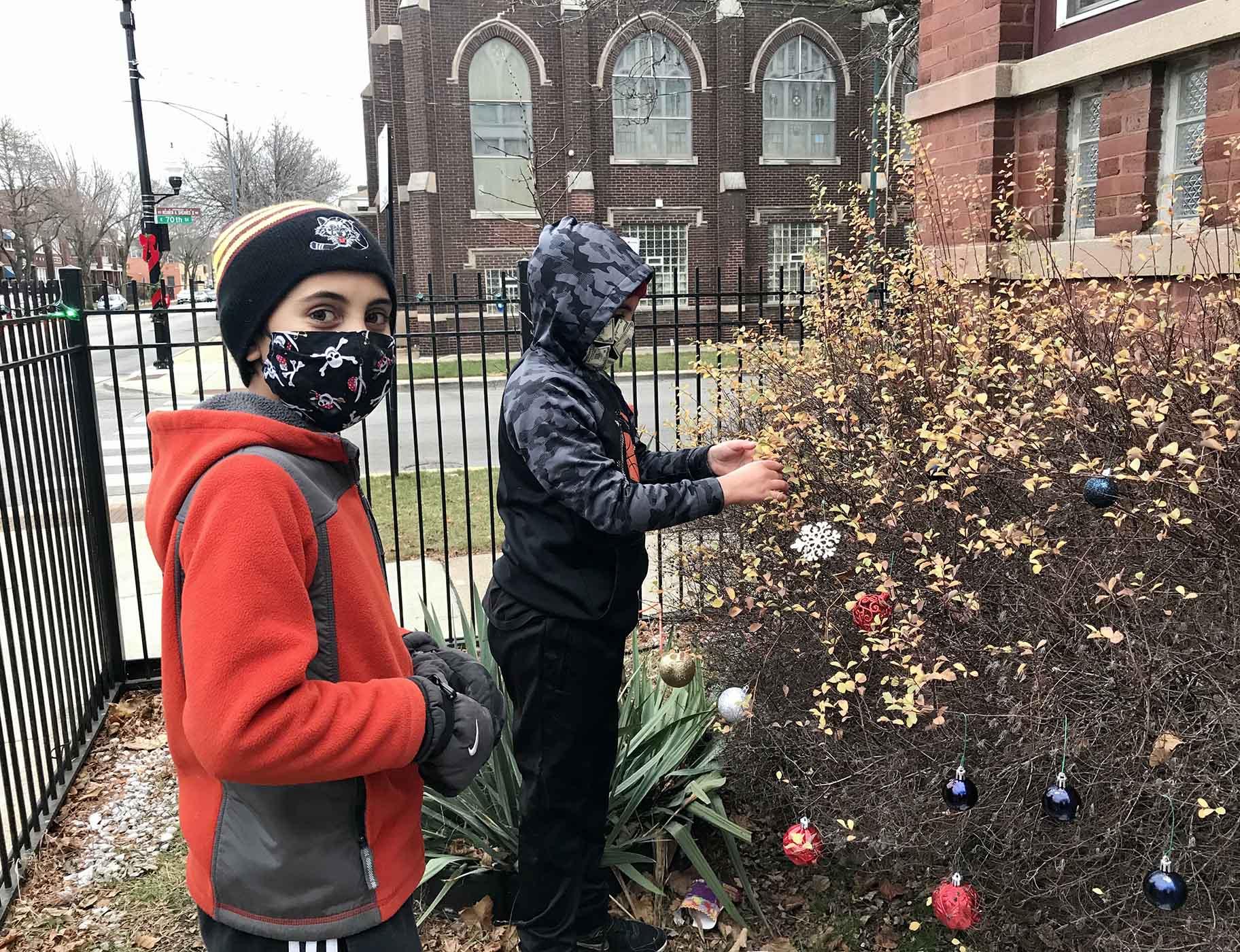 The Staniszewski family. (Ariel Parrella-Aureli / WTTW News)
In Greater Grand Crossing, the Staniszewski family from suburban Park Ridge decorated two houses along King Drive and said the event was an easy way to give back, spread joy and be outside, as well as meet new folks. Jim Staniszewski and his two children are part of the Park Ridge Wilderness Scouts group, represented Saturday by about 20 volunteers, each decorating two to three houses separately. 
"I like to do stuff like this because when a neighborhood looks nicer, it makes people happier," Jim Staniszewski said.
Two of the homes the family decorated are owned by Sharon Montgomery and her husband Jerome, who have lived in the neighborhood for 11 years. Sharon Montgomery expressed her gratitude for the lighting event and said her community needs it, particularly during dark times. This is the first year she signed up to get her houses decorated and she says she's glad she did.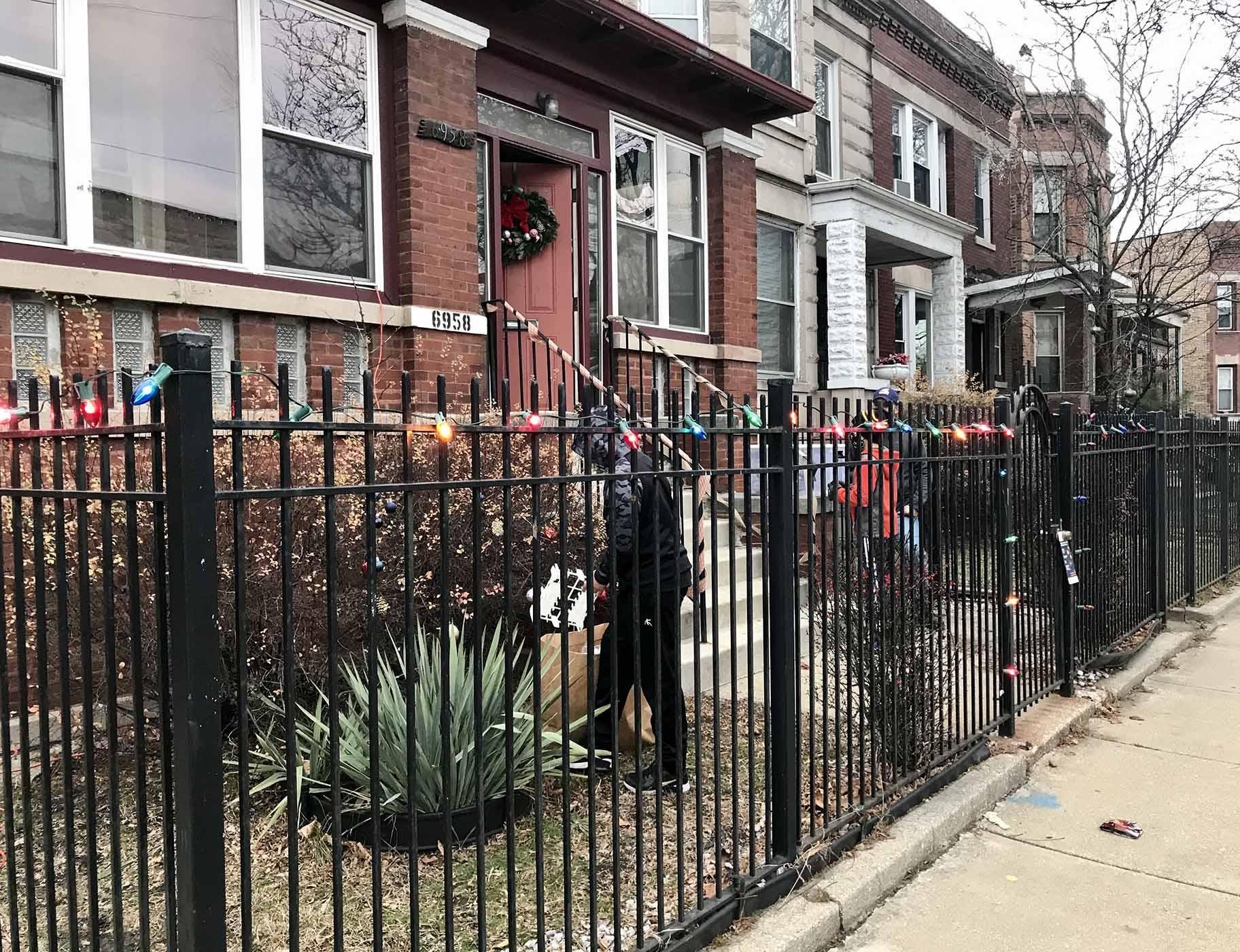 Holiday decorations along a 12-mile stretch of King Drive include select homes and street poles. (Ariel Parrella-Aureli / WTTW News)
"We need someone to show that they care," she said, adding that what Cole started has greatly impacted her neighborhood. "He has a heart of gold," she said.
Montgomery said Christmas is her favorite holiday and seeing all the lights on her block has brought her nostalgic joy. She even called her 100-year-old father-in-law, who used to live next door but now lives in a nursing home, to show him the decorated block. 
The lighting event gives the South Side the kind of holiday attention one would see downtown, Montgomery said. For some families who can't afford a Christmas tree or decorations, shining a light on their community is instrumental. 
"Some don't have the opportunity to go downtown and see the lights … so I hope this brings some joy in other people's lives too," she said.
Cole said this year's decorating goal will take about 10 hours to complete over the course of three volunteer events from 2 to 5 p.m.
The next opportunity to volunteer is Saturday, Dec. 12. The final volunteer day is set for Saturday, Dec. 19; a signup event for that date will be posted online.
Ariel Parrella-Aureli is a freelance contributor to WTTW News: @ArielParrella
Sharon Montgomery, owner of one of these houses who has lived in the neighborhood for 11 years, said the house decoration event was amazing. She also called @JahmalCole a positive light for the community.

"He has a heart of gold." Aw!

Here he is in all his @mbmhmc swag! pic.twitter.com/1MwVXUXfyY

— Ariel Parrella (@ArielParrella) December 5, 2020
---