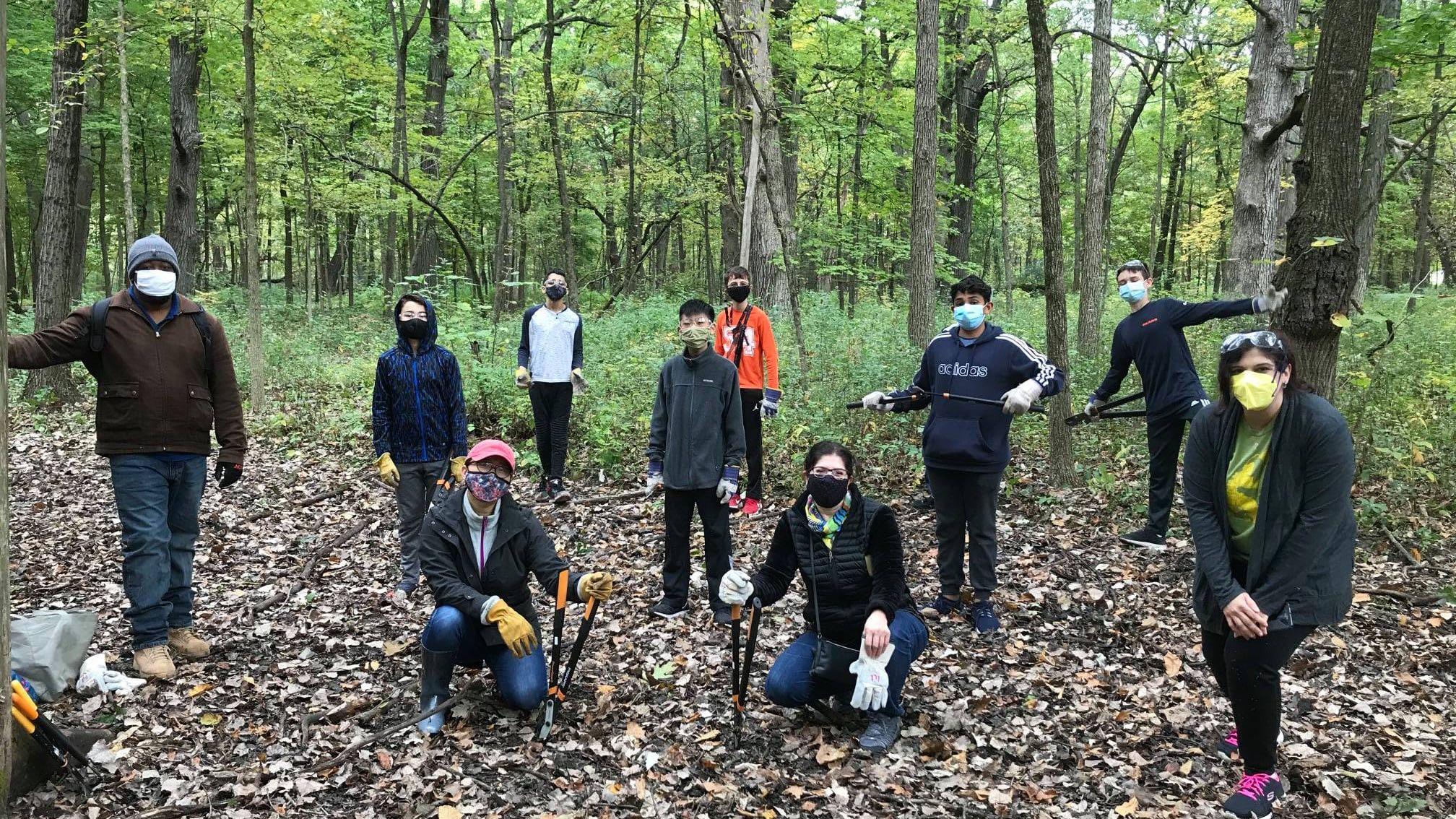 Cook County Forest Preserve stewardship days have looked different during the coronavirus pandemic. (Forest Preserve District of Cook County / Facebook)
Their work has largely gone unremarked during the coronavirus pandemic, but the nation's "green responders" have done an admirable job keeping nature "open" for the rest of us.
These stewards and managers of the country's parks, forests and natural areas have maintained trails, created virtual programming, forged ahead with conservation efforts and picked up mountains of trash as unprecedented numbers of people flocked to the great outdoors for respite and recreation. At the same time, the people and agencies that tend to our green and blue spaces have faced reductions in resources, both in terms of personnel (be it staff or volunteers) and funding. 
How are they coping? With a mix of exhaustion and inspiration, said representatives of environmental groups that convened for a recent webinar hosted by the Morton Arboretum.
Attendees from across the U.S. tuned in for presentations from leaders of nonprofits and government agencies based in Denver, Baltimore, New York and Chicago, all sharing their responses to a crisis that came without a playbook.
They heard stories of adaptation and innovation, from the Cook County Forest Preserves' formation of a COVID-19 rapid response team to a new "Nursery to Neighborhoods" program created by New York City Parks as a way to distribute thousands of trees grown by local farmers but no longer funded in the parks' slimmed-down budget.
There were wins, like being able to bring back (socially distanced) bird walks, and there were setbacks. John McCabe, director of the The Cook County Forest Preserves department of resource management, said it's unknown what effect the cancellation of the spring 2020 prescribed burn season will have on efforts to curb certain invasive species, which went unchecked back in March. 
"We missed the window," said McCabe.
Among the more procedural issues discussed: how organizations built partnerships and networked, and how they handled the double-edged sword presented by technology.
On the one hand, virtual nature talks were a big hit — more accessible and therefore more widely attended than in-person sessions, said Katie Lautar, program coordinator of Baltimore Green Space, an environmental land trust. On the other hand, her team hasn't quite cracked the nut of how to make Zoom meetings feel more like a spontaneous, two-way dialogue and less like a hierarchical, one-way download. 
Among the common themes that emerged over the course of nearly two hours: public land management depends greatly on support from the civic sector, and the loss of volunteers has been keenly felt; a spike in new visitors to natural areas has been both a blessing and a curse; and the impacts of COVID-19 are likely to have long-lasting repercussions, both positive and negative.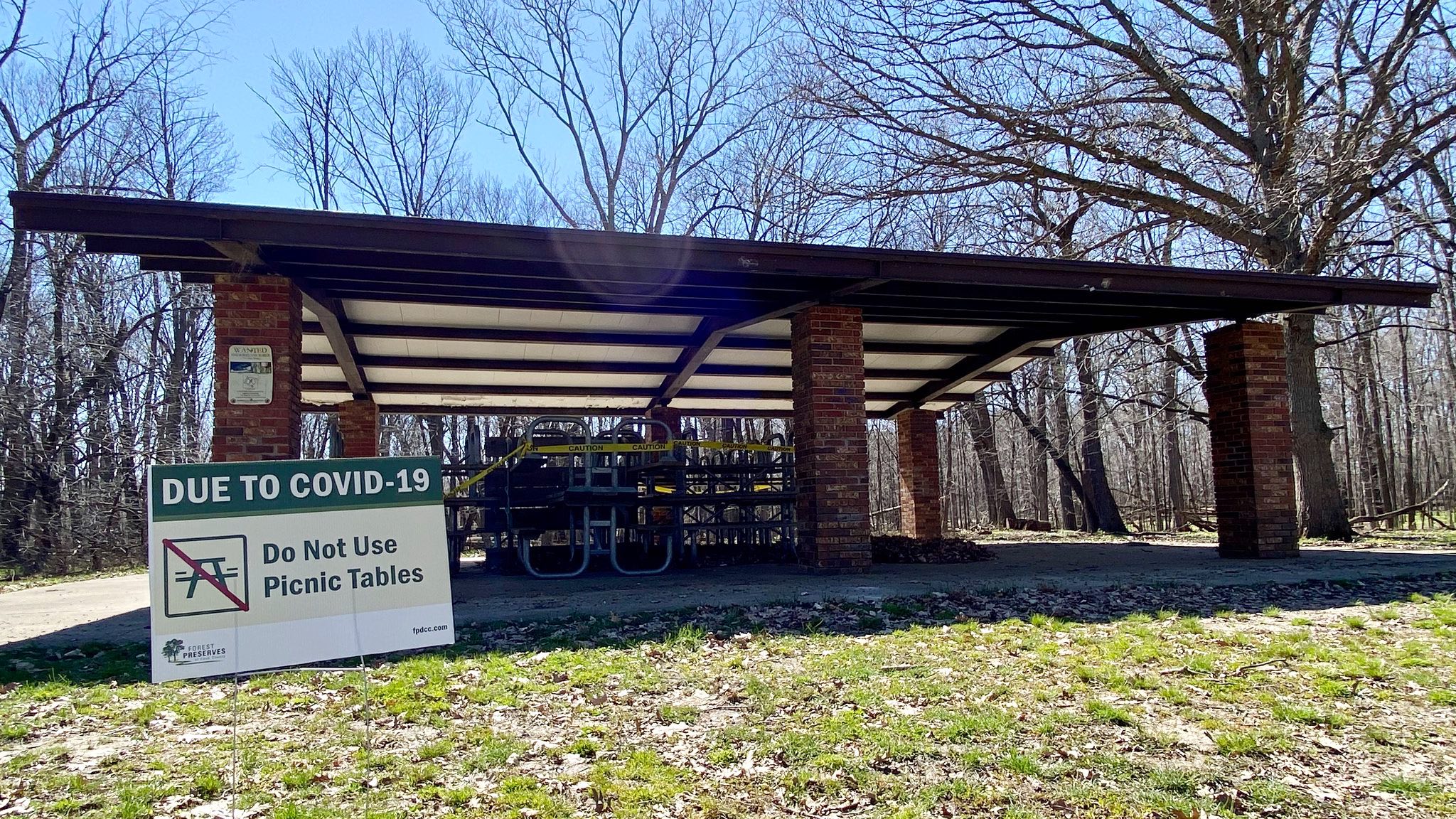 Cook County Forest Preserves took measures to discourage people from congregating at picnics tables. (Raed Mansour / Flickr)
Though the pandemic is still very much raging in the U.S., a study is already underway to examine the resilience of environmental groups in New York during COVID-19. It's being conducted by the USDA Forest Service Northern Research Station, and preliminary results were unveiled during the webinar.
Chief among the qualitative findings was that the pressures put on natural areas, and the amount of necessary maintenance required by a boom in usage, overwhelmed the capacity of most agencies, according to Sophie Plitt, one of the study's research authors. 
Dana Coelho, director of the Metro Denver Nature Alliance, attested to that statement, describing congestion on trails and in parking lots as "unsafe" and "untenable" at times, in addition to the "trash impacts" of an influx of visitors.
The Cook County Forest Preserves were similarly overrun, said McCabe. 
"People already had cabin fever," he said of the timing of Illinois' shutdown, coming at the tail end of winter.
Parks were included in essential activities, one of the few places people could go. There were weekday afternoons, McCabe said, when the number of trail users looked more like the kind of crowd a preserve might draw on a summer holiday weekend.
In the earliest days of the pandemic, with most staff furloughed for all but emergency services, the preserves' Conservation Corps program on pause and volunteers sidelined, the biggest concern was the potential for damage by an inundation of scantly supervised visitors, many of whom were new to the preserves and unfamiliar with etiquette, McCabe said. 
Mountain bikers rode off trails into fragile habitat, foragers swiped plants and poachers trapped snakes, and there were numerous reports of graffiti on trees, he said.   
Protecting people from themselves became one of the preserves' main responsibilities, said McCabe. That ranged from shutting down popular attractions like Swallow Cliff Stairs out of social distancing concerns, to resorting to extreme measures to discourage people from congregating at picnic tables — the tables were flipped over, screwed to each other and surrounded with snow fencing.
While operating in what he called "survival mode," McCabe said there was little opportunity for forest preserve staff to engage with new visitors, either in the form of supplying interpretive materials or offering guidance about how to interact with plants and wildlife. 
That sense of missed opportunity — the chance to educate and connect with newcomers in a meaningful way — was echoed in Plitt's research.
Still, as Coelho noted, the surge in usage does seem to have translated into a concurrent swell in appreciation for nature, as evidenced at the ballot box. In the Denver area, voters turned out to support funding for parks, open spaces and environmental education, she said.
Ultimately, many green responders opted to see a silver lining in the way the pandemic forced so many people to do what myriad marketing campaigns had failed to accomplish: It brought them to parks, preserves and forests.
Plitt said that was the most striking discovery of her research, how happy managers were to have new users. 
"It felt optimistic to hear land managers were so overwhelmed but still heartened and excited to have so many visitors," said Plitt.
Contact Patty Wetli: @pattywetli | (773) 509-5623 |  [email protected]