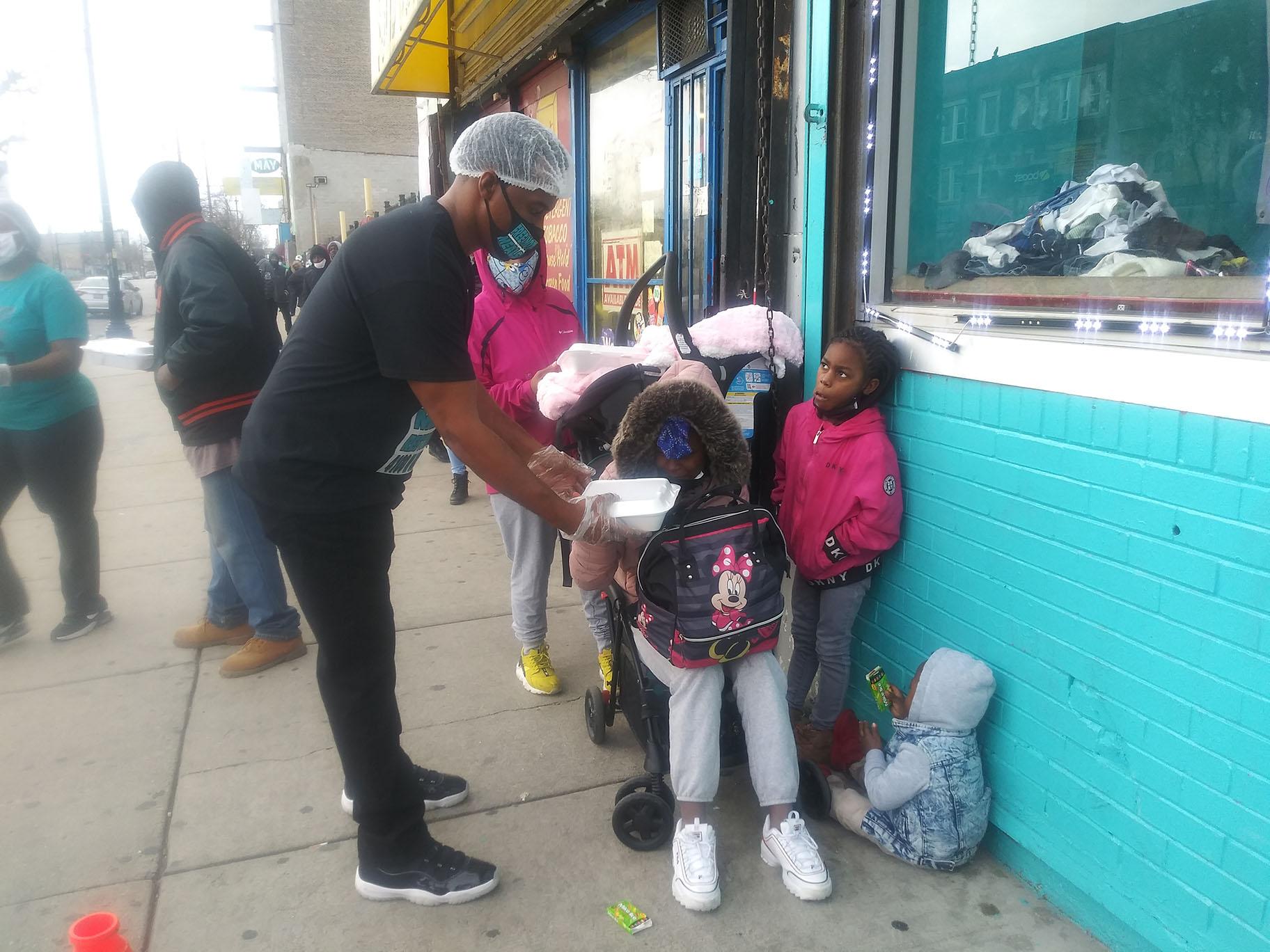 (Annemarie Mannion / WTTW News)
Growing up in a family of 19 children, Jermaine Jordan learned both how to cook and to share.
Today, he's using those skills on a much larger scale to feed people in need at a restaurant he opened in October on Chicago's West Side. At Healthy Hot Free Meals, all the food is free and prepared by Jordan and his employees and volunteers.
A line of people snaked about three-quarters down the block from the front door of the storefront restaurant at 4100 W. Madison St. even before it opened its doors Sunday to distribute a lunch of fried chicken, mac and cheese, candied yams, green beans and cornbread.
Jordan, who also brings hot meals to people living nearby in homeless encampments and to senior centers, said he gives out about 700 meals a day from the turquoise-walled restaurant, an increase from 600 a day when he started.
"The number keeps getting larger," he said.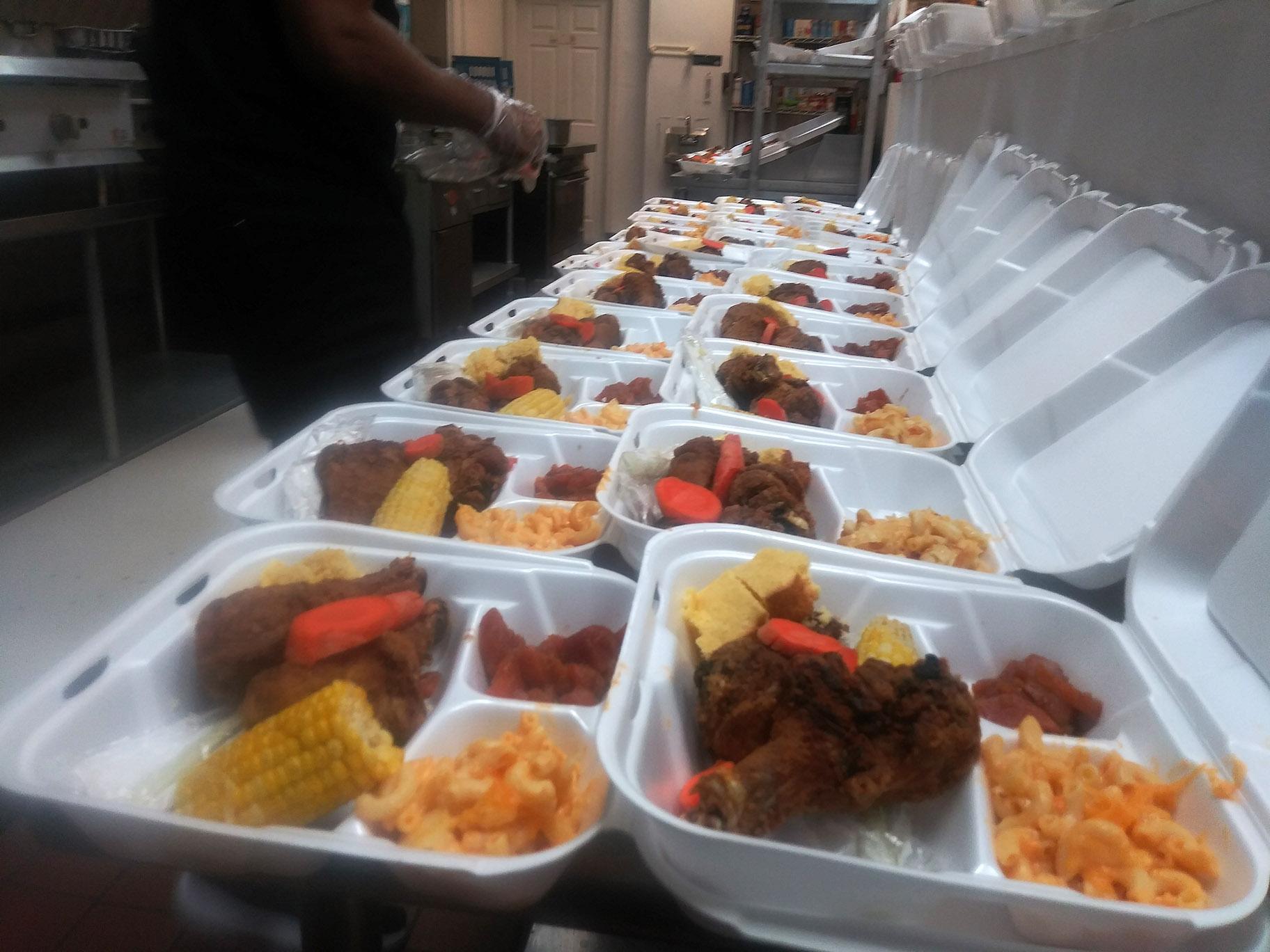 (Annemarie Mannion / WTTW News)
Jordan grew up in the Henry Horner Homes, where he learned how to cook soul food from his father, a chef. Even as a child he wanted to help people in need.
"Even when I was younger, when I was about nine or 10, and my mom got on welfare, I'd take food out to feed the homeless," he said.
Long before opening the West Garfield Park restaurant, Jordan, who owns a neighborhood car wash, White Diamond Bubbles at 4532 W. Madison St., was bringing food to people living nearby in tent cities. That's where he met Sunni Noble, one of 14 employees and a half-dozen volunteers at the restaurant.
"I saw this guy who was giving out food," Noble said. "I told him about how long I'd been staying on the streets. He said he might have a job for me in a few months. It put a little bit of food in my stomach and a little bit of hope."
Another employee, Jerome King, who also formerly lived in a homeless encampment, knows the sorts of struggles and anxieties people are experiencing and wants them to feel at ease at the restaurant.
"We try to make people comfortable and not feel as if they owe us anything," he said.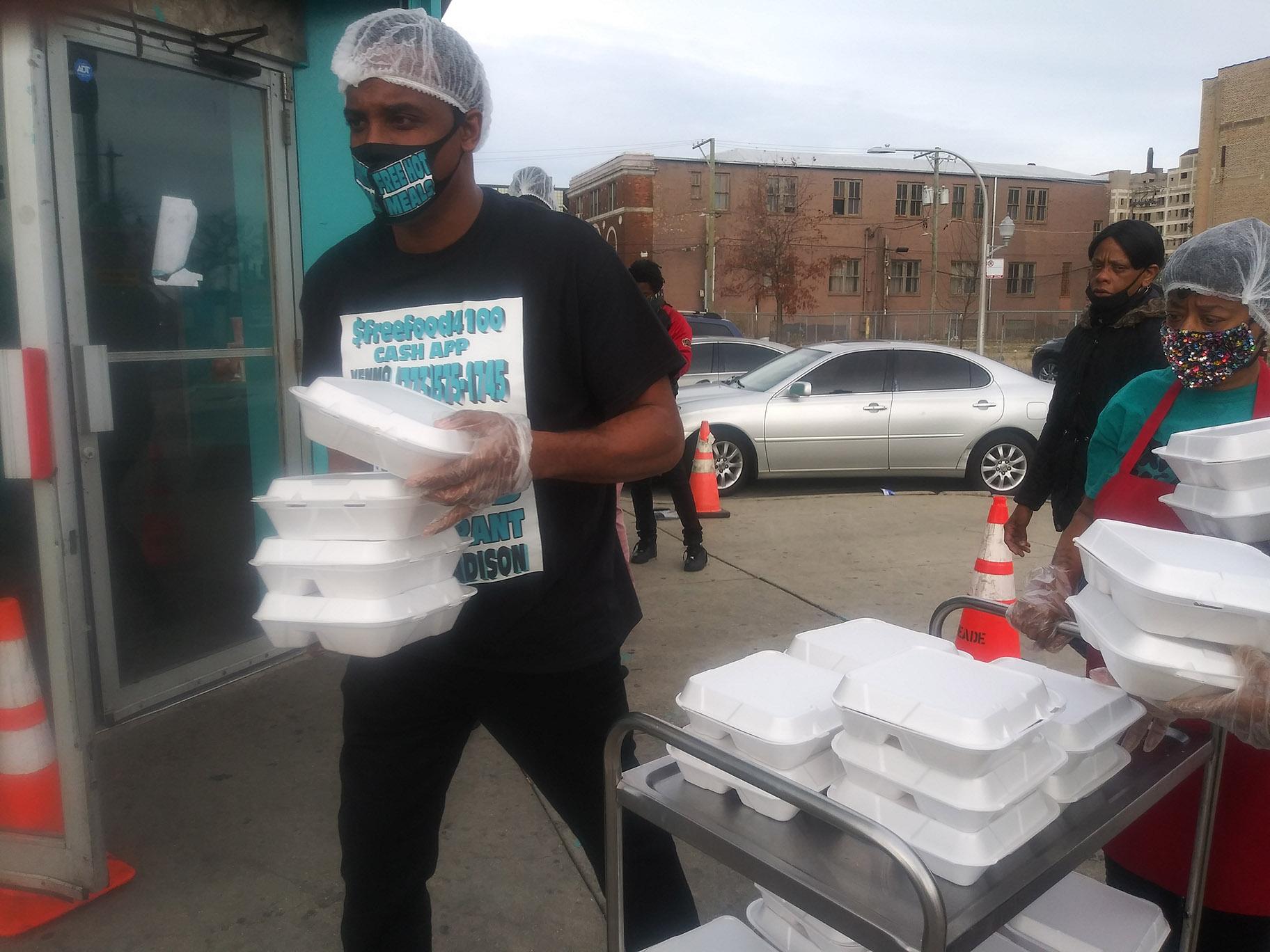 (Annemarie Mannion / WTTW News)
One of the people waiting for a meal Sunday was Krystal Baldbras. Holding her 9-month-old and with four of her other children ages 3 to 8 crowding around her, Baldbras said times haven't been easy for her lately.
"I'm going through a lot of things right now because the father of my kids left me," she said. "This (restaurant) has been a blessing to me and is helping me with things I need."
Baldbras, who lives in Cicero, appreciates the hot meals and the warm clothing she's gotten from the restaurant for her children, but she can't come every day.
"I only come when I have gas," she said.
In addition to providing hot meals, the restaurant also distributes groceries, clothing and other items that people might need.
Erica Harvey, the restaurant's operations manager, was sorting through clothing in a room at the front of restaurant when a man poked his head through the door and asked if she had a white, button-down shirt.
"I'll look," she assured him and speculated that "maybe he needs it for a job interview."
Harvey, a Navy veteran, said she thinks receiving a meal that's freshly prepared and hot is important to help people face life's challenges.
"Sometimes the CTA bus will come by and everyone on the bus will want a meal," she said. "And we give meals to first responders. I think if you haven't had a hot meal all day you get a hunger headache."
Unfortunately, Jordan said with the COVID-19 pandemic, social unrest and businesses shutting down in the neighborhood, the demand for hot meals is great and sometimes exceeds supply.
"Yesterday we had to turn people away," he said. "We ran out of hot food. But I gave them grocery items and canned goods."
The restaurant accepts donations from individuals and businesses and has started a GoFundMe page which, to date, has raised about $38,000.
Jordan said donations are needed to help with the purchase of food and supplies and with other necessities such as repairing the roof of their building.
As employees and volunteers distributed meals in Styrofoam containers to people waiting in line, some opened them right away to eat.
"Some people don't have two or three dollars to spend on chicken or a burger," Harvey said. "But they can get it here—free—and with all the love we have."
Noble, who cooks and washes dishes in the restaurant, said living on the street for five years and not always knowing where his next meal would come from "was like an ongoing the bad movie that you're living through."
He hopes the restaurant feeds not only people's bodies, but their spirits.
"I hope it gives them a sign of hope and to keep looking for opportunities because you never know where they're going to come from," he said.
Jordan, who was busy throughout the afternoon supervising the kitchen, assembling the meals and chatting with people, said he has a simple goal.
"I just want to spread love by giving back to the community," he said.
Annemarie Mannion is a freelance contributor to WTTW News. 
---