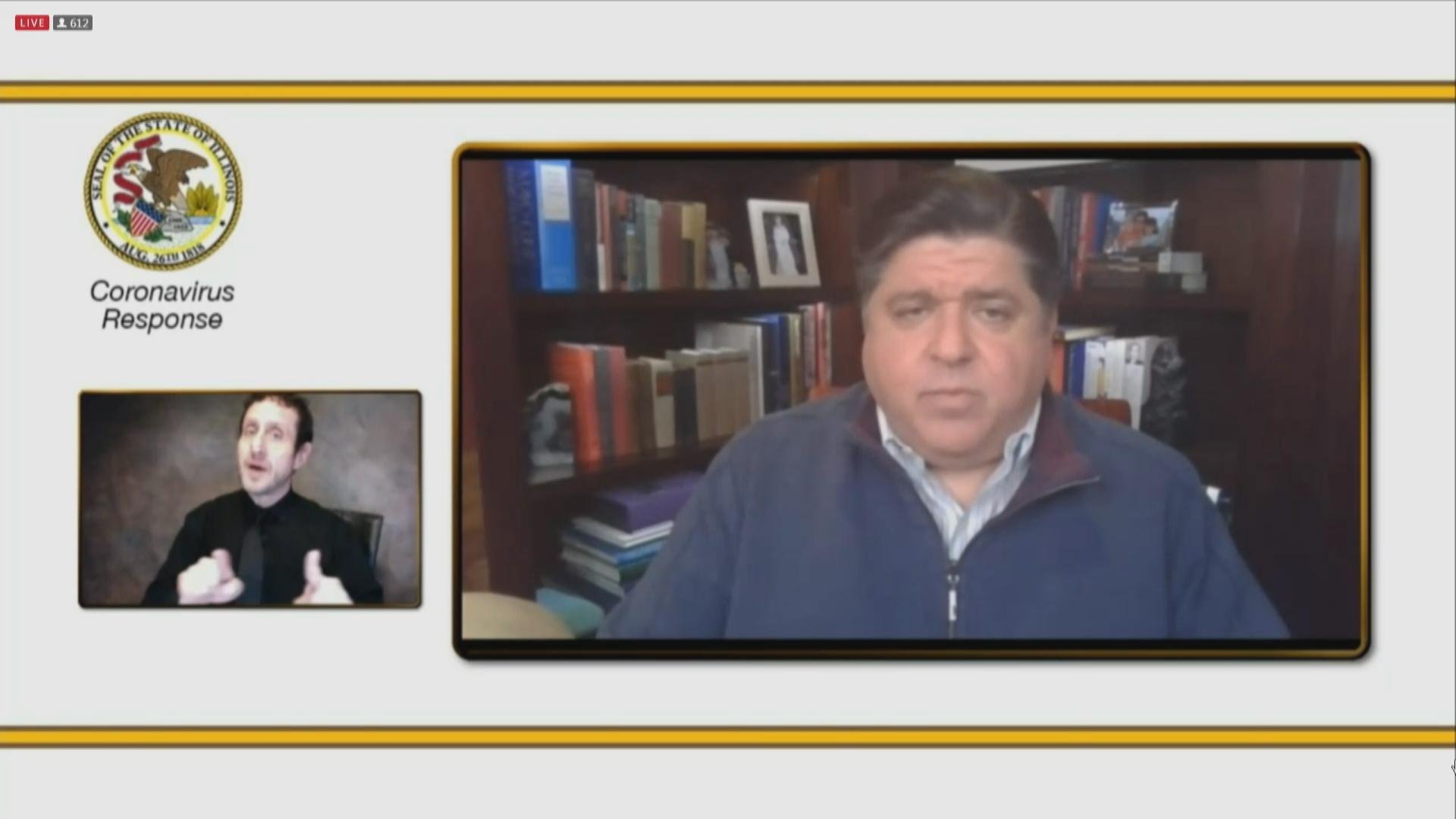 Gov. J.B. Pritzker speaks during his daily press briefing on Wednesday, Nov. 25, 2020. (WTTW News)
As Illinois struggles to manage the loss of billions of dollars in tax revenue caused by the COVID-19 pandemic, Gov. J.B. Pritzker on Wednesday announced the state will borrow $2 billion from the federal government in a "short-term" move aimed at covering those losses.
That money will come from the Federal Reserve, which is allowing states to borrow funds at below-market rates to help weather the coronavirus storm, Pritzker said. While Illinois is allowed to borrow up to $5 billion, Pritzker decided to take less than half that total, saying it would be "irresponsible" to take the full amount because the state would inevitably struggle to repay that loan over the next three years.
"Adding debt is not a long-term solution to structural imbalance," Pritzker said. "Short-term borrowing is a short-term Band-Aid to address the urgency of a short-term problem like one caused by a pandemic." 
The governor said this was a joint decision made in conjunction with Illinois Treasurer Michael Frerichs and Comptroller Susana Mendoza.
Illinois has lost more than $5 billion this year in tax revenue due to COVID-19, Pritzker said, yet there's been no federal reimbursement plan to help state and local governments cover those losses.
Mendoza said the borrowing will allow Illinois leaders to, among other things, stabilize the state's health care system in the midst of the pandemic.
"Allowing our health care system to collapse would be fiscally irresponsible and morally indefensible," she said in a statement.
Pritzker said he's been advocating for months for additional federal aid to go to state and local governments hit hardest during the pandemic. But until Congress acts, he said he and other governors must "act with the tools we have" to cover those lost revenues and balance their budgets.
According to Pritzker, President-elect Joe Biden and the U.S. House of Representatives have pledged to provide state and local governments with stimulus funding to help fill short-term deficits. The governor said his confidence level that something will get done is "rising," though it remains "modest."
The goal, Pritzker said, is to repay this new loan as soon as possible, either after additional stimulus money is awarded by Congress or state revenues have bounced back.
"Our long-term fiscal health must also be addressed," he said, "but not with short-term borrowing."
The governor's comments come on a day when Illinois saw 11,378 new confirmed and probable COVID-19 cases and 155 additional deaths.
Since the start of the pandemic, Illinois has recorded 685,467 cases and 11,832 deaths, according to data from the Illinois Department of Public Health. As of Tuesday night, there were 6,133 Illinoisans hospitalized with COVID-19. Of those, 1,208 patients were in intensive care units and 679 patients were on ventilators.
The preliminary statewide positivity rate for cases as a percentage of total tests is 10.6%, according to IDPH data. Test positivity across the state — the number of positive tests as a percentage of total tests — is 12.2%, the data shows.
That rate remains higher both in Chicago (12.9%) and suburban Cook County (14.4%), according to IDPH regional data, but positivity numbers statewide have been decreasing in recent days following a spike earlier this month.
In order to keep that trend moving in the right direction, IDPH Director Dr. Ngozi Ezike again pleaded with Illinois residents to not hold any large gatherings for Thanksgiving.
She urged those who do gather or travel for the holiday to get tested and follow quarantine guidelines to prevent another spike in cases.
"While it will look different and perhaps not at all how we want, let's try to make this upcoming holiday season one of cheer and not one of fear for more COVID-19 illnesses and lives lost that could have been prevented," she said.
Contact Matt Masterson: @ByMattMasterson | (773) 509-5431 | [email protected]
---