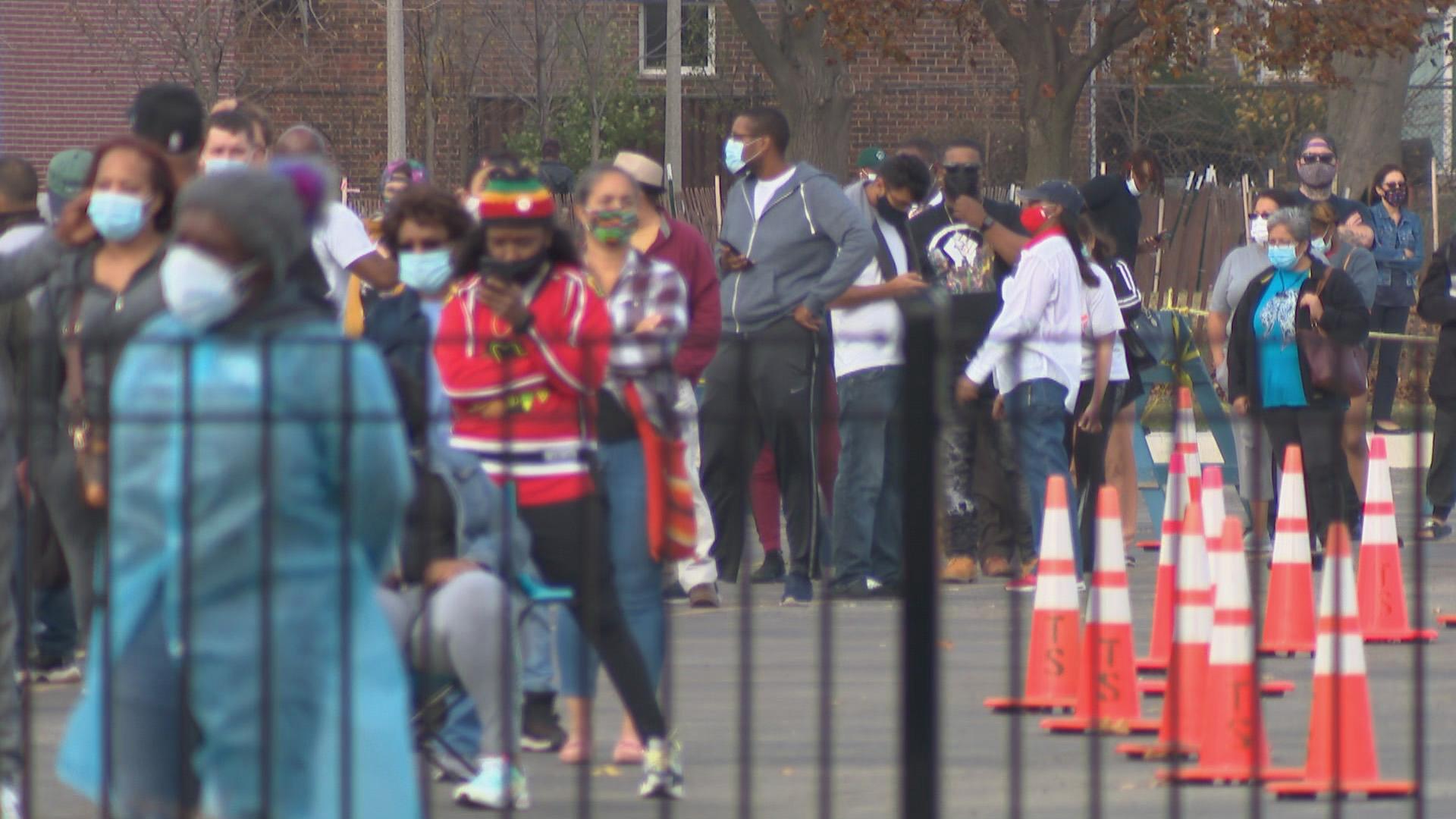 People wait in line for COVID-19 tests in Chicago. (WTTW News)
Acknowledging that demand for COVID-19 tests has grown exponentially during a sustained and grave second wave of the coronavirus pandemic, Chicago officials announced Wednesday that the city will open a new testing site at Midway Airport.
In addition, the city will send $14 million in federal grant funds from the Centers for Disease Control and Prevention to community health centers across the city to expand testing and contact tracing, Mayor Lori Lightfoot announced.
An average of more than 16,200 tests for COVID-19 were completed in Chicago every day during the past week, an increase of approximately 10% as compared with the previous week, officials said.
"Chicago is setting new testing records every day and it is our highest priority to ensure that testing remains equitably accessible and available to Chicago's most vulnerable residents," Lightfoot said in a statement.
The city's coronavirus test positivity rate is 15.9%, up from 13.6% a week ago, as calculated by the Chicago Department of Public Health. That metric has tripled in the past 30 days, according to city data.
There are 2,351 confirmed cases of COVID-19 per day in Chicago, on average, up 27% since a week ago, according to city data.
Based on that data, one in 15 Chicagoans likely has an active COVID-19 infection, according to city data.
Approximately 3,500 of those daily tests were conducted by the Chicago Department of Public Health at city-run testing sites — but Chicagoans are encouraged to contact their primary care physician for a test and care.
The city-run sites are designed to ensure that all Chicagoans can get a test, regardless of their immigration status, whether they have insurance or if they can pay. The city also has mobile testing units that it can move to communities where there is a high percentage of positive tests.
In addition, the city announced it would open a fourth permanent testing site at Midway Airport, which will be open from noon to 6 p.m. on Tuesdays and Thursdays, and from 10 a.m. to 4 p.m. on Saturdays, starting next week, officials said. All other permanent sites are open from 10 a.m. to 4 p.m. Monday through Friday.
The new testing site will be in the airport's Parking Lot B, located at 5738 W. 55th St.
The city will close the permanent testing site at Prieto Math and Science Academy at 2231 N. Central Ave. It will be replaced with a testing site at Prosser Career Academy, 2148 N. Long Ave. Both locations are in the Belmont Cragin neighborhood, one of the hardest hit areas of the city.
The other permanent testing sites are at Saucedo Scholastic Academy, 2850 W. 24th Blvd., and Gately Park, 744 E. 103rd St.
Curative, which began offering testing in Chicago in May, will continue to offer COVID-19 testing at mobile kiosks and vans throughout Chicago, officials said.
Contact Heather Cherone: @HeatherCherone | (773) 569-1863 | [email protected]
---