More than 32 million Latinos were eligible to vote this year, playing an instrumental role in the 2020 presidential election. And exit polls across the country show that Latinos are far from a monolithic voting bloc: President Donald Trump appears to have gained ground among Cuban Americans and Puerto Ricans in Florida, while Mexican Americans are credited for having helped turn Arizona blue.
"I think it's directly connected to U.S. foreign policy and, frankly, imperialism," said Cristina Pacione-Zayas, co-chair of The Puerto Rican Agenda of Chicago, and associate vice president of policy at the Erikson Institute. "U.S. imperialism influenced and informed how different subsets of the Latinx population are looking at this election and overall their experience in terms of how it is helping them to understand and make sense of the two types of candidates that we had and what they were or were not going to do," she said.
For Puerto Ricans, Pacione-Zayas said the commonwealth's longstanding relationship with the U.S. influenced their vote, along with the recent history of Hurricane Maria.
"A lot of Puerto Ricans could not forget the negligence, abuse and the treatment with respect to our brothers and sisters on the island and what the U.S. government did not do under the Trump administration," Pacione-Zayas said. 
Democrats did a poor job of reaching out to Latino voters, said María de los Angeles Torres, professor of Latin American and Latino studies at the University of Illinois at Chicago. 
"Democrats lost ground in almost every state except for California and Arizona," Torres said. "You look at the state of Florida, for instance, Biden visited Miami, Florida one time. Donald Trump was down there 16 times. Interviews given to Univision, only one from the Democratic candidate."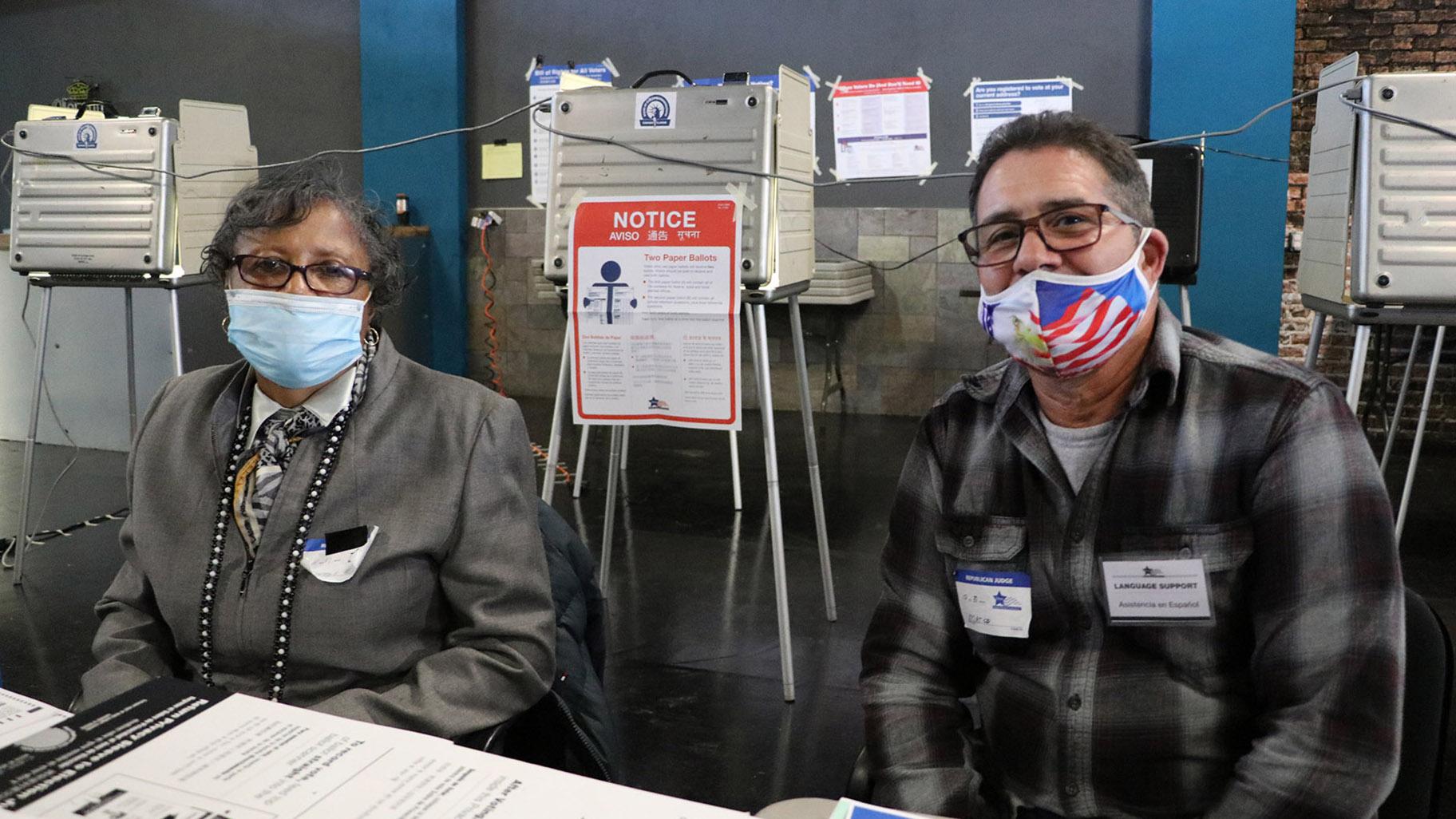 Poll workers Janice Meeks and Marco Rivera at El Mexico Moderno Ballroom in West Humboldt Park on Election Day, Nov. 3, 2020. (Evan Garcia / WTTW News)
Republicans have been organizing for the Latino vote since President Dwight D. Eisenhower, Torres said. This election cycle, the Democrats went for the blue wall and ignored Florida and Texas, she said. 
Mexican Americans make up the largest portion of the Chicago area's Latino community, which also includes Puerto Ricans, and residents from Guatemala, Ecuador and Cuba, among others.
"Thirty, 40 years ago we had only three Latino elected officials slated by the Democratic machine, but since that time a lot of independent Democrats have run for office, and now there's over 30 of us here in the city," said Juan Andrade Jr., president and co-founder of the United States Hispanic Leadership Institute, which is based in Chicago. 
In addition to foreign policy, the coronavirus was a key issue for some Latino voters. 
"I think first and foremost what was top of mind was COVID, the pandemic," Pacione-Zayas said. "You look at the data and you look at who is being infected at the higher rate and that is Latinos. COVID and all of the implications as it relates to the economy, we had a lot of job loss, reduction of hours. The fact that for our families that are mixed status they weren't eligible for the stimulus package. There were so many different ways that COVID affected us, but also exposed the systemic racism that really connects to how our experience has been in health care."
---