Monday marks the start of the second quarter for Chicago Public Schools students, and it's still not clear when teachers and students could return to their physical classrooms.
In some other districts, both in and around Chicago, schools have reopened.
Among them are the Archdiocese of Chicago Catholic Schools, which Mayor Lori Lightfoot has said she's keeping an eye on as she considers how and when to reopen CPS.
Catholic Schools leadership says they've made room for social distancing in classrooms and have purchased air filters. Additionally, students remain in strict cohorts and teachers are juggling in-person learning with remote learning. Masks are required, and at lunch, students are spread out in the cafeteria.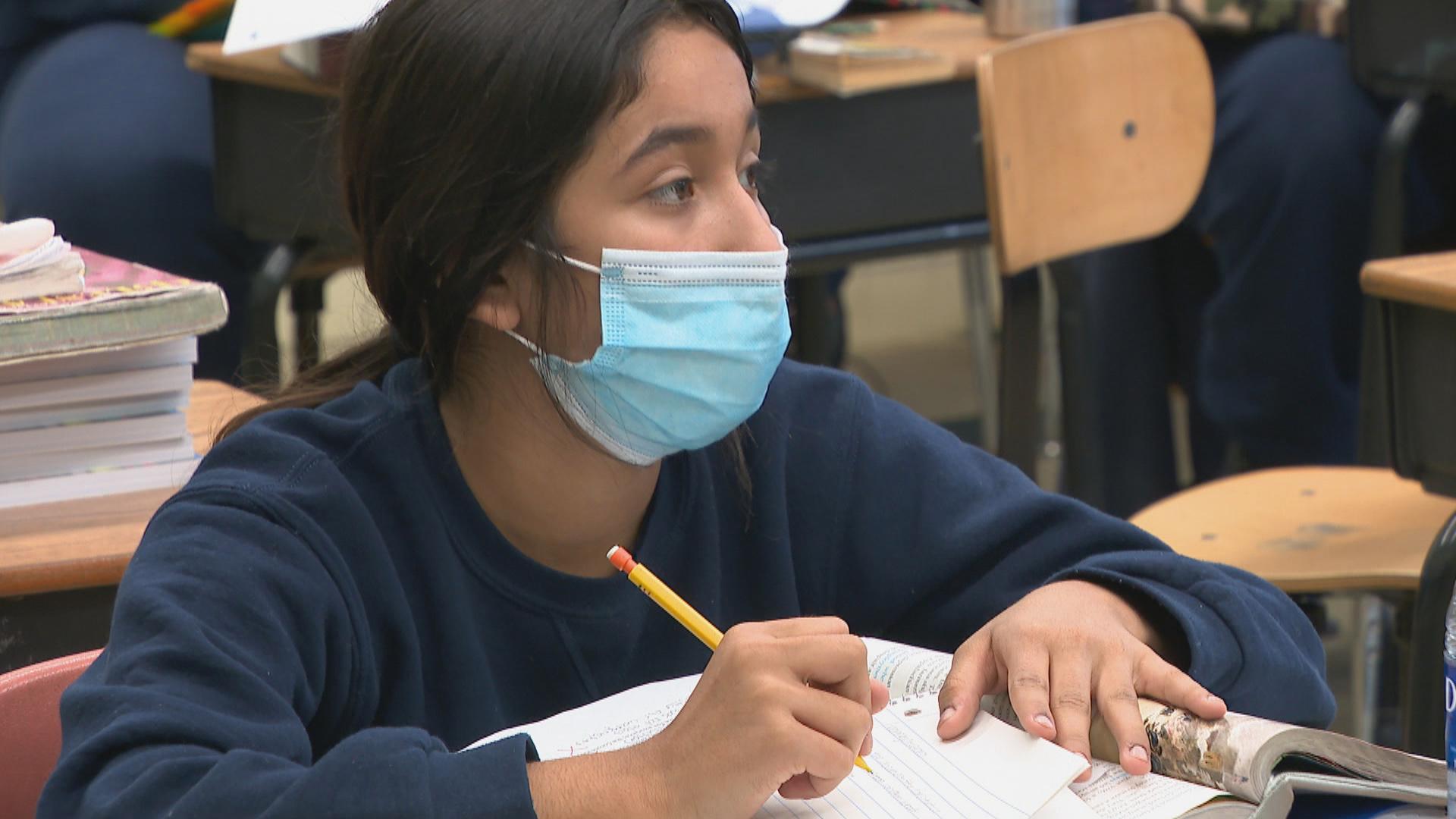 A student wears a mask at Sacred Heart School in the city's South Deering neighborhood. (WTTW News)
The district says a survey of parents this summer revealed that 85% wanted to return to in-person learning.
"As much as the e-learning is doable … I do think there's nothing that can replace that human touch, and that interaction one-on-one. I just think that you're able to connect a little bit more when you're together, than you are through the computer screen," said Sacred Heart School principal Kathleen Tomaszewski.
Northbrook District 28 says about three-quarters of families chose to return to in-person learning. The other quarter is learning remotely.
The district is implementing a number of protocols, similar to those at Catholic Schools: an increase in cleaning and custodial staff and ventilation procedures, and excluding staff and student who are symptomatic.
Superintendent Larry Hewitt says that early on, there were very few COVID-19 cases — roughly half a percent. But lately, the district is feeling the effect of the rising case count.
"In the last three weeks we've seen a spike in the number of kids and adults who are symptomatic," Hewitt said. "But also in the number that have to quarantine because maybe they're a close contact of someone who has tested positive. If a parent test positive, the kids have to stay home."
Medical professionals say the goal for schools should be to reopen safely. 
Dr. Laura Zimmermann, a professor and physician at Rush University Medical Center, says schools could borrow several practices from health care settings, such as screening students for symptoms, conducting temperature checks, staggering schedules and grouping students into cohorts, among others.
Though Zimmermann advises that schools could think creatively about how to reopen safely, that window may have closed as cases in the state surge.
"Given the guidance from CDC and other entities at this point in time in Chicago, the cumulative incidents is too high. We're approaching 10% positivity rate, and we're doing more tests than ever. And so I would say at this point in time, I do not think it would be safe to try to reopen," Zimmermann said. 
She works with a group called IMPACT, a coalition of doctors and health care professionals who work to identify and meet needs of health care workers and their communities. 
Another suggestion for reopening schools, she says, would be to ensure that school teachers, staff and students have access to prompt and accurate testing, either through a school nurse or partnership with a local health system.
Follow Brandis Friedman on Twitter @BrandisFriedman
---