Election Day in Chicago was "smooth and uneventful," Chicago election officials said Tuesday.
All polling places are set to close at 7 p.m. since all opened on time thanks to a surge of young adults serving as election judges as well as successful early voting and vote-by-mail operations, said Jim Allen, a spokesperson for the Chicago Board of Election Commissioners.
PHOTOS & VIDEO: Scenes from Election Day in Chicago
That is a significant change since the March 17 primary, at the start of the coronavirus pandemic, when nearly 10% of polling places did not open on time and dozens of polling places had to be moved at the last minute.
Only one polling place had to be moved at the request of the property owner on Monday, Allen said. All voters in the 38th precinct of the 28th Ward should head to the West Side Learning Center, 4624 W. Madison St., he said.
The most significant incident on Election Day occurred at Otis school, 525 N. Armour St., in West Town, when the sprinklers went off, dousing voters and poll workers, Allen said. Voters were redirected to the polling place at the Goldblatt's building, 1615 W. Chicago Ave. Allen said it did not appear that any marked ballots had been damaged.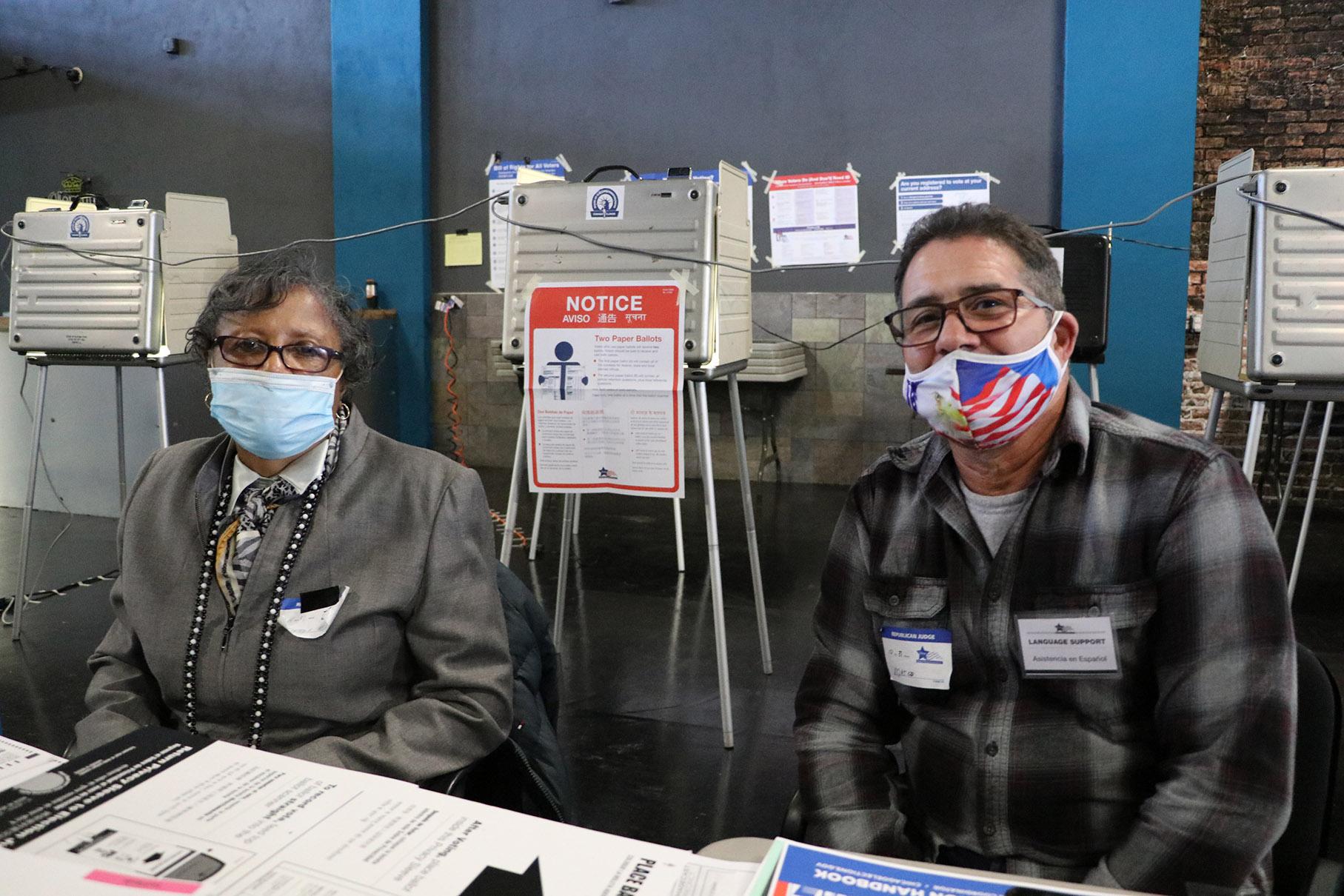 Poll workers Janice Meeks and Marco Rivera at El Mexico Moderno Ballroom in West Humboldt Park. By noon on Election Day, more than 170 ballots had been cast in their precinct. "The numbers — we usually have about 900 to 1,000 on an election year like this, so we're just waiting to see the numbers," Rivera said. (Evan Garcia / WTTW News)
While officials expected a strong and solid turnout of approximately 75%, Allen said it would likely fall short of the 82% turnout record set in 1983 when Harold Washington was elected Chicago mayor.
The results from this election will likely have lasting impact on the way Chicagoans cast their ballots, Allen said. Voters embraced drop boxes as a way to return mail-in ballots, Allen said. 
"Overall, the mail-in program was very successful," Allen said. By Tuesday evening, 85% of all mail-in ballots had been received. In past years, officials were pleased to reach the 83% mark two weeks after Election Day, when the votes are set to be certified and finalized.
Video: Cook County Clerk Karen Yarbrough speaks with Paris Schutz.
Chicago voters cast 784,198 early and mail-in ballots before polling places opened on Election Day — an 87% increase from 2016 and equal to 71% of all ballots cast in 2016, according to data provided by the Chicago Board of Election Commissioners.
Contact Heather Cherone: @HeatherCherone | (773) 569-1863 | [email protected]
Election 2020: Chicago Voters Head to the Polls
---