(Patty Wetli / WTTW News)
Election Day 2020 is finally here. While a record number of Chicagoans have already voted, plenty of other folks are set to cast their ballots on Tuesday.
Here's what you need to know before you head to the polls.
More: Check out scenes from Election Day in Chicago.
---
IN-PERSON VOTING (Voting by mail? Jump here.)
What time are polls open Tuesday?
Polls open at 6 a.m. Tuesday and close at 7 p.m. Long lines? Don't fret: If you're in line at 7 p.m., you are entitled to vote.
Where can I vote Tuesday?
Registered voters can vote at their home precinct, any of the 51 early voting sites or at the United Center. No ID is required to vote unless your name or address has changed. Find your home precinct here.
Not registered to vote? Illinois allows for same-day voter registration in counties that have a population of 100,000 or more, so Chicago residents qualify. Same-day registration and voting can be done at a person's home precinct (find your home precinct here) or any of the early voting sites. To register, you'll need two forms of ID, at least one with your current address. Acceptable forms of ID include a driver's license, passport, state ID, work ID, credit/debit card, insurance card or a utility bill.
If you moved before Oct. 5 to your current Chicago address, vote at the polling place for your new address. You can register or update your registration on site (see above). If you moved on or after Oct. 5 from one Chicago address to another, vote at the polling place for your old address. 
Who's on the ballot?
Preview a sample ballot for your precinct here. It's likely that some contests flooding the airwaves with ads, including some regarding judicial candidates, aren't even on your ballot. WTTW News' online voter guide provides information on all the local candidates, from U.S. senate to clerk of the Circuit Court.
What if I requested a mail-in ballot, but decided I'd rather vote in person?
Take your mail-in ballot with you to your designated polling place, surrender it to an election judge and you'll be given a new ballot for voting. If you don't have the mail ballot with you, you'll have to cast a provisional ballot after completing an affidavit. Provisional ballots are counted 14 days after an election if they're determined to be valid.
What if I see or experience intimidation at the polls or notice some other suspicious behavior?
There are a number of ways to lodge a complaint or report voter fraud.
The U.S. Attorney's Office has set up a pair of hotlines for Election Day: 312-469-6157 and 312-469-6158.
The non-partisan Chicago Lawyers' Committee has an election protection hotline: 866-OUR-VOTE.
The Chicago Board of Election Commissioners' complaint line is open on Election Day: 312-269-7870.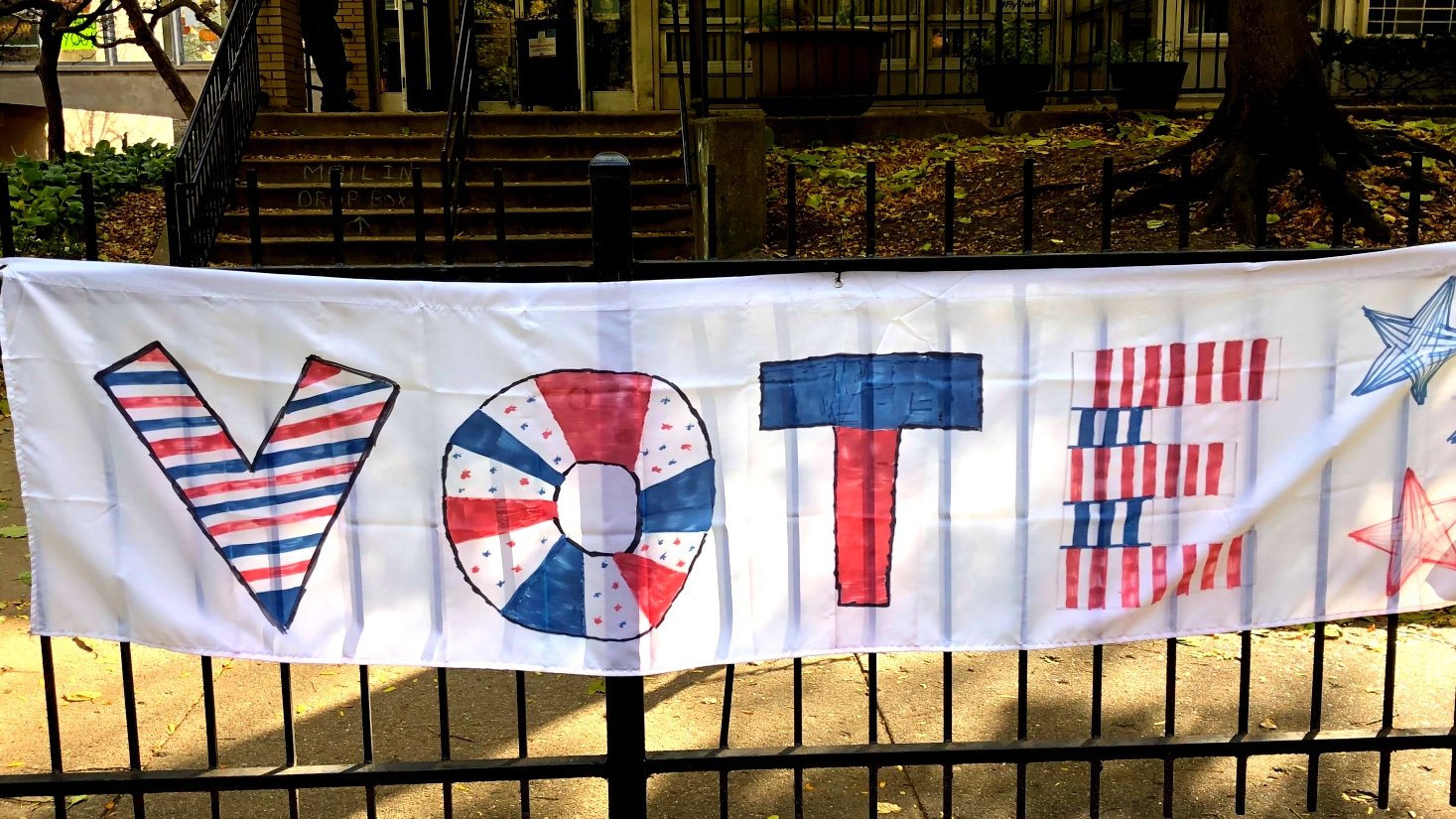 (Patty Wetli / WTTW News)
It is too late to vote by mail?
Any mail ballot postmarked or certified by or on Tuesday, Nov. 3 will be counted as long as it's received within 14 days of Election Day. Ballots that arrive at the Election Board after Nov. 17 won't be counted. Ballots postmarked Nov. 4 or after won't be counted.
I don't trust sending my ballot in the mail. Are there drop-off points I can access on Election Day?
Ballots can be dropped off on Election Day at any of Chicago's early voting sites. Wrigley Field, Guaranteed Rate Field and the United Center will also host secure drop boxes for mail-in ballots on Election Day. Note that there will not be drop boxes at every polling location. The Wrigley Field box will be located at the Gallagher Way Gate, near Clark Street; the Guaranteed Rate Field box will be on Shields Avenue, north of 35th Street. 
Need a ride to the polls?
If transportation is an issue, Uber is offering discounted rides, up to $7 per ride, each way. Lyft and Divvy are offering half-price rides to polling places or drop boxes, up to a $10 value.
Some ward offices are also arranging transportation for constituents. Check your alderman's website or call to see if they have a transportation plan for voting on Election Day.
Contact Patty Wetli: @pattywetli | (773) 509-5623 |  [email protected]
---
Election 2020: Chicago Voters Head to the Polls
---