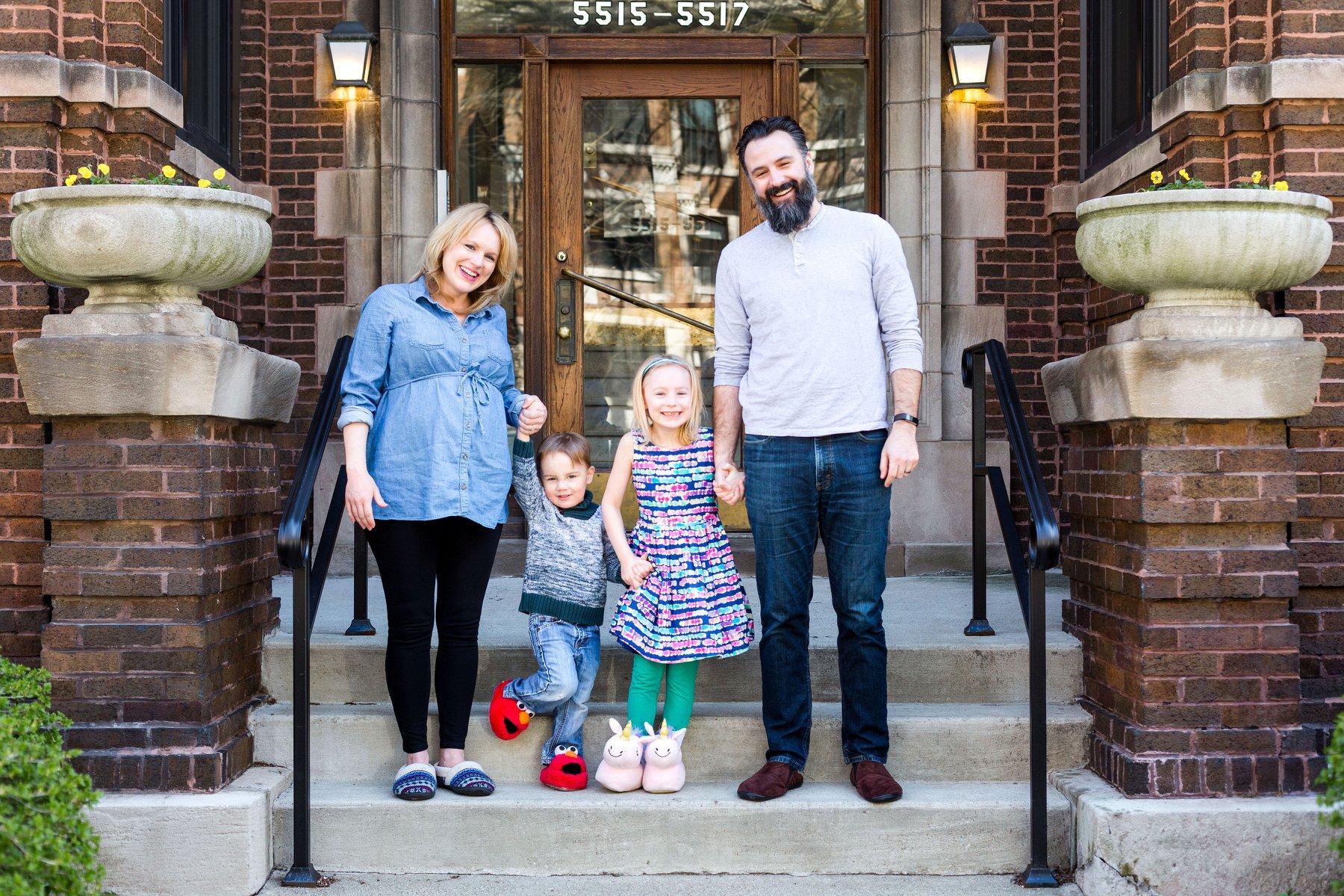 The Salesberry family, from left, Christina, Finn, Rosie and Brandon pose for a picture in April. (Courtesy of Christina Salesberry)
For Christina Salesberry and her husband, Brandon, the early months of 2020 were all about preparing for a new addition to their family.
The couple was expecting their third child, and after experiencing a difficult labor and delivery with their second, they decided to hire a doula for support and guidance, not just during the pregnancy but also at the hospital.
In February, they were paired with Nahid Kohistani from Chicago Family Doulas, who visited the family's South Side home to plan for the upcoming birth.
Doulas are trained to provide physical, emotional and informational support to a mother and their partner before, during and shortly after childbirth. They are not health care professionals but they provide continuous support during labor and delivery.
"I had so much anxiety about delivering," Salesberry said. "(Our doula) assuaged all of our fears at that point. We were feeling really good about it."
Then the coronavirus pandemic hit.
'You can't have a doula'
When Gov. J.B. Pritzker issued a stay-at-home order in March, hospitals began restricting the number of people a woman in labor could have with her for support.
"Within three days, most of the Chicagoland hospitals limited support to just one person," said Anna Rodney, owner of Chicago Family Doulas. "It was just so devastating. Families that were due that day were told, 'You can't have a doula,' and their entire pregnancy they were planning on having a doula. … There was so much fear and worry from our families."
Mary Calderon remembers that week clearly. She is a pregnancy and postpartum doula with the nonprofit group New Moms, which provides services to mothers under age 24, many who are experiencing poverty. Calderon was planning on being at the bedside of an expectant mother at one of the few hospitals that still permitted doulas in addition to a support person.
"At the last minute, she had to be induced and her doctor happened to be on call at a different hospital,"  Calderon recalled. Unfortunately, the other hospital allowed only one support person. "I will never make a birthing person decide between me and their other support person," she said.
So Calderon provided support and guidance over the phone.
"That was really challenging," she said. "A lot of times the work I do is very hands-on. I'm touching families and providing physical comfort, massage, counter pressure — even getting water and feeding (a mother) ice chips. I can't do that over the phone."
Calderon improvised, sending screenshots of positions for the laboring mother to try with help from a nurse. "That didn't exist before the pandemic," she said. Typically, Calderon would go over various positions and exercises with expectant mothers prior to delivery. "But they never had a sense to memorize or remember them because I'd be there," she said. "Or if not me, a backup. I can coach the partner to (help the laboring mother). It's a team effort."
In-person support
When Salesberry went into labor on May 28, many hospitals had adopted the one-support-person rule, including Northwestern Medicine Prentice Women's Hospital, where she had planned to deliver her baby.
While her doula, Kohistani, couldn't be with her at the hospital, she agreed to assist Salesberry from her home as much as possible that day before Salesberry and her husband went to the hospital.
Salesberry said she felt comfortable having her doula provide in-person support.
"Because of the nature of doulas — because their entire purpose is to be providing this care and understanding about medical requirements — I didn't have any concern she'd be doing anything irresponsible or not following instructions for safety," Salesberry said.
Kohistani provided several hours of remote support before coming over to go for walks and assist with exercises. She even made scrambled eggs for Salesberry.
"Then I started having a lot of contractions," Salesberry said.
By 11 p.m. that night, Salesberry and her husband arrived at the hospital and switched to keeping in touch with Kohistani via text. "Because she prepared me so well, things moved so swiftly that I didn't need a lot of support once we got there," Salesberry said.
Shortly after midnight, Salesberry gave birth to Oscar "Ozzie" Salesberry.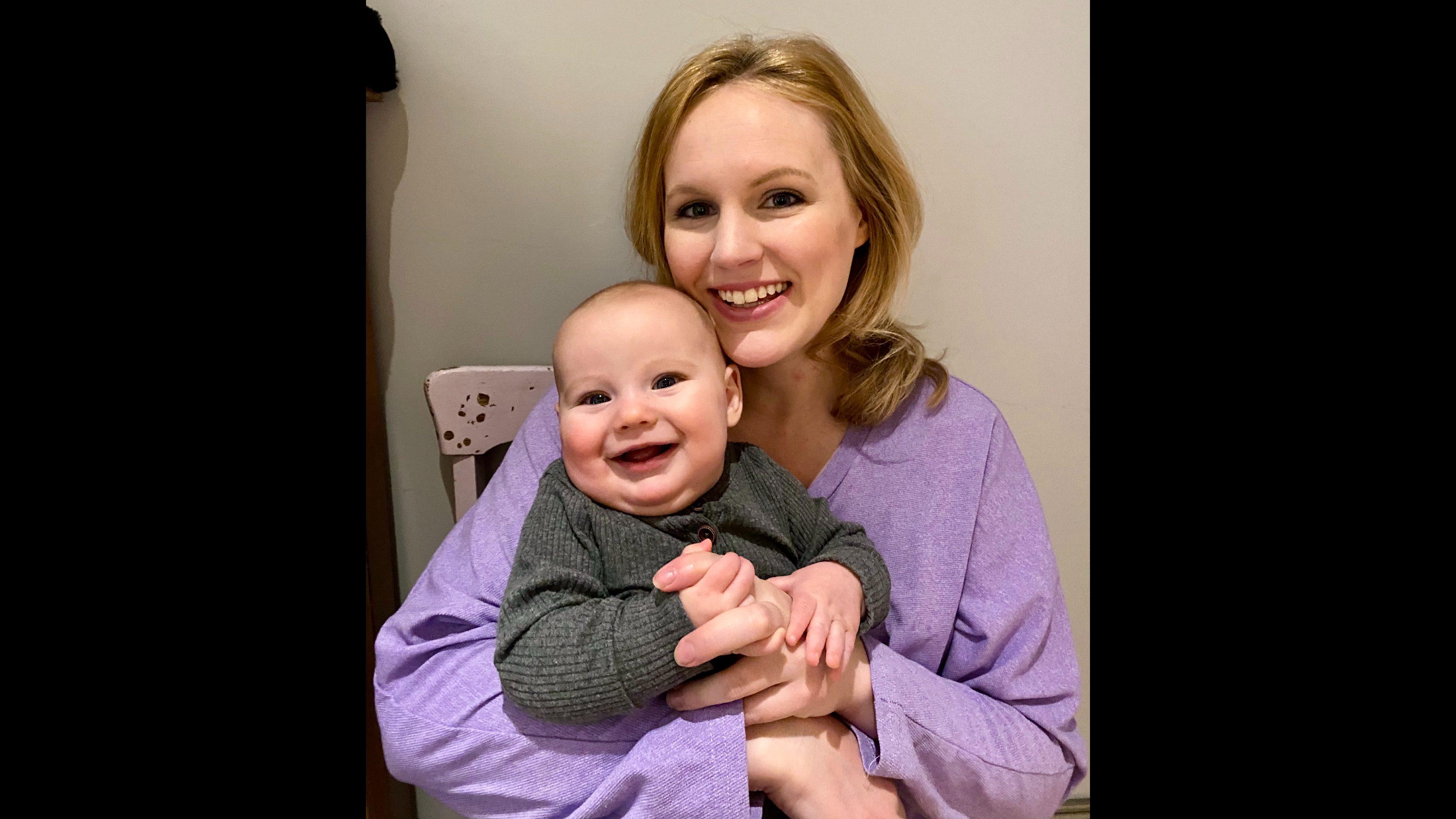 Christina Salesberry and her son, Oscar "Ozzie," pose for a picture in October. (Courtesy of Christina Salesberry)
Looking back, Salesberry says virtual support from her doula was incredibly helpful.
"Even though I didn't think virtual support would make sense, it was incredibly helpful for us from a practical standpoint and really comforting. It helped with the anxiety that we had," Salesberry said. "The flexibility of services they can provide is valuable. If I had to do it again, I would hire a doula again whether they could be in person or not."
In addition to providing virtual support, doulas have turned to technology like Zoom to offer virtual classes on topics including childbirth, breastfeeding and what to expect when bringing a newborn home, said Rodney, owner of Chicago Family Doulas.
"It's been a big hit," Rodney said. "And we're planning on keeping that even post-COVID. … People always think we have to be in person. That a childbirth class has to be in person and it limits so many people from taking one."
But virtual classes have limitations, says Calderon, of New Moms. "Teaching breastfeeding is hands-on. It's literally helping a mom attach a baby to her breast, showing her different positions … it's harder to do that virtually," she said. "I can't demonstrate how to latch when I'm not nursing."
By the end of May, most Chicago-area hospitals had loosened restrictions in labor and delivery units to allow for one support person and a doula, according to Rodney.
But it's not yet business as usual, and with COVID-19 cases rising across the state, those restrictions could return this fall. According to Calderon, doulas are spending more time than they did before the pandemic waiting outside the hospital until the mother is in "active labor" and in the labor and delivery unit.
"You can't wait in the hospital," Calderon said. "I'm preparing patients for more phone support until a doula is permitted to be up there."
Once permitted inside the hospital, doulas must already be wearing their personal protective equipment. For Calderon, that includes a face shield, mask and gloves. "If there's a shortage (of PPE) at the hospital, we have all our stuff with us and not putting ourselves in any unnecessary risk," she said.
But while necessary, the PPE presents a challenge. "It is very hard to coach someone to breathe if they can't see you breathing," Calderon said. "They can't imitate, hear or see me breathing. I'm trying to convey that through my eyes, which is really difficult."
Frequent testing
Outside the hospital, doulas are taking extra precautions to keep themselves safe and, by extension, the families they serve.
"We're always wearing gloves and things like that. We're changing gloves more frequently than normal, washing hands," said Calderon. "It's interesting because normally we take lots of precautions because we work with women and newborns all the time. We're very conscious of sanitation and health, but the pandemic has made me obsessive, basically."
Rodney says her team of 33 doulas is following similar precautions. They also avoid using public transit and take all illnesses seriously, she said.
"Any doula who has even as much as a cold, we're making them take time off and get COVID testing," Rodney said. "Doulas are getting COVID tests very frequently."
While Rodney's team has resumed providing in-person support at families' homes, New Moms is still operating virtually for the most part, says Calderon.
"We work with (expectant) moms who are 27-28 weeks pregnant and meet weekly for an hour now, virtually, over Zoom or on phone calls," she said. "We spend every week helping them prepare for what an average labor will be like, what to expect as a new parent, newborn behavior and any goals they have, like seeking stable housing or trying to get their GED."
After the mother gives birth, a New Moms doula will make monthly deliveries of diapers and other items to the family, but that's the only in-person interaction they have, according to Calderon. "We limit (our visit) to 10 minutes and we're wearing a mask during the interaction," she said.
But doulas are communicating constantly with their families, says Calderon. "We (talk) at least one hour a day, and some moms reach out more than that. The doulas at New Moms are available 24/7," she said.
Demand for services
While the pandemic necessitated a shift to virtual services, Calderon fears not everyone will be able to access them.
"The pandemic has exacerbated disparities in health equities and access to resources, especially for families of color," she said. "Many of our families might have resource scarcity. They might not have a Wi-Fi connection. There are systemic barriers that exist to not having a laptop, cellphone to meet virtually."
Melanie Garrett, chief program officer at New Moms, echoed that sentiment.
"The need is still there. Young mothers are still getting pregnant and needing support," Garrett said. But the pandemic has stymied traditional outreach efforts.
Before the pandemic, New Moms staff would conduct in-person outreach at places like high schools and clinics, according to Garrett. Now, New Moms is relying on referrals from providers as well as social media and phone calls for outreach.
"I don't think the need has decreased. It's just the strategies and building relationships is 100% different," with in-person outreach becoming virtual, she said. "Like other providers, we continue to be creative."
Despite outreach challenges, New Moms has not had to lay off or furlough any of its three doulas.
Demand for Chicago Family Doulas' services has rebounded since plummeting at the beginning of the pandemic.
Between March and May, the company lost about half of its business for labor doulas, according to Rodney. "A lot of families that booked us didn't want virtual support," she said, adding demand for postpartum doulas was also down during that time. That meant a lot of the company's doulas, who are independent contractors, filed for unemployment assistance, according to Rodney.
But demand has picked up significantly since the company began offering in-person services again and necessitated the hiring of eight new doulas, bringing Rodney's team to 33.
"We are busier," she said, adding the pandemic has created a new client base with people limiting their travel. "Normally, families would have their (own) family support, and now they're hiring us because they don't. Or they have two or three other kids at home who aren't going to preschool or child care."
And while they're now busier than ever, Rodney is concerned about the rising number of coronavirus cases and what that could mean for future hospital restrictions.
"We know numbers are on the rise and doulas continue to be so cautious and thoughtful so they can stay (in hospitals) and support our families," she said.
Contact Kristen Thometz: @kristenthometz | (773) 509-5452 |  [email protected]
---
This story is a part of the Solving for Chicago collaborative effort by newsrooms to cover the workers deemed "essential" during COVID-19 and how the pandemic is reshaping work and employment.
It is a project of the Local Media Foundation with support from the Google News Initiative and the Solutions Journalism Network. The 19 partners span print, digital and broadcasting and include WBEZ, WTTW, the Chicago Reader, the Chicago Defender, La Raza, Shaw Media, Block Club Chicago, Borderless Magazine, the South Side Weekly, Injustice Watch, Austin Weekly News, Wednesday Journal, Forest Park Review, Riverside Brookfield Landmark, Windy City Times, the Hyde Park Herald, Inside Publications, Loop North News and Chicago Music Guide.
---