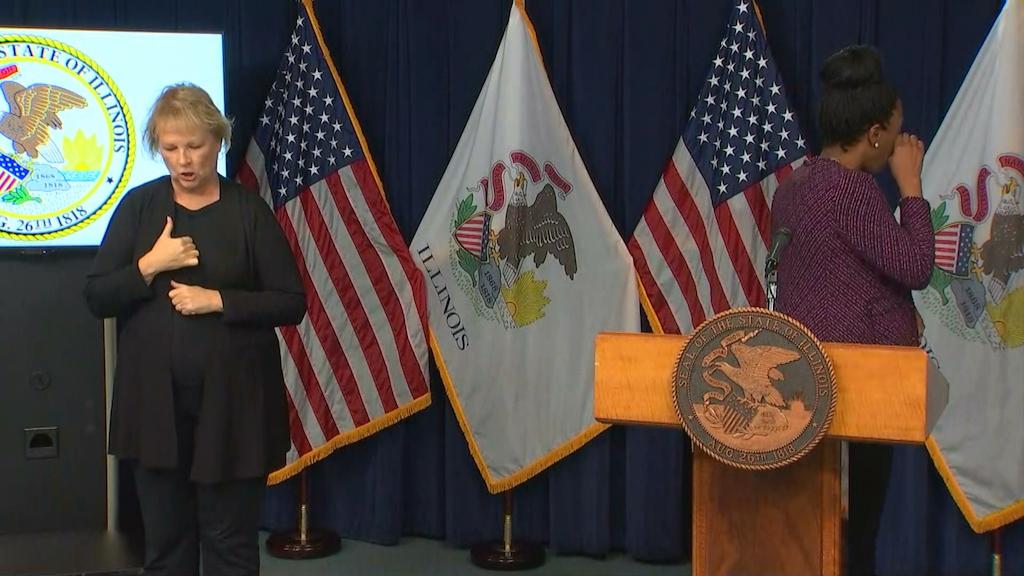 Illinois Department of Public Health Director Dr. Ngozi Ezike, right, begins tearing up after reading the daily COVID-19 case count in Illinois during the Friday, Oct. 23, 2020 press briefing. (WTTW News)
Half of Illinois' 102 counties are now considered to be at a warning level for spread of COVID-19 as the coronavirus continues to spike in what's been called a second surge statewide.
The Illinois Department of Public Health on Friday announced 51 counties are currently at a warning level, marking a 50% jump over the same time last week.
"The way we work, the way we live, the way we play have all changed," IDPH Director Dr. Ngozi Ezike said, "and the harsh reality is that the sacrifices we've made and that we continue to make do not have a future expiration date."
A county reaches a warning level when it experiences an increase in at least two COVID-19 risk indicators from the state's resurgence mitigation plan, according to IDPH.
The announcement comes as IDPH announced 3,874 new confirmed COVID-19 cases and 31 deaths Friday, including a male in his 30s from Cook County. Since the pandemic began, Illinois has recorded 364,033 confirmed cases and 9,418 deaths.
"These are people who started with us in 2020 and won't be with us at the Thanksgiving table," Ezike said.
According to IDPH, common threads tying these cases and outbreaks together include gatherings in people's homes, weddings and funerals, bars and clubs, university and college parties as well as college sports teams, family gatherings, long-term care facilities, correctional centers, schools, and cases among the community at large, especially among people in their 20s.
Public health officials are observing businesses "blatantly disregarding mitigation measures," people not social distancing, gathering in large groups, and not using face coverings, according to state health officials. Gov J.B. Pritzker on Thursday said the state would not hesitate to pull liquor or gaming licenses from establishments if they continue to ignore these mitigation efforts.
The 51 counties at a warning level include Kane, McHenry and Will counties, as well as dozens of counties located in regions 1, 5, 7 and 8 – all of which are operating under tightened mitigations.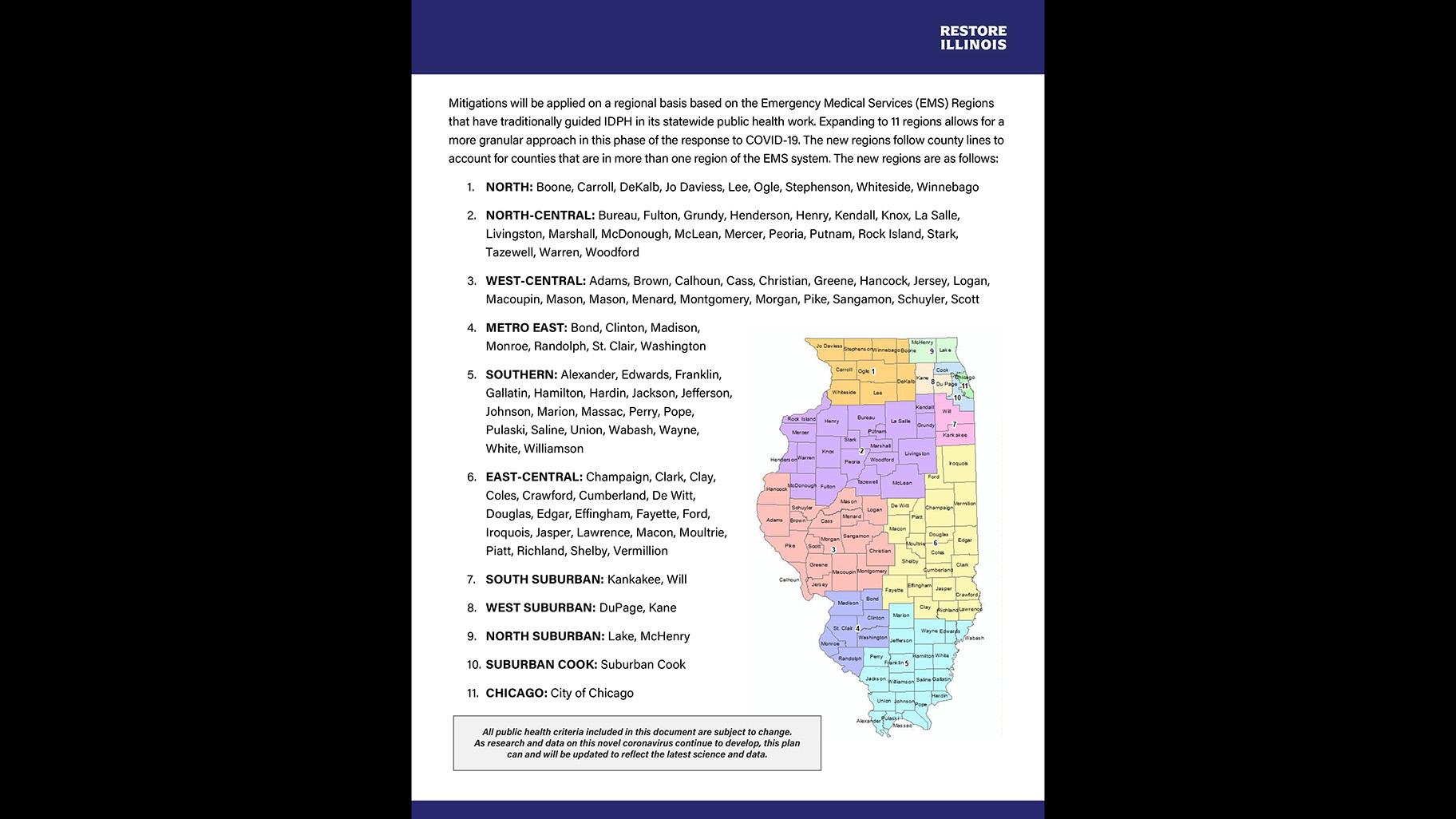 A map of Illinois' 11 regions. (Click to see full COVID-19 mitigation plan released by Gov. J.B. Pritzker.)
Ezike pleaded with Illinoisians to keep wearing masks, social distancing and abiding by safety guidelines to limit the spread of COVID-19.
"I'm asking you to fight the (COVID-19) fatigue," Ezike added. "Fight the urge to give up on social distancing, fight for your kids to have (a) safe, healthy opportunity to have in-person learning. ... Fight to have safe, healthy environments in which we can work, so that businesses can remain open so that our economies can start to thrive again."
During Friday's press briefing, Ezike had to briefly step away from the microphone to compose herself after she began weeping while reading the daily COVID-19 count.
She later said it's "sad to see the numbers going up again," but Pritzker said she has for months carried the weight of every Illinois resident affected by this pandemic. Describing her as "superwoman," the governor also noted that Ezike has had protesters demonstrate outside her home and had been the subject of verbal attacks.
"People have the right to do that, but people should also take into consideration that this is a very difficult job that she has and she is doing it in a way that we should all be so proud of," he said. "I know I am."
Contact Matt Masterson: @ByMattMasterson | [email protected] | (773) 509-5431
---