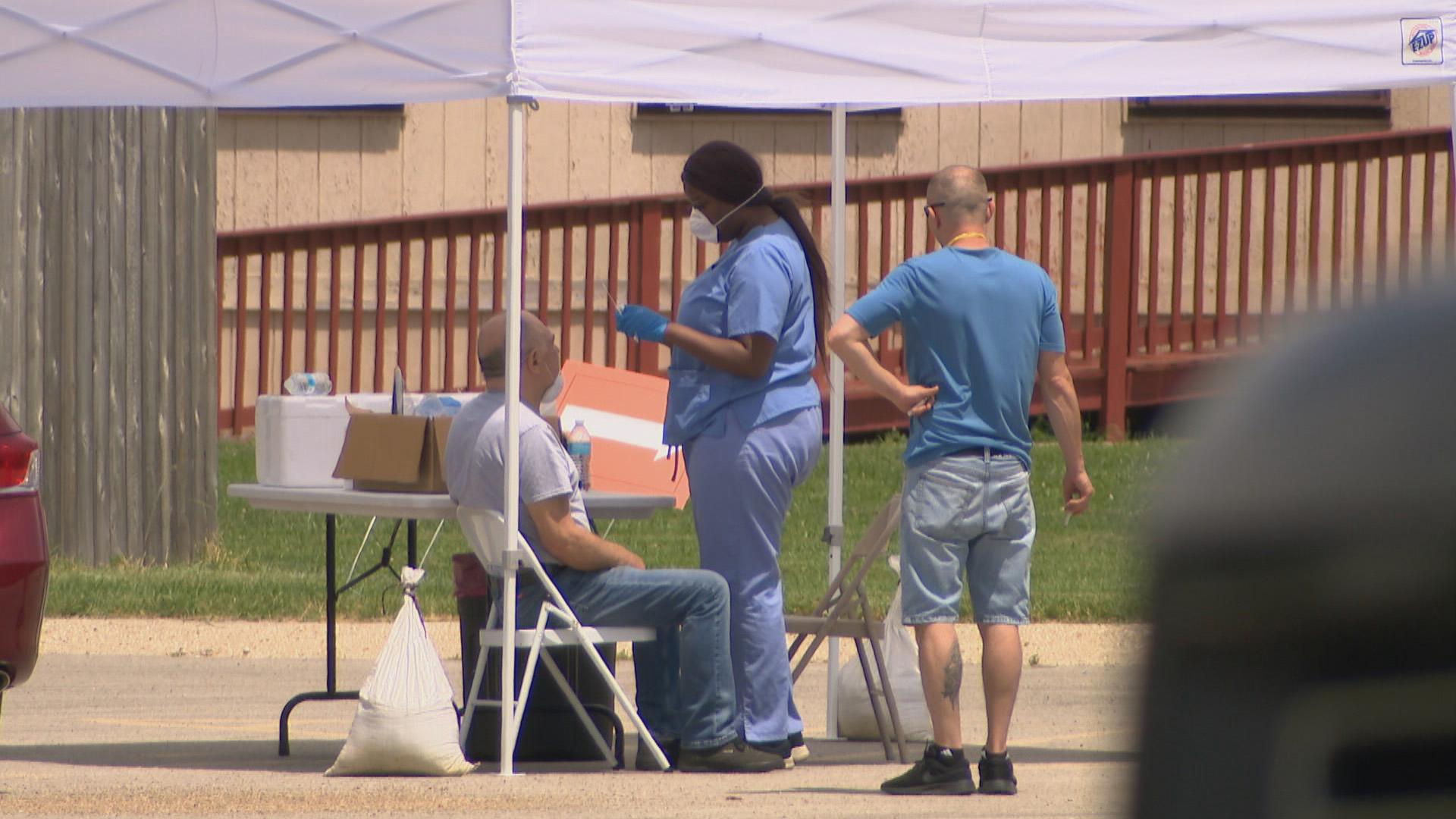 (WTTW News)
Illinois is now averaging more than 70,000 COVID-19 tests per day and has surpassed the 7 million test mark since the start of the pandemic, as the state approaches another coronavirus peak that could be worse than what was seen in March and April.
Speaking on a day when Illinois reported nearly 5,000 new cases of COVID-19, Gov. J.B. Pritzker said the state will act to punish businesses and establishments that fail to abide by mandated coronavirus mitigation requirements.
"It is very serious right now, folks," he said. "And if we need to close down restaurants and bars or take away their liquor licenses, take away their gaming licenses, we will do that. Because we are now headed into a peak that is beyond, potentially, where we were in March and April."
Pritzker's office announced that Region 1 in northwestern Illinois, which had already been under a resurgence mitigation plan since Oct. 3, will see even stricter measures beginning Sunday after seeing a seven-day rolling average test positivity rate of 8% or above for three consecutive days.
This means that region – which includes Boone, Carroll, DeKalb, Jo Daviess, Lee, Ogle, Stephenson, Whiteside and Winnebago counties – will have a cap on gatherings of 10 people instead of 25, and table caps of six people rather than 10 at restaurants and bars.
Hospitalizations and the number of intensive care unit beds being used are increasing statewide, according to Pritzker, who said they've been "focused" on having the Illinois State Police issue warnings and citations to those not following mitigation rules.
The Illinois Department of Public Health on Thursday reported 4,942 newly confirmed cases and 44 deaths. Since the start of the pandemic, Illinois has seen 360,159 cases and 9,387 deaths statewide.
The 80,977 tests conducted in the 24 hours leading up to Thursday also pushed the state's testing total up to 7,031,082.
Pritzker spoke Thursday from the St. Clair County Health Department in Belleville, Illinois. That's located in the Metro East region, which earlier this month returned to phase four guidelines after weeks of tougher restrictions on gatherings and indoor bar and restaurant service triggered by a heightened testing positivity rate.
While those additional mitigations are gone for now, Pritzker warned they could soon return as the region's seven-day rolling positivity average again approaches 8%. He said Thursday that he's "pleading" with business owners and the public to follow basic steps to prevent further spread of the virus like social distancing and wearing masks.
"Just look at the curves," Pritzker said. "We're working very hard but we need everybody's help in the public. We need the restaurant owners and bar owners to follow the mitigations and to stop fighting and trying to find some flaw in the data, trying to find somebody who will say that a bar or restaurant is not a spreading location."
In Chicago on Thursday, Mayor Lori Lightfoot ordered non-essential businesses to close by 10 p.m., while bars will no longer be able to serve customers indoors beginning Friday as coronavirus cases continue to rise in and around the city.
Pritzker noted that even after a vaccine and other treatments become available to fight COVID-19, this virus, like the flu, may never truly go away.
"The virus has no knowledge of what people's perspectives (are)," IDPH Assistant Director Dr. Amaal Tokars said. "It just needs one more host and one more host and one more host. Do not be generous with this virus."
Contact Matt Masterson: @ByMattMasterson | [email protected] | (773) 509-5431
---