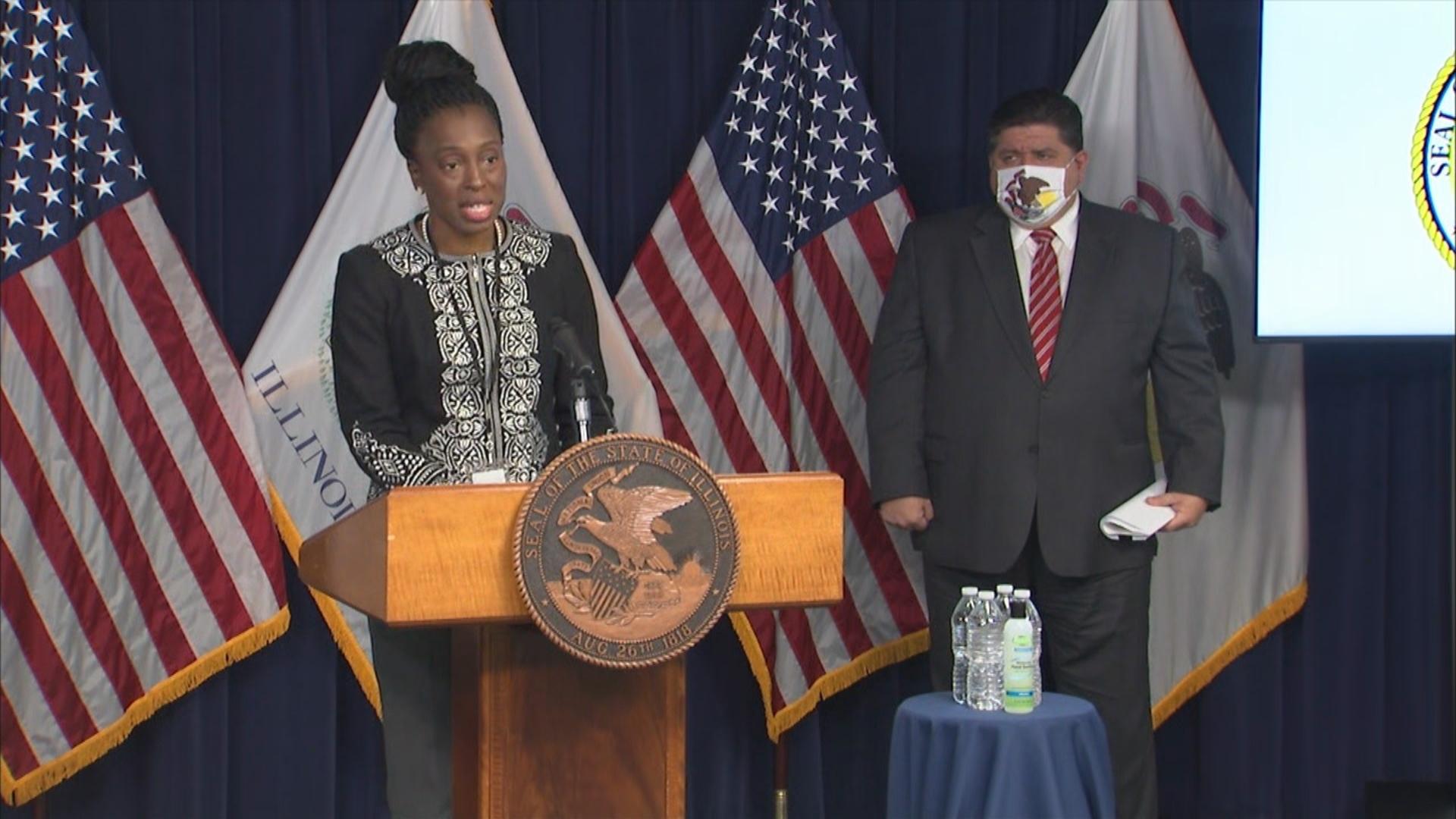 Illinois Department of Public Health Director Dr. Ngozi Ezike speaks Wednesday, Oct. 21, 2020 at the state's daily COVID-19 press briefing. (WTTW News)
State health officials on Wednesday reported 69 coronavirus-related deaths – the highest number in a single day since June, when Illinois was coming off its initial peak in COVID-19 infections.
Thirteen Cook County residents, including two women and two men in their 60s, were among the deaths reported Wednesday by the Illinois Department of Public Health. Officials also reported 4,342 new cases of COVID-19 across the state, bringing totals in Illinois to 355,217 cases and 9,345 deaths.
The last time the state reported more than 60 virus-related deaths in a single day was on June 24, according to IDPH data, making Wednesday's total the highest since the 87 deaths reported June 17.
Throughout the state, the number of cases, hospitalizations and positivity rates are rising.
As of Tuesday night, 2,338 people were hospitalized across the state, and of those, 502 were in intensive care units and 194 on ventilators, according to IDPH data.
"A certain number of cases will go on to be hospitalizations, and a certain number of hospitalizations will go on to be deaths. The more cases, eventually, you'll get more to deaths," IDPH Director Dr. Ngozi Ezike said Wednesday. "The spike in cases we've been seeing over the last six weeks – yes, unfortunately, it is turning into additional mortality."
The preliminary seven-day statewide positivity rate now stands at 5.7%, according to IDPH. In Cook County that rate is 7.2%, while it's 7% in Chicago, according to state data.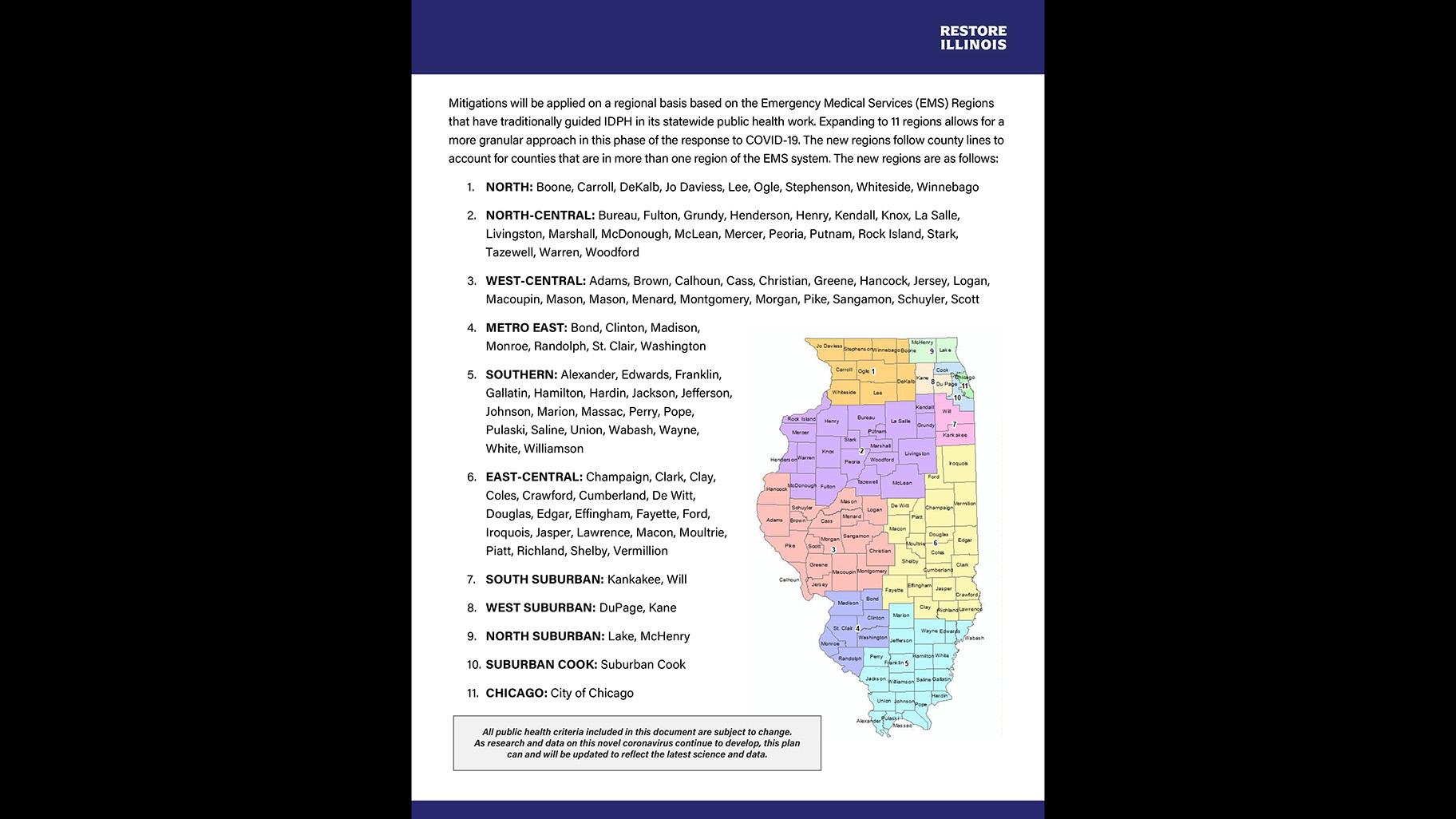 A map of Illinois' 11 regions. (Click to see full COVID-19 mitigation plan released by Gov. J.B. Pritzker.)
Of the state's 11 regions, four will be operating under stricter mitigations by the end of the week: Regions 1, 5, 7 and 8. The remaining seven — including suburban Cook County (Region 10) and Chicago (Region 11) — all have positivity rates above 7%, according to Gov. J.B. Pritzker, who encouraged residents to wear masks, wash their hands, follow social distancing guidelines and get a flu shot.
Pritzker said the state is beginning to develop a COVID-19 vaccine distribution plan as requested by the Centers for Disease Control and Prevention — a preliminary move given there is not yet an available vaccine.
Both Pritzker and Ezike said that plan will evolve as more information about an approved vaccine – or vaccines – becomes available, but that Illinois' plan will have an equity focus and prioritize the most vulnerable populations and communities hit hard by the pandemic.
"We know that there's going to be limited doses available when we get the first batch," Ezike said. "Health care workers are going to be first."
Pritzker says the state will independently ensure any vaccine approved by the federal government is safe before distributing it in Illinois.
"We've seen that the FDA, the CDC, the federal government have been completely politicized when it comes to COVID," he said. "Having said that, I think the companies that are working to develop the vaccines are following the normal course of vaccine trials. … The problem is President Trump is pushing for certain dates to deliver a vaccine."
Part of the state's rollout will involve addressing vaccine hesitancy, according to Ezike. "Getting the vaccine is one step. Getting it into the arms of people is another," she said, adding vaccination will not be mandatory.
Contact Kristen Thometz: @kristenthometz | (773) 509-5452 |  [email protected]
---