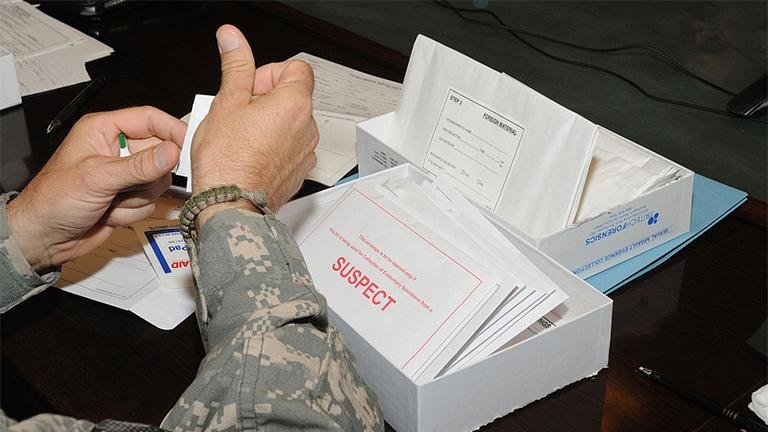 Medical professionals learn how to use the Sexual Assault Evidence Collection kit, which has several packets to collect evidence from a suspect and a patient of a sexual assault case. (Sgt. Rebecca Linder / Wikimedia Commons)
The city of Chicago this week will receive a $1 million federal grant from the U.S. Department of Justice to aid in the testing and tracking of sexual assault kits, many of which have been held up in a statewide backlog that dates back decades.
The grant, announced Monday, comes from the DOJ's Office of Justice Programs (OJP), which helps support the investigation, prosecution, and victim advocacy involved with a comprehensive approach to addressing unsubmitted sexual assault kits.
"These significant federal funds will help the city of Chicago efficiently process sexual assault evidence and establish DNA profiles," John Lausch, U.S. Attorney for the Northern District of Illinois, said in a statement. "This is critically important work and effective in reducing violent crime."
The OJP program also helps law enforcement agencies and crime labs process sexual assault evidence and increase the number of sexual assault kits submitted to crime labs in order to solve more crimes, including cold cases.
The Illinois State Police in August launched a tracking system for rape kits, which will allow sexual assault survivors to track the location of case information as evidence is processed.
But survivors in Illinois have many times had to wait months or even years to get evidence due to a massive statewide backlog. Beyond the $1 million heading to Chicago, the OJP program has also awarded $2.3 million to the Illinois State Police, as well as matching $340,696 grants to both the Northeastern Illinois Regional Crime Laboratory and the DuPage County Sheriff.
These grants – which can be used to upgrade labs and purchase equipment or supplies – are aimed at increasing DNA analysis capacity and decreasing the backlog and turnaround time for that analysis.
The Illinois Criminal Justice Information Authority ($683,465) and Cook County ($190,500) also received OJP grants.
"Far too many people endure the physical and emotional trauma of a sexual assault only to have evidence of the crime remain unanalyzed," Katharine Sullivan, a principal deputy assistant Attorney General with the OJP, said in a statement. "These grants will help investigators get these kits to labs, where they can be tested, used to solve crimes and ultimately bring justice to victims."
Contact Matt Masterson: @ByMattMasterson | [email protected] | (773) 509-5431
---