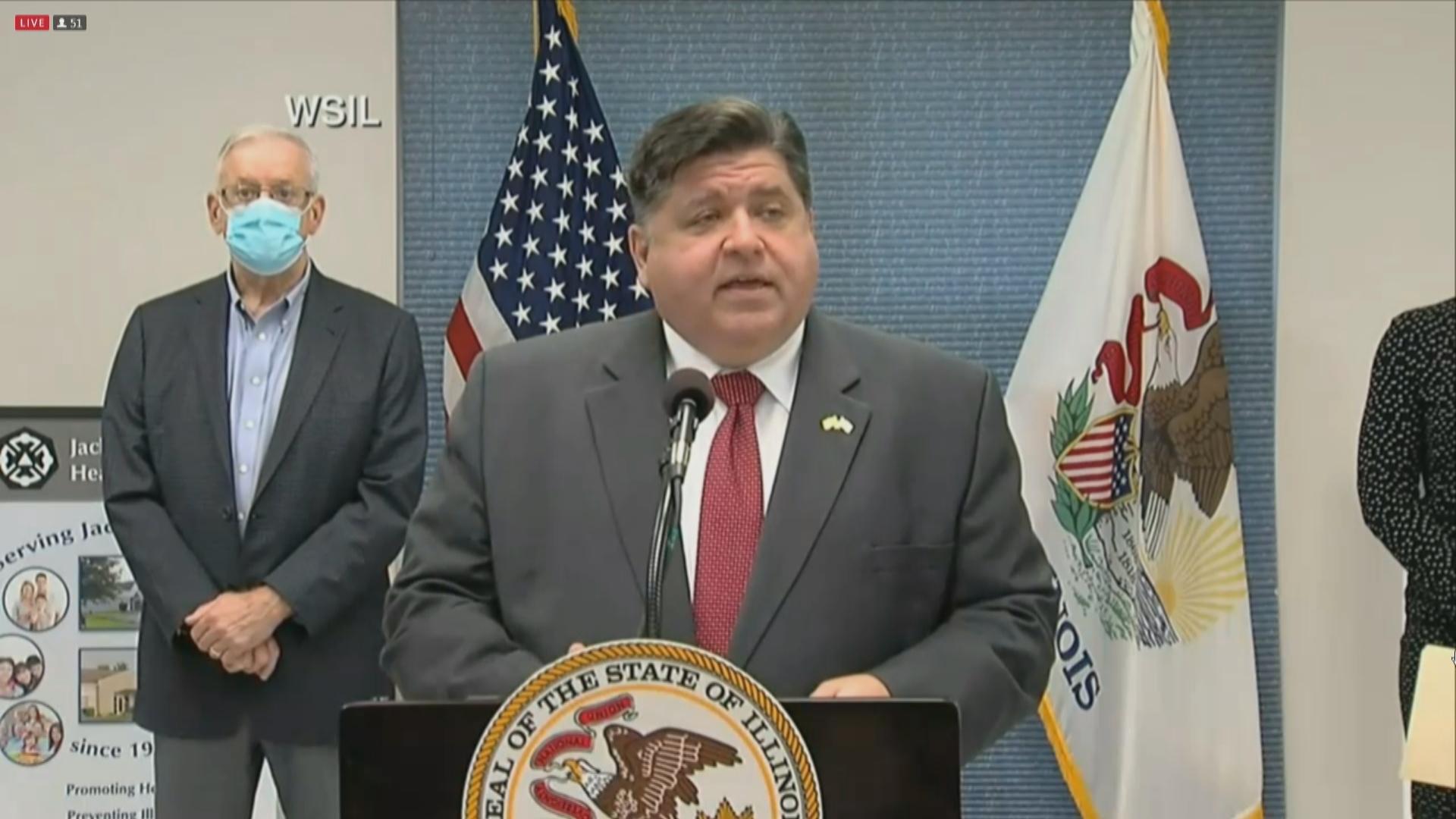 Gov. J.B. Pritzker gives an update Monday, Oct. 19, 2020 on the spread of the coronavirus in the state. (WTTW News)
In every region of the state, Illinois is headed in the wrong direction in its battle against the coronavirus, officials said Monday.
"Cases, positivity rates, hospitalizations and deaths are rising statewide," Gov. J.B. Pritzker said at a press conference Monday. "Experts have predicted for months that the country could see a resurgence of the virus as temperatures get colder and more people spend more time inside. Here in Illinois, it looks like a new wave could be upon us."
Officials on Monday reported 3,113 new COVID-19 cases and 22 virus-related deaths in the past 24 hours, bringing statewide totals to 347,161 cases and 9,236 deaths. The preliminary seven-day statewide positivity rate is 5.4%, up more than a full percentage point from the rate of 4.3% reported a week ago, according the Illinois Department of Public Health.
"We are seeing an alarming trend as the number of COVID-19 cases increases, but we are not helpless to change the trajectory," IDPH Director Dr. Ngozi Ezike said. "Your actions matter. If you wear a mask and keep your distance from others, you help stop the spread of the virus. Your actions also matter if you don't wear you mask and you are around numerous other people not wearing masks at a large event. You become part of the reason the virus spreads."
Positivity rates have been rising in each of the state's 11 regions over the past week, according to Pritzker. "Even more concerning, the lowest regional positivity rate in our state is now 6.2%," he said.
The governor also announced that stricter mitigations to curb the spread of the virus will be implemented Thursday in Region 5 in southern Illinois. Region 1, which includes Rockford and Galena, is already operating under tighter restrictions, but the governor warned that regions 7 (Kankakee and Will counties) and 8 (Kane and DuPage counties) — could meet the metrics that would trigger additional mitigations as soon as Tuesday.
Pritzker urged residents to keep track of the spread of the virus in their community and to demand that local officials take action before the state steps in. "You can likely turn things around in your community if you act quickly," he said.
In Cook County, the preliminary seven-day statewide positivity rate is 6.8%, while in Chicago, it's 6.2%, according to IDPH data. Earlier Monday, Chicago Mayor Lori Lightfoot warned residents that confirmed infections are rising sharply across the city, reaching levels last seen in late May.
"Make no mistake, we are in the second surge," Lightfoot said. 
As of Sunday night, 2,096 people were hospitalized with COVID-19, according to IDPH data. Of those, 485 were in intensive care units and 179 were on ventilators.
With cooler weather and the cold and flu season upon us, Ezike said everyone should get a flu shot, wear a mask, avoid large gatherings, follow social distancing guidelines and wash their hands frequently to reduce the spread of COVID-19 and other seasonal illnesses.
Pritzker also said Monday that he and Ezike will resume daily press briefings every weekday to keep the public updated about the pandemic.
"I just want to reiterate this simple point to everyone: If you hear nothing else at all these press conferences, if you follow nothing else, if you're skeptical – whatever the reason is – please just wear the mask," Pritzker said. "Just wear your mask. Honestly, it takes care of most of the transmission issues that we have. I'm not suggesting the other mitigations and suggestions are not important, but the mask does an awful lot."
Contact Kristen Thometz: @kristenthometz | (773) 509-5452 |  [email protected]
---