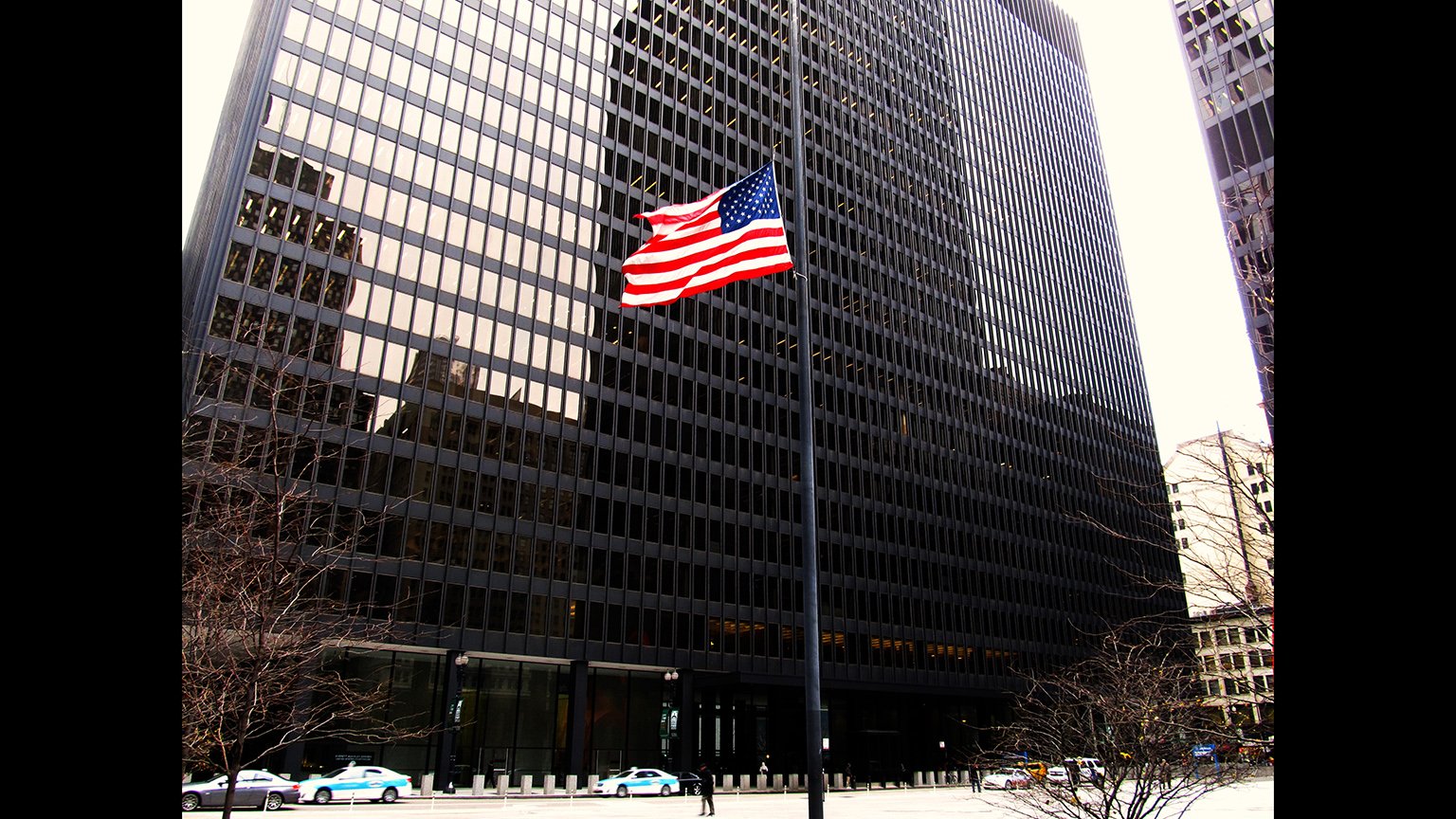 Dirksen United States Courthouse (Ken Lund / Flickr)
The mother of two boys who say they were sexually exploited by "Cheer" star Jeremiah "Jerry" Harris pleaded with a federal judge to keep Harris behind bars until his trial as her children have faced "vicious" attacks from his fans and supporters since they came forward with their allegations earlier this year.
The woman, whose name was not released, spoke during a detention hearing in Harris' case Wednesday. Federal prosecutors argued that Harris, a 21-year-old Naperville native, cannot be released from jail pending trial because he remains a threat to children.
"Mr. Harris should not be residing in a home and sleeping in a comfortable bed and being cared for by groups of cheer moms while my children and his other victims are paying this very high price for telling the truth," the woman said.
Harris gained fame from the series "Cheer," which premiered on Netflix in January and documents the Navarro College cheer team from Corsicana, Texas.
He was charged last month with one count of producing child pornography after he allegedly victimized the two brothers, who he knew through cheerleading competitions, for more than a year.
This allegedly included Harris both requesting and sending sexually explicit photos and videos. He also allegedly attempted to engage in illicit sexual conduct with one of the boys during two separate public cheerleading events.
The boys' mother called it a "parent's worst nightmare" to learn that not just one, but two of her children had been harmed and she urged Judge Heather McShain to detain Harris until his trial.
"Please just protect my children and the other young people who have been affected by this man," she said. "Releasing Mr. Harris, even temporarily, would feel to my sons like a very real re-victimization."
McShain said she did not expect to rule on Harris' detention Wednesday as she needed additional time to make her decision.
A "clear and present danger"
Since he was allegedly able to reach most of his victims from the "comfort of his own home," prosecutors argued that Harris must be detained until his trial.
In a nine-page detention motion filed Tuesday, federal prosecutors claim Harris sexually exploited at least 10 underage boys. He also allegedly sexually assaulted a 15-year-old boy.
Assistant U.S. Attorney Christopher Parente said Harris repeatedly targeted young boys and relied on "guilt, threats, and money" to get his victims to engage in sexually explicit activity.
"Harris, by his own admission, has victimized at least 5 to 10 children who are all forever damaged by his criminal conduct," Parente wrote in the motion. "Harris must not be allowed to harm another child and he should be detained pending trial as he is a clear and present danger to the community, most notably defenseless children."
Prosecutors said that as Harris gained more and more notoriety through "Cheer," he began offering money, sometimes up to $1,000, to his victims to get them to perform sexually explicit activities over video apps like Snapchat and FaceTime.
After he was tipped off that he was under investigation, Harris allegedly destroyed his phone in an attempt to conceal potential evidence. But just weeks later, he obtained a new, "clean" phone and used it to again reach out and victimize minors, according to prosecutors.
"This demonstrates that Harris either simply cannot control his criminal impulses, or he simply does not care about getting caught," Parente wrote. "Either way it sends this Court a clear message that he is someone who will not be able to control himself from attempting to harm additional minor victims if given the chance on home incarceration."
Harris' defense attorney Todd Pugh said his client's longtime guardian and other parents from the "cheer community" are willing to serve as Harris's third-party custodians should he be released. He added Harris would have no internet access and would be held on GPS monitoring.
But McShain noted that Harris was allegedly able to exploit many of his victims without ever having to leave his home and acknowledged it's not impossible that he could at some point access a phone.
Pugh said his client is in need of mental health treatments that are unavailable at the Metropolitan Correctional Center where he's been held.
Harris at a young age was "fully immersed into the 'cheer' world where sexual predators were largely unchecked with children of all ages," Pugh wrote in his own motion, and was "in most respects a child himself interacting with other children."
Parente said Wednesday he was offended the defense made that argument, stating a young child being relentlessly pursued by someone like Harris would have "no chance" to defend themselves.
"This is an adult predator," he said, "who seeks out defenseless children and cannot stop himself."
If convicted, Harris faces between 15 and 30 years in prison.
Contact Matt Masterson: @ByMattMasterson | [email protected] | (773) 509-5431
---