The election is just three weeks away. 
As Nov. 3 draws near, Americans may be paying more attention to the latest polling numbers — but after the 2016 election, some people wonder just what those numbers really mean. 
The best polls use random sampling, said Trevor Tompson, senior vice president of public affairs and media research at NORC at the University of Chicago, a nonpartisan research institute, and director of The Associated Press-NORC Center for Public Affairs Research. This way they can reach as many people within a population as possible. Telephone surveys have been a standard method of polling.
"When we start out with that randomness in the sample, then what we can do in the back end is do something called weighting," Tompson said, explaining how the polling industry ensures its data is representative of the community it is measuring. "You take the results that we get and then make sure that they look like the population we're trying to measure, whether it's men or women or educated or non educated."  
An issue sometimes seen in polling relates to how likely a person is to vote, said Tom Swiss, founder of Ogden & Fry, an Illinois polling firm. His research shows that most people say they plan to vote even if they don't actually wind up doing so.
"You end up with a lot of polls that are registered voters and not likely voters," Swiss said. "As you get closer to the election … although the polls state that they are likely voters, they are also asking the respondent whether or not they're likely to vote."
Tompson said it's important to distinguish between people who are likely to vote and those who say they will vote because it's a more desirable answer. NORC has methods to do that, he said. 
When reviewing polls, it's important to be aware of the margin of error. After the 2016 election, many people criticized both the media and pollsters for leading Americans to believe former Sen. Hillary Clinton would win. 
Most polls were accurate, Tompson said. However, polls can't forecast the election, they can only provide information on where public opinion lies at the time the poll is conducted. They're a snapshot in time, he said. 
"A review of all of the polling that was done in 2016 shows that the well done polls followed solid state-of-the-art methods and were actually really highly accurate," Tompson said. "What really happened was the media, and sometimes the polling industry too, we tend to overstate the precision of our data. I think the media misunderstood and mischaracterized the polls. They were within the margin of error in most cases. Correctly interpreted they show a very close race."
Since 2016, some polling organizations have made changes to their processes. Some are weighting by education; others are increasing their focus on battleground states. 
"The general consensus or thought behind why the polls were off in 2016 is that non-college-educated males were underrepresented," Swiss said. "That is one of the factors that they are trying to reduce in the upcoming poll. I'm not sure I agree that the weighting is the appropriate way to do it."
Instead, Swiss said Ogden & Fry balances age, gender and geographical makeup. 
The latest polling data shows former Vice President Joe Biden ahead nationally by an average of 10 points, and by 5 points in the top six battleground states, according to RealClearPolitics.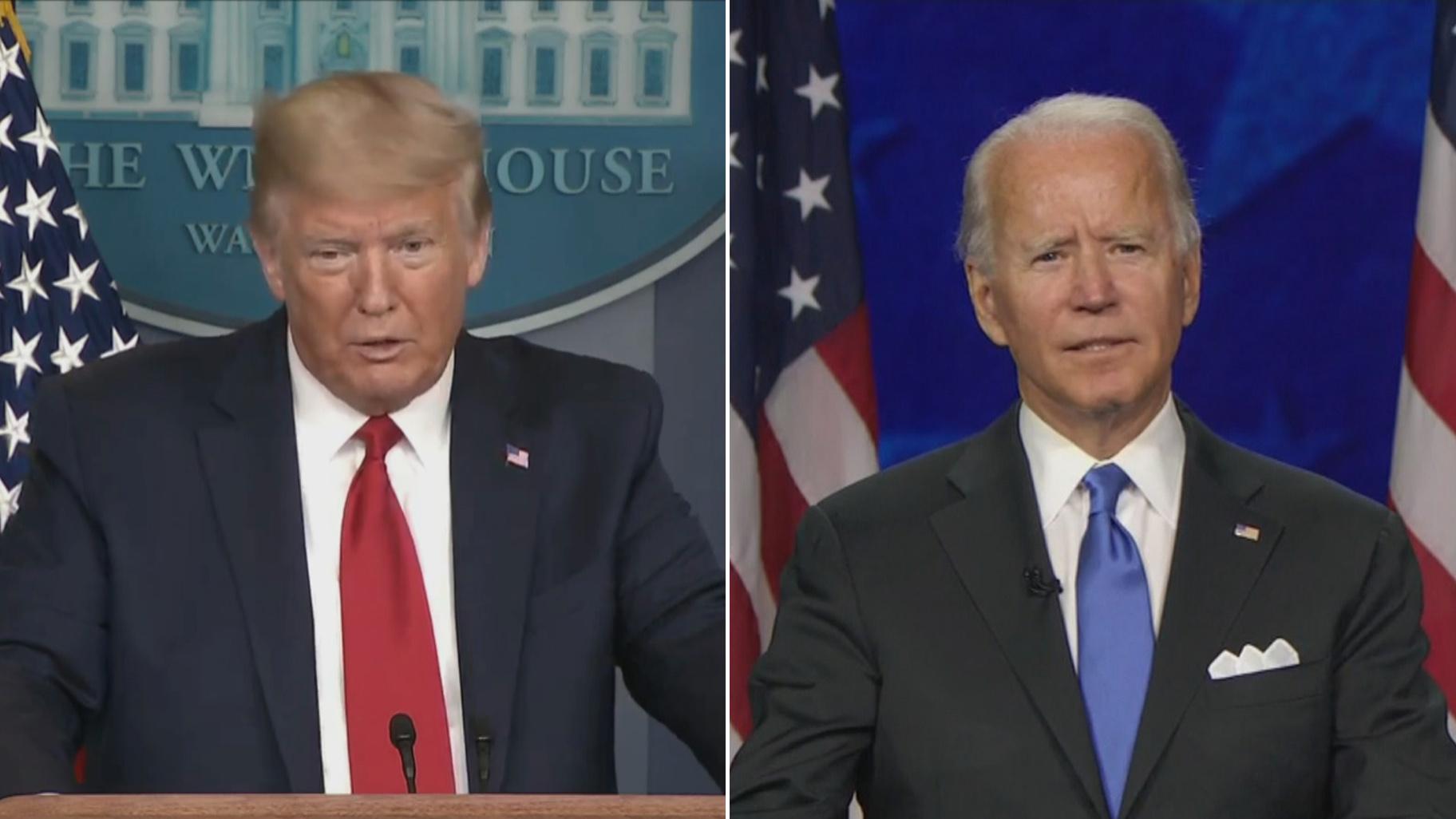 President Donald Trump, left, and former Vice President Joe Biden. (WTTW News via CNN)
This year, there are variables that polls can't necessarily account for, like the impact of the coronavirus on the election and voter turnout, Swiss said. 
"I think there's a lot of other unknown variables, whether shy voters, voters of color, or the enthusiasm gap," Swiss said. "There's a lot of wild cards in there."
Swiss also points out that voters over age 65 have been strong supporters of President Donald Trump, however, that age group is also concerned about the coronavirus, which could affect voter turnout. 
But focusing on the horse race — how much one candidate is ahead of the other — does a disservice to voters, Tompson said. What's more interesting is examining where voters stand on the issues.
---