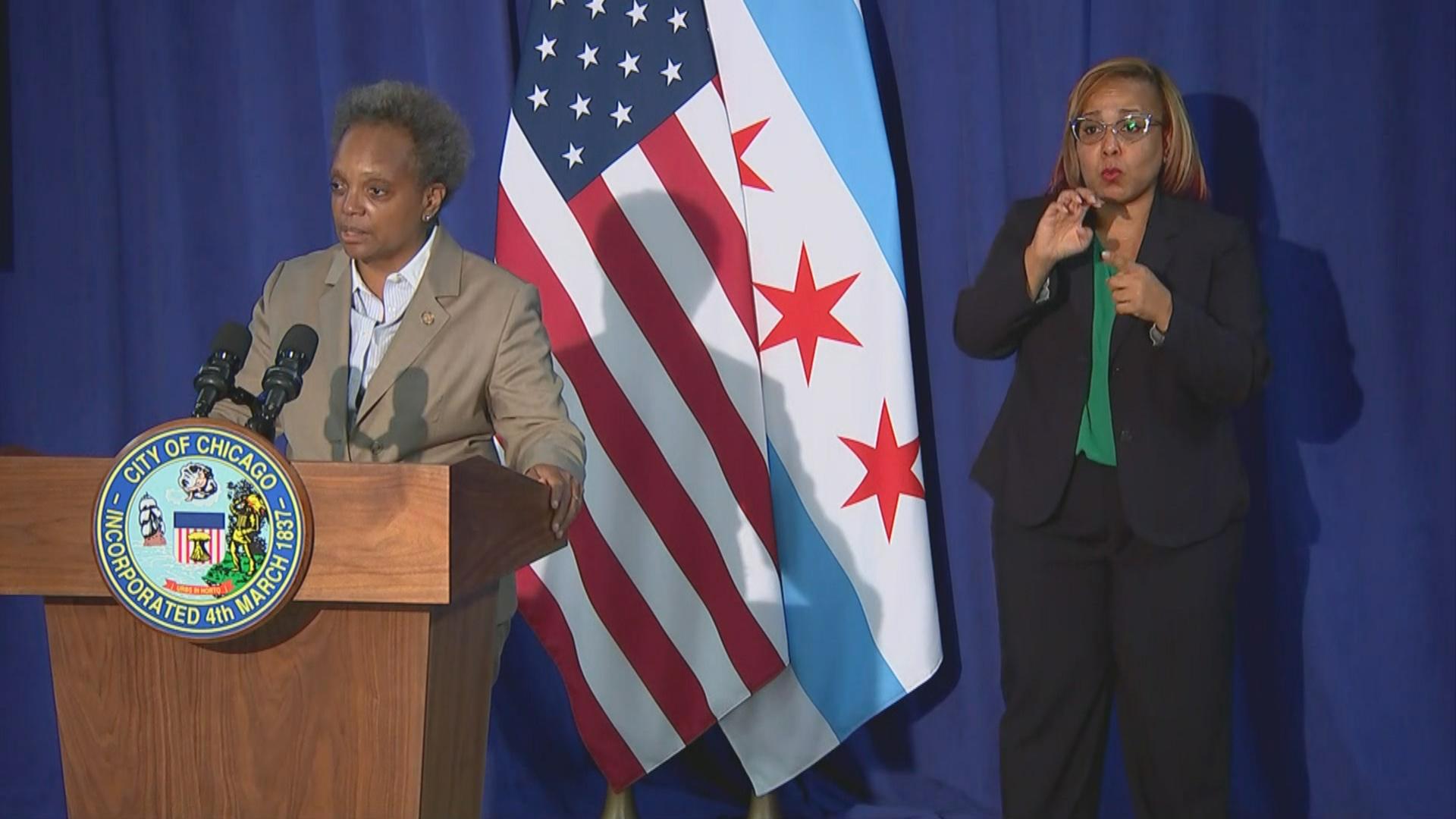 "We remain committed to ethics reform," Mayor Lori Lightfoot said at news conference following a vote by the City Council's Ethics and Government Oversight Committee on Tuesday, Oct. 13, 2020. (WTTW News)
A ban blocking elected officials from outside Chicago from lobbying city officials will remain in place after aldermen unanimously rejected a proposal from Mayor Lori Lightfoot on Tuesday to ease the ban.
The City Council's Ethics and Government Oversight Committee voted 17-0 to reject the proposal from the mayor, an unusually public rebuke by aldermen.
Lightfoot introduced a measure in April to revise the ordinance passed 48-0 in December to allow elected officials from other jurisdictions to lobby Chicago officials as long as "the public body that the elected official represents has no pending or recurring legislative or contractual matters involving the city."
The unanimous vote by the City Council in December came two months after former state Rep. Luis Arroyo (D-Chicago) was arrested and charged with bribery. Federal prosecutors alleged that Arroyo offered a state senator, later identified as former state Sen. Terry Link, D-Waukegan, a bribe to carry legislation that would legalize sweepstakes machines. Before his arrest, Arroyo was registered as a Chicago lobbyist and the sweepstakes firm was one of his clients. Arroyo has pleaded not guilty.
While Lightfoot told reporters in April that she had consulted with Ethics and Government Oversight Committee Chair Ald. Michele Smith (43rd Ward) before introducing the measure, Smith said the mayor had not asked for her input on the proposed rollback. 
Smith declined to hold a vote on the proposal, leaving it languishing in legislative limbo until Ald. Jason Ervin (28th Ward) used a parliamentary maneuver to force Smith to hold the hearing.
Smith, appointed to her post by Lightfoot, voted against the mayor's proposal, along with President Pro Tem Ald. Brendan Reilly as well as two other committee chairs appointed by the mayor: Ald. Michael Scott (24th Ward) and Ald. Pat Dowell (3rd Ward).
After the vote — which appears to be the first of its kind in the history of the Chicago City Council — Lightfoot said the law passed in December had "unintended consequences" that she sought to correct by the proposal.
However, Lightfoot indicated that she would not have pushed the measure to a vote — and said Ervin acted without her blessing or encouragement.
"We remain committed to ethics reform," Lightfoot said at an unrelated news conference after the vote. "We remain committed to transparency and making sure that we are doing the right things to win back the confidence of our residents."
The proposal from the mayor would not have changed the provision of the law that bans aldermen from working as lobbyists, or the provision that bans state lawmakers and those elected to Cook County office from lobbying at City Hall.
But other provisions of the law are overly broad, Ervin said. For example, a member of a park district board from downstate Carbondale should not be banned from lobbying Chicago officials.
"That's throwing the baby out with the bathwater," Ervin said, echoing remarks made by Ald. Patrick Daley Thompson (11th Ward) during the initial debate in December over the measure. 
Daley Thompson voted against the proposed change on Tuesday.
Chicago Board of Ethics Executive Director Steve Berlin said the law passed in December by the City Council is the "boldest law of its type in the country" that allows Chicago to claim "bragging rights."
Allowing elected officials from other jurisdictions to lobby Chicago officials presents an "inherent conflict of interest," Berlin said.
The current law does not apply to elected members of school boards, since Illinois law does not classify them as units of government, and does not apply to members of local school councils, Berlin said.
With aldermen declining to change the law, lobbyist Gyata Kimmons will be forced to stop lobbying City Hall on behalf of corporations or give up his seat as a Flossmoor village trustee. Kimmons is the only lobbyist who will be affected by the law, which the Chicago Board of Ethics has refrained from enforcing because of Lightfoot's proposed rollback.
Aviation Committee Chair Ald. Matt O'Shea (19th Ward), who is not a member of the Ethics Committee, urged his colleagues to reject the mayor's proposal, saying it would "render the law totally irrelevant."
"Now is not the time to relax ethics regulations," O'Shea said. "[It] would send a terrible message that the City Council is blind to the corruption happening all around us."
Ald. Carlos Ramirez Rosa (35th Ward) said the ban was designed to stop elected officials from outside Chicago from "buying influence" for their clients.
"You should have to pick a lane," Ramirez Rosa said. "Be a lobbyist or be an elected official."
Contact Heather Cherone: @HeatherCherone | (773) 569-1863 | [email protected]
---