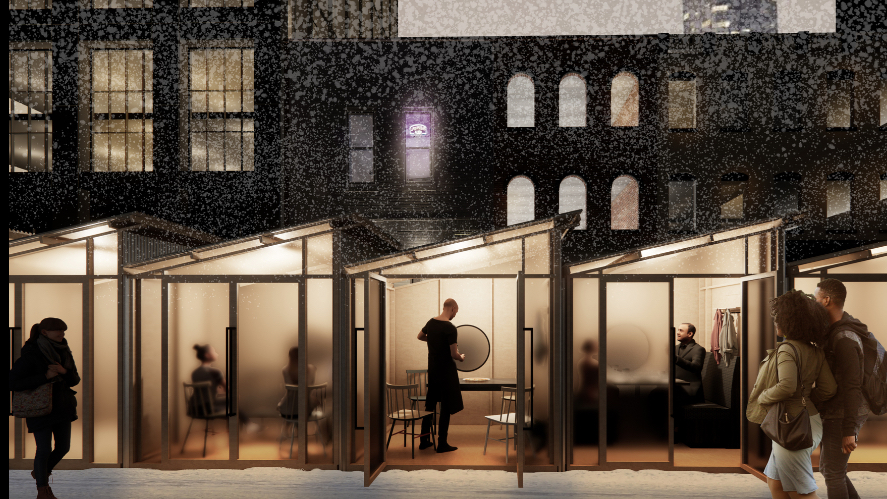 (Courtesy of Winter Dining Challenge / OpenIDEO)
If you build it, will they still dine outdoors? 
That's the question restaurant owners will have to weigh as the city announced the winners of its Winter Dining Challenge, a competition created to combat the issue of Chicago's impending winter, with the COVID-19 pandemic still restricting gatherings indoors.
The three winning plans, all earning $5,000 prizes for the designers, are: cozy "cabins," modular blocks and heated tables that borrow from Japan's kotatsu concept.
The Illinois Restaurant Association will work with the competition's sponsoring partners on a pilot program to trial the designs. 
In tandem with the announcement of the winning designs, city officials also revealed that DoorDash will provide $500,000 in grants to help local businesses prepare for winter and continue to serve customers.
Chicago restaurants will be able to apply for a $5,000 grant to defray winterization costs. Applications open on Oct. 16, and funds will be distributed on a rolling basis through the end of November. To qualify, restaurants must be located in Chicago with three or fewer locations operating currently, 50 employees or fewer in 2019, and $3 million or less in 2019 annual revenue.
Here are the design challenge winners:
"Cozy Cabins," submitted by ASD | SKY, an Atlanta-based design firm.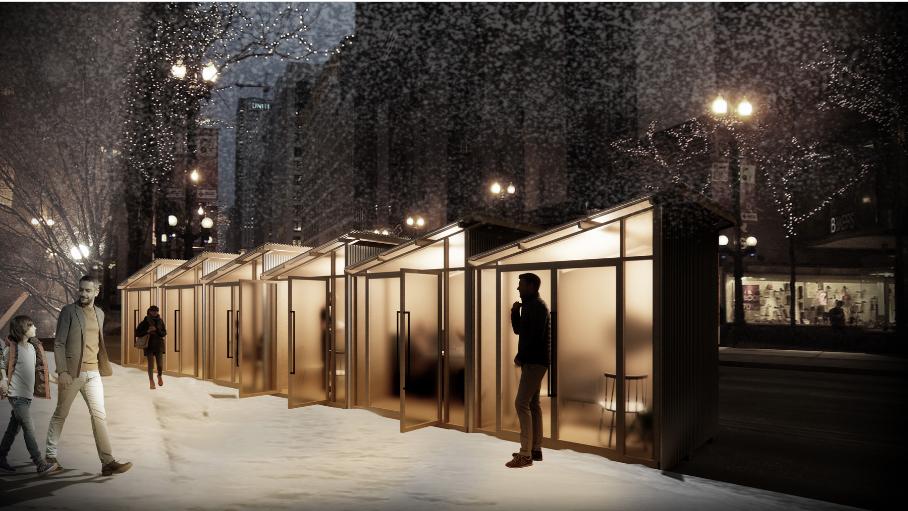 (Courtesy of Winter Dining Challenge / OpenIDEO)
The modular design was inspired by ice fishing huts and is based on simple materials including wood, corrugated metal, polycarbonate plastic and standard framing hardware, according to the submission. The individual cabins fit into the footprint of a parking space and rely on radiant floor heat for warmth, with vents near the ceiling to allow for air circulation. The transparent windows are intended to make diners feel part of the community while safely social distancing from other diners.
"Block Party," submitted by urban designers/planners Neil Reindel and Flo Mettetal.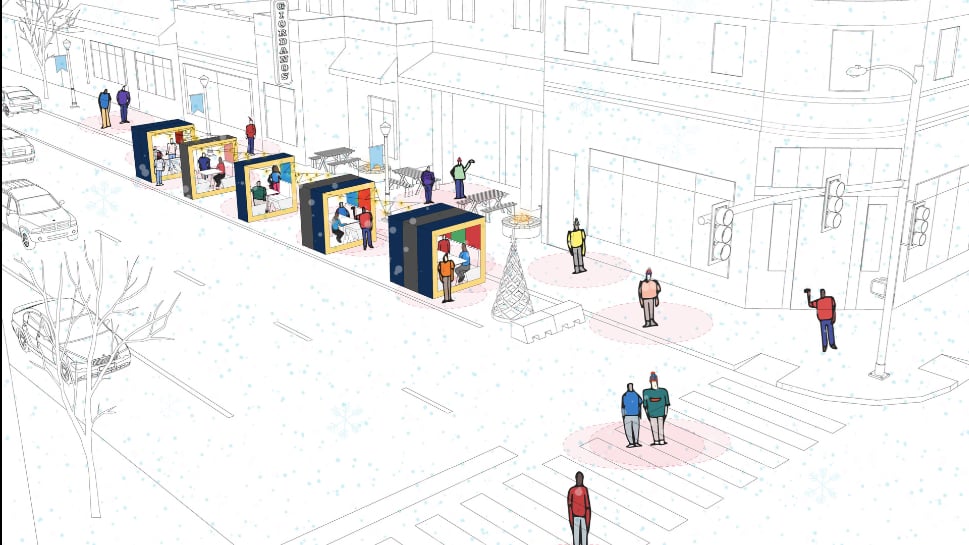 (Courtesy of Winter Dining Challenge / OpenIDEO)
This flexible approach to outdoor dining employs modular blocks, each designed for two diners, that can be grouped and stacked in multiple arrangements, according to the submission. Like Cozy Cabins, the concept hinges on taking over parking spaces, but could be used on extended sidewalks or in pocket parks. The open-air modules would be outfitted with a thermal mesh system for radiant heat and could be customized with curtains to retain warmth.
"Heated Tables," submitted by graphic designer Ellie Henderson.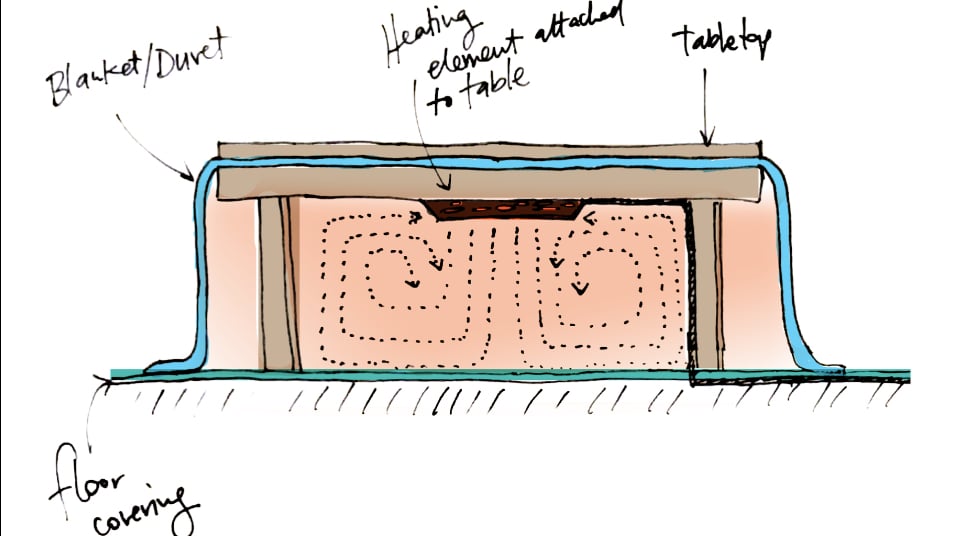 (Courtesy of Winter Dining Challenge / OpenIDEO)
Henderson's design was inspired by her experience of living in Japan, where heated kotatsu tables are common. A kotatsu typically consists of an electric heater attached to the under-side of a table. A blanket is draped over the frame and another flat surface placed on top, a configuration that protects the blanket from catching fire, according to the submission. Instead of being enclosed in a tent or closed structure, heated tables allow for air circulation through open-air dining. 
Contact Patty Wetli: @pattywetli | (773) 509-5623 |  [email protected]
---