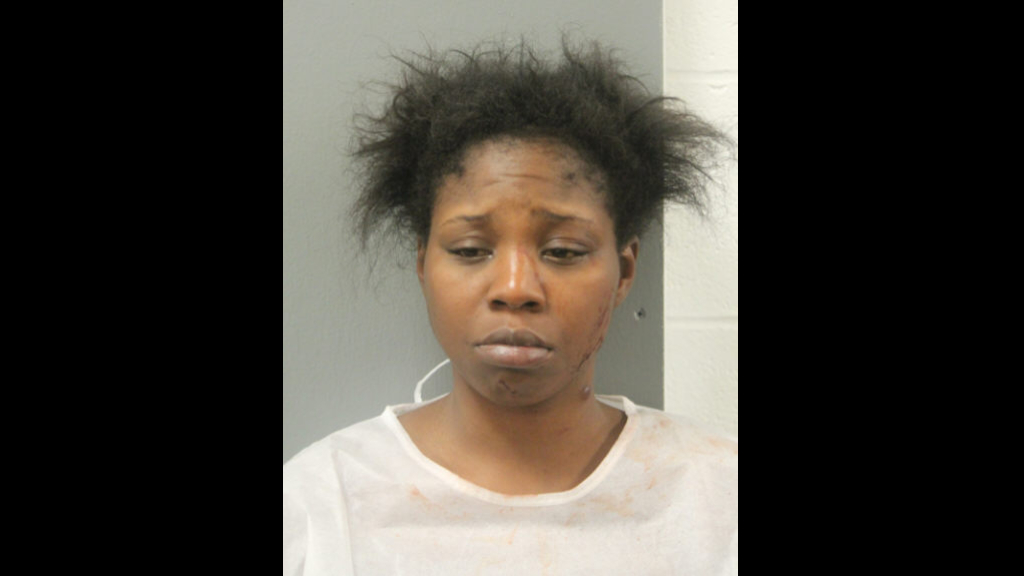 Simone Austin (Chicago Police Department)
A 27-year-old Chicago mother has been ordered held without bond after authorities say she stabbed her 5-year-old daughter to death in their East Garfield Park home Saturday, then undressed the girl, carried her body outside and laid down next to her until police arrived.
Simone Austin, charged with one count of first-degree murder, was denied bond during her initial court appearance Monday, two days after she allegedly stabbed Serenity Arrington in the throat as the girl's 8-year-old sister fought to save her life.
"I don't want to rehash the (prosecution's) proffer, but it speaks for itself in terms of the brutal and vicious nature of the case," Judge Mary Marubio said. "These are devastating facts to have to hear."
Cook County Assistant State's Attorney James Murphy recounted the gruesome crime during the hearing.
Austin and her daughters had been living with her father in the 3200 block of West Fulton Boulevard. Around 9:18 a.m. Saturday, Austin asked her 8-year-old daughter to leave the bedroom she had been in with Arrington.
The girl left, but she began looking back into the room through a keyhole in the door and saw Austin pull out a serrated knife from under a pillow and begin stabbing Arrington in the neck, according to Murphy.
The girl screamed and ran into the room, attempting to pull her mother off Arrington by her hair. She told investigators she heard her sister begging Austin to stop and saying, "I'm sorry."
Murphy said Austin's father, who had left to get coffee with a friend, returned to the home and saw Austin undressing Arrington, who was bleeding profusely, before carrying her "limp, bloody, naked" body outside. He immediately called 911.
Austin set Arrington down in a grassy area near the sidewalk outside the home. After she was approached by a friend of her father's who asked what had happened, Austin allegedly apologized and said she "shouldn't have done this."
She also told emergency personnel that she "did it" and that she was sorry, according to Murphy. Arrington was taken to Stroger Hospital where she was pronounced dead.
Arrington's sister was interviewed by authorities and said that Austin had threatened her and her sister with a knife previously after the girls spilled some eggs, according to Murphy. The girl said she knew that "something was going to happen" because she had again seen her mother with the knife and "you never know what can happen."
"Keep that child in your thoughts and prayers," Police Chief of Detectives Brendan Deenihan said during a press conference Monday morning, pointing to the lifelong trauma she'll now be forced to deal with.
Austin invoked her right to remain silent, and has no previous criminal background. Police Superintendent David Brown said that officers had been called to Austin's home in the past on domestic violence incidents in which she was the apparent victim.
He added that the officers who responded to the home Saturday will "forever be haunted by what they saw and heard."
"The death of a child by accident or disease is a tragedy," he said. "The murder of a child is horrific. The murder of a child at the hands of their parent is too much."
Austin is due back in court for a hearing Oct. 19.
Contact Matt Masterson: @ByMattMasterson | [email protected] | (773) 509-5431
---