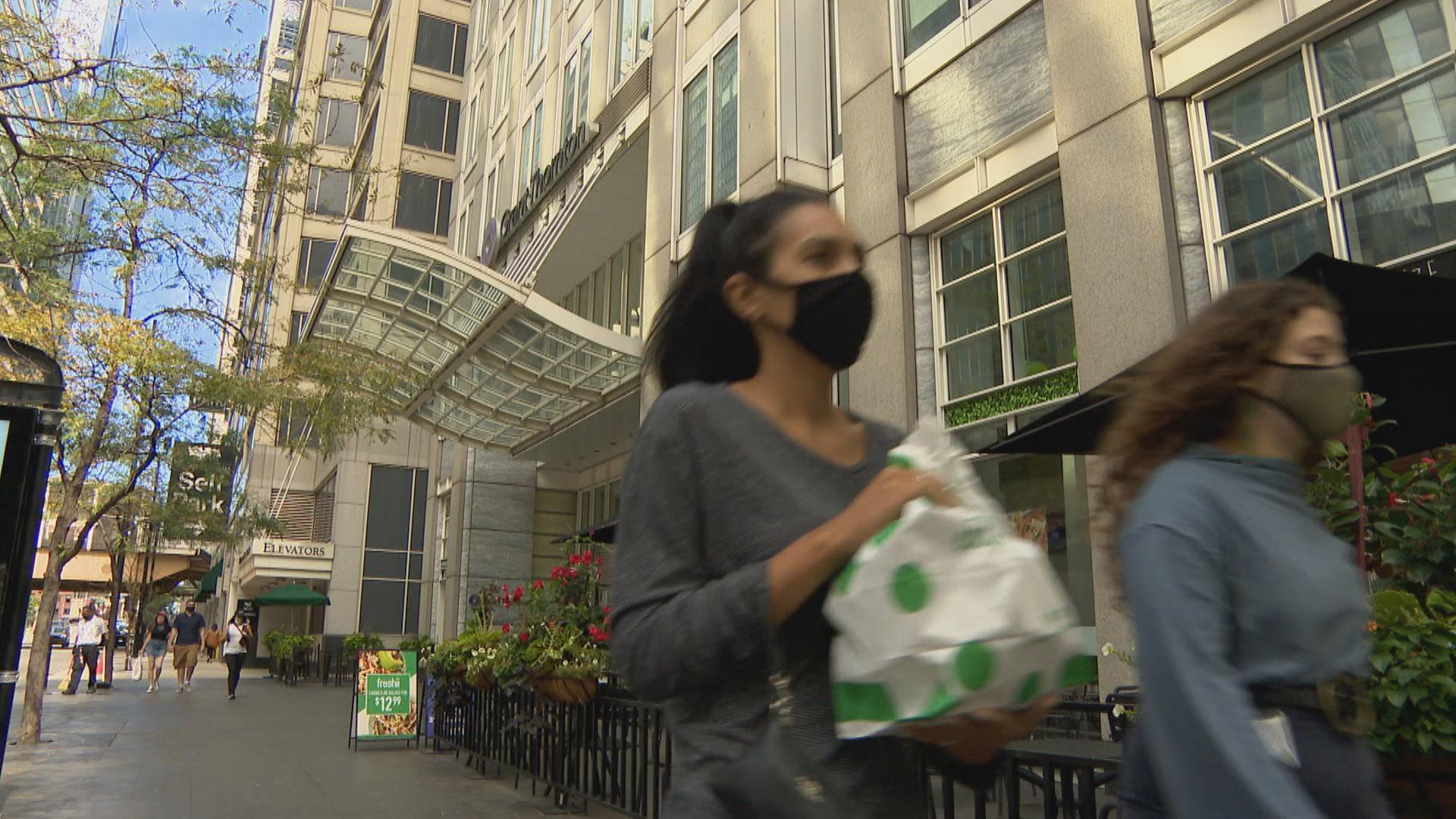 People wearing face masks walk along a street in downtown Chicago on Sept. 2, 2020. (WTTW News)
Gov. J.B. Pritzker's plan to reopen the state's economy amid the coronavirus pandemic states that Illinois won't fully reopen until a vaccine is developed to prevent the spread of the virus or there is a readily available treatment option.
With the race for a vaccine underway and President Donald Trump claiming one could be available before the Nov. 3 election, Pritzker was asked Wednesday when the state could move into the phase 5 – the final stage of reopening.
"There's been a lot of talk about the idea there would be a vaccine before the election, and I think that's coming from someone who's running for reelection," Pritzker said Wednesday at a press conference about the 2020 census. "The reality is we're going to make sure whatever we're distributing is safe. That's got be the first thing we do. … That means there isn't a date certain. It's about a safety level we want to reach."
Large gatherings, conventions and festivals will not resume until the state reaches phase five. "I have every interest in making sure the economy of our state thrives but most importantly that we keep people safe and healthy," he said.  
To combat skepticism about the efficacy of a COVID-19 vaccine, nine pharmaceutical companies working on vaccines this week pledged to uphold ethical standards, saying they would only submit a vaccine for approval or emergency use authorization after demonstrating safety and efficacy through phase three of their clinical trials.
That announcement comes amid concerns that Trump would pressure the U.S. Food and Drug Administration to approve a vaccine before it's proven to be safe and effective.
"When we get a vaccine, obviously, when it's distributed in a wide enough fashion, we'll make sure that we're reopening as quickly as we can but very importantly and as safely as we can until the vaccine is widely distributed," Pritzker said.
The state is working on a vaccine distribution plan that would prioritize the "most vulnerable" residents and "people who are at most risk of (getting COVID-19) because of the jobs they have – our front-line workers, our nurses, our doctors, etc.," Pritzker said.
On Wednesday, state health officials announced 1,337 new cases of COVID-19 and 30 virus-related deaths, bringing statewide totals to 253,690 cases and 8,214 deaths. To honor those who have died, Pritzker will hold a memorial service at 5 p.m. Wednesday with various faith leaders in Springfield. The event will be livestreamed.
The seven-day statewide positivity rate is 3.7%, according to IDPH data. In a 24-hour period between Tuesday and Wednesday, labs processed 48,029 specimens, with more than 4.5 million completed to date.
As of Tuesday night, 1,580 people were hospitalized with COVID-19, and of those, 357 were in intensive care units and 133 on ventilators.
Contact Kristen Thometz: @kristenthometz | (773) 509-5452 |  [email protected]
---