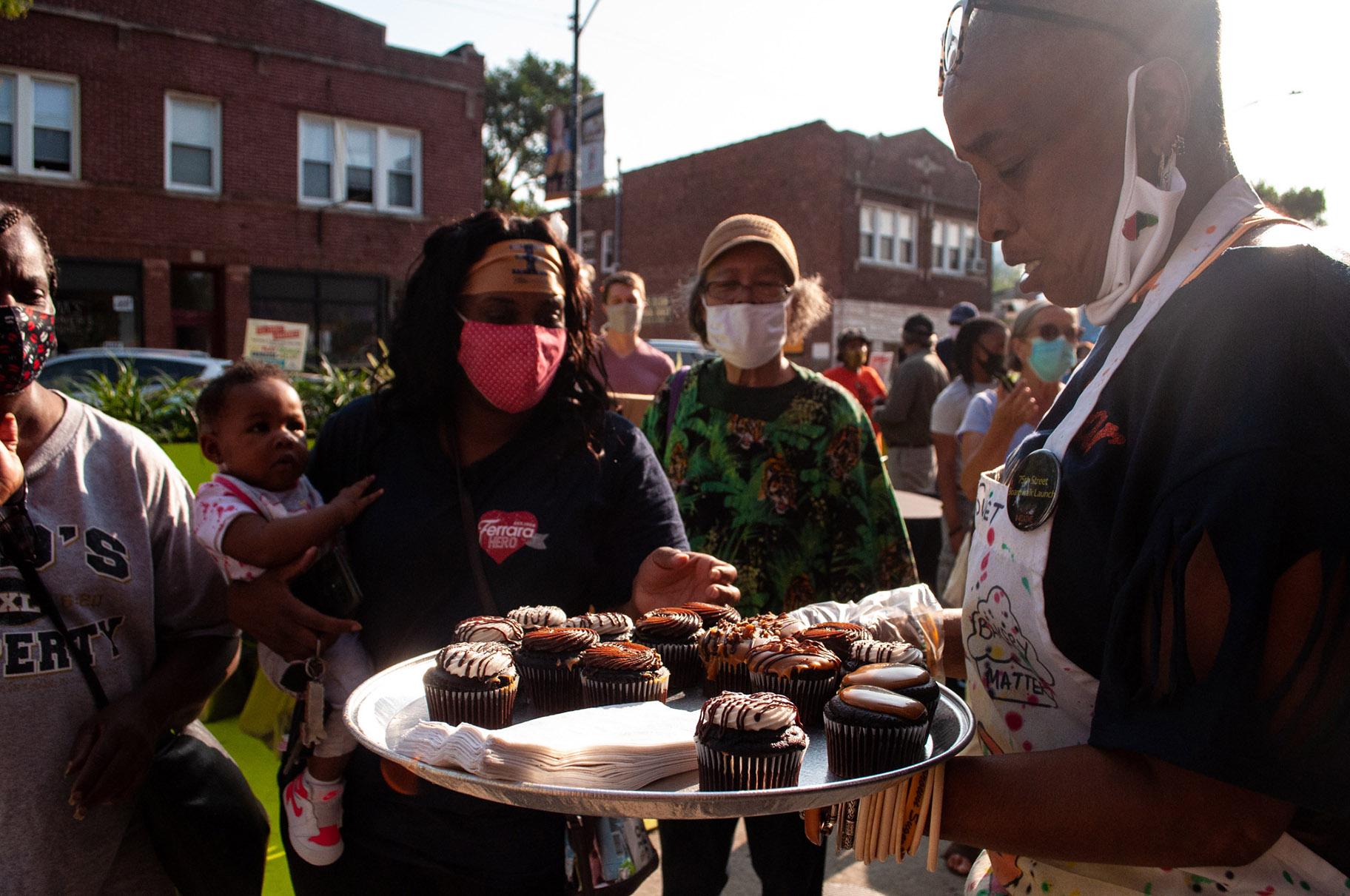 Brown Sugar Bakery employees hand out free cupcakes as part of the 75th Street Boardwalk grand opening on Saturday, Sept. 5, 2020. (Grace Del Vecchio / WTTW News)
Plywood used to board up businesses in the wake of civil unrest this summer is now a sign of economic growth and engagement in one South Side community.
City officials, representatives and community members gathered Saturday afternoon at 75th Street and Indiana Avenue in Chatham for the grand opening of the 75th Street Boardwalk, which stretches from Indiana to Calumet avenues, offering outdoor dining spaces for 11 area restaurants. 
It's constructed out of recycled plywood that's painted bright green.
The event was hosted by the Greater Chatham Initiative, a nonprofit which supports housing and economic development in Chatham, Greater Grand Crossing, Avalon Park and Auburn Gresham. The $250,000 project was backed by the city's Together Now fund and various corporate partners with pro bono design work led by SITE Design Group. 
The opening event featured speeches from community members, city officials and elected officials and included live musical performances, artists and games. With every speaker, a singular message resounded: support Black business. 
Community members, smiling and laughing, stopped every few feet to greet one another during Saturday's opening. There didn't seem to be a stranger in sight.
Chicago artist B'Rael paints a scene from the grand opening. (Grace Del Vecchio / WTTW News)
"We wanted to look at what we could do to create Chatham 2.0," said Nedra Sims Fears, executive director of the Greater Chatham Initiative.
Three years ago, the organization met with community members to find out what they wanted to see in their neighborhood.
"They told us that they wanted to have events in their neighborhood. They wanted seasonal events and they wanted to things bright and they wanted things to be happy and fun and engaging," said Fears. "So we heard them."
With the help of Doug Farr of Farr Associates, they established what they called, "parklets" outside 12 restaurants on 75th Street. 
"People were amazed that we could sit outside and dine in our neighborhood," said Fears.
A whole line waits outside of Brown Sugar Bakery, a Black owned bakery founded in 2004 by Stephanie Hart here in #Chatham. pic.twitter.com/SlYf0RZaFc

— Grace Del Vecchio (@delvecchiograce) September 5, 2020
---
"You've heard the saying, 'It takes a village,' well to get this boardwalk build, I was told it takes an army and a lot of those soldiers are here today," said Department of Planning and Development Commissioner Maurice Cox. 
He went on to thank Mayor Lori Lightfoot (who was not in attendance), and Alds. Pat Dowell (3rd Ward), Roderick Sawyer (6th Ward) and David Moore (17th Ward) for their support and guidance in creating the boardwalk. He also thanked the Department of Transportation Commissioner Gia Biagi for her work in pushing the project forward. 
"We wanted to make sure that the small business and restaurants that are trying to open safely had a place to do it," Cox said. 
The boardwalks were built in 12 weeks by local contractors who hired, trained and paid youth from the community to work alongside them.
75th Street is known for its long-standing Black business, including the renowned Lem's Bar-B-Q, which was established in 1954. 
Stephanie Hart opened Brown Sugar Bakery on the street in 2004. On Saturday, bakery employees handed out free cupcakes as part of the boardwalk's grand opening.
Hart said she loves being able to provide her baked goods to the community and she's thankful to be among the many Black-owned businesses along 75th Street.
She said seeing the boardwalk went beyond her wildest dream. 
"When you change what you look at, what you look at changes," said Hart, reciting her catchphrase.
"If we can just not only think about the problems, we can find the solutions," she said. "This is not only thinking about the problem, this is creating the truth." 
Elsewhere along 75th Street, a group of artists, including Damon Lamar Reed, were painting murals on the boardwalk. To Reed, the mural is not just art, but a beautification project.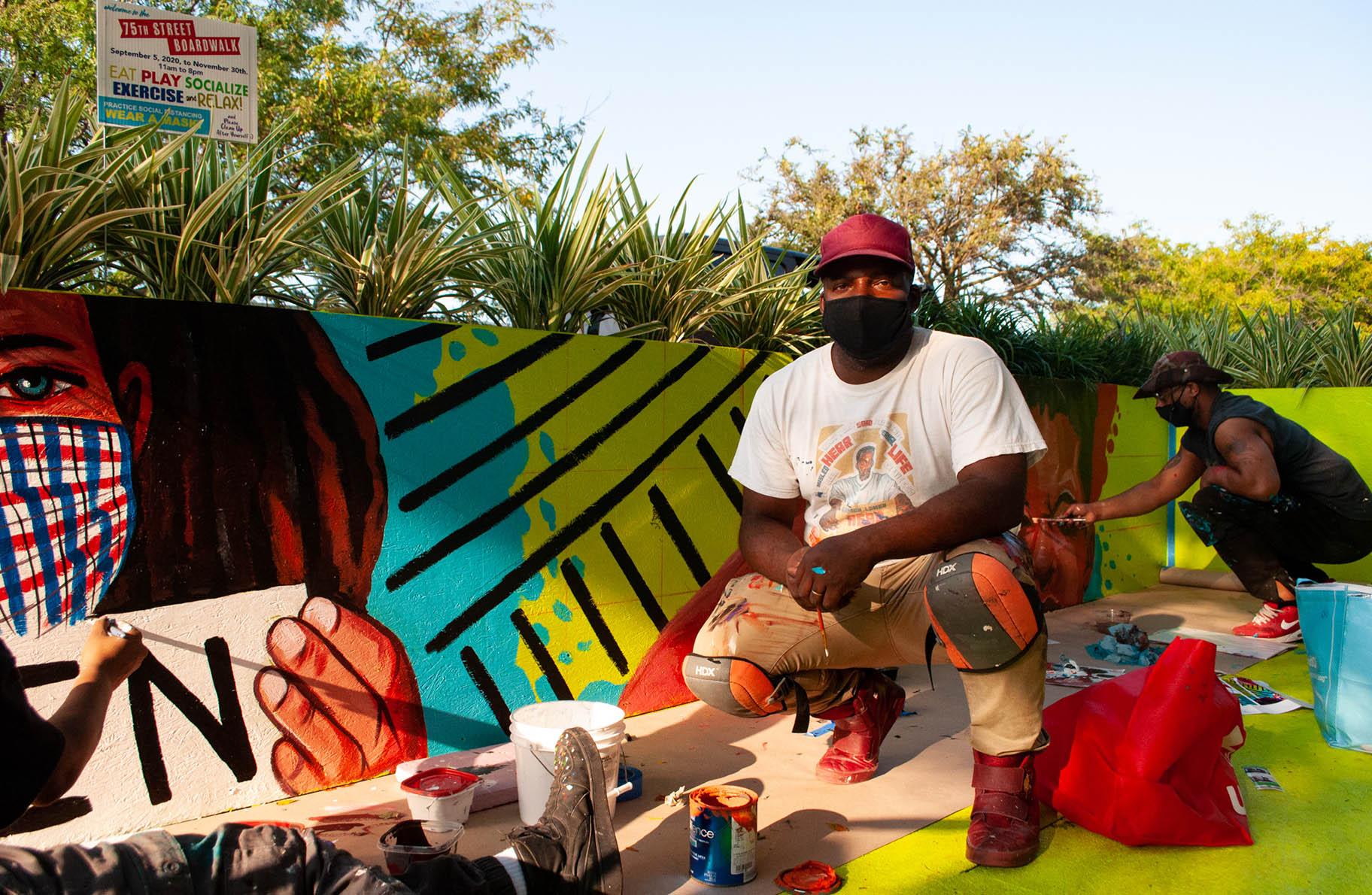 Mural artist Damon Lamar Reed (Grace Del Vecchio / WTTW News)
Indeed, while the boardwalk is meant to support Black businesses in Chatham and spur economic growth, it's also a thing of beauty.
That was Ernest Wong's goal. He's the president of SITE Design Group. The first day he arrived in Chatham to work on the project, he said a man drove up to him and asked him what he was doing there. 
"We in this community look out for each other, I wanna make sure you know that," the man said to him. 
Wong said he understood. "After three months, this is where I feel the love," he said Saturday.
Grace Del Vecchio is a freelance contributor to WTTW News: @delvecchiograce
---