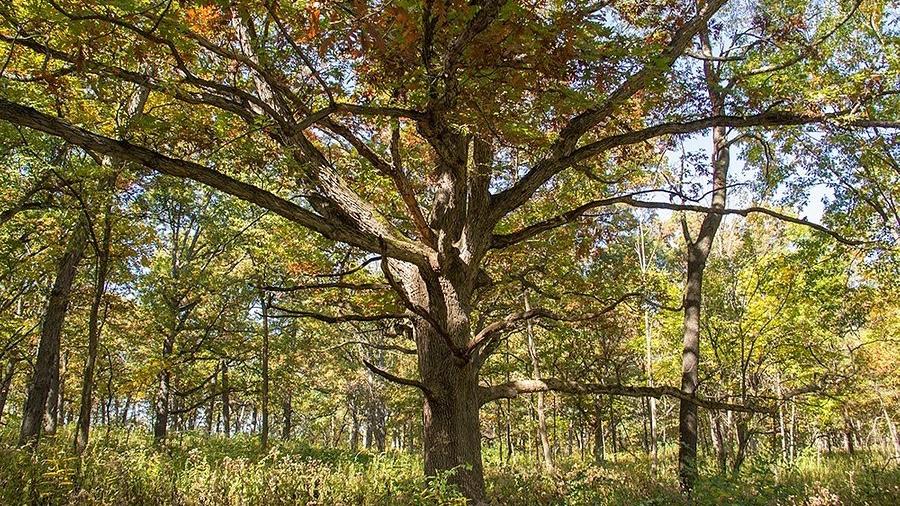 Greene Valley Forest Preserve. (Courtesy of DuPage Forest Preserve District)
Visitors to Greene Valley Forest Preserve in Naperville step back in time whenever they enter the park's aged oak woodland, a habitat that offers a glimpse of what the area looked like more than a century ago.
But oaks, once abundant in the Chicago region, have been struggling to reproduce in recent decades, according to a 2010 tree census. 
To give the oaks a fighting chance, the U.S. Forest Service has awarded a $40,000 grant to the DuPage Forest Preserve District to help fund an ongoing oak restoration project at Greene Valley, the district announced.
The grant is part of a nine-agency collaborative effort under the Oak Ecosystems Recovery Project, led by the Chicago Region Trees Initiative. Restoration began in Greene Valley in 2019 and the new cash infusion will allow that work to continue in January 2021. The project could stretch into winter 2022 and winter 2023 if necessary, Forest Preserve District Natural Resources Director Erik Neidy said in a statement.
Restoration consists of removing 17 types of invasive and exotic trees and shrubs such as honeysuckle and buckthorn in and around Greene Valley, in cooperation with local landowners.
Invasives like buckthorn create a dense canopy, the opposite of what shade-intolerant oak saplings need to thrive. Stripping out these interlopers will create a more conducive environment for the oaks, which in turn support native wildlife.
Crews will also conduct prescribed burns and apply herbicide as needed, Neidy said. 
Participating agencies hope to use the restoration projects to show the importance of oak ecosystems on public and private land.
"We want to show people that they're an extension of all this restoration and they can do restoration work on their property," Neidy said. "We want to show them how they can promote oak recovery and help juvenile species resprout."
Contact Patty Wetli: @pattywetli | (773) 509-5623 |  [email protected]
---