Emma Lozano, left, and Tanya Lopez, speak outside the Pilsen post office on Saturday, Aug. 22, 2020. (Grace Del Vecchio / WTTW News)
Community members gathered outside Cesar Chavez Pilsen Post Office on Saturday to take part in a nationwide day of action, demanding the resignation of Postmaster General Louis DeJoy and showing support for a House bill to reverse recent changes to the U.S. Postal Service that passed just hours later during a rare Saturday session.
DeJoy, who took office on June 15, has come under fire for making changes to operations — such as cutting overtime pay and other expenses — that have resulted in mail delivery delays across the nation It's particularly troubling during an election year in which casting ballots by mail is expected to increase as Americans try to avoid in-person voting amid fears of contracting the coronavirus.
House Bill 8015, introduced last week by Rep. Carolyn Maloney (D-NY), prohibits the USPS from making any changes that "generally affect service on a nationwide basis" or imposing other restrictions that would impact delivery and operations of the USPS as a whole. 
"Save the Post Office Saturday," which featured hundreds of gatherings at local post offices across the country, was powered in Pilsen by sounds of prayer, chants of "Si se puede," songs and testimonials from community members, including longtime activist Emma Lozano, the local pastor at Adalberto United Methodist Church in Pilsen, who opened the event; and activists Rosalba Valdez and Giovany Revelle, the music directors at Adalberto, who performed their new song, "Lucha de Familias."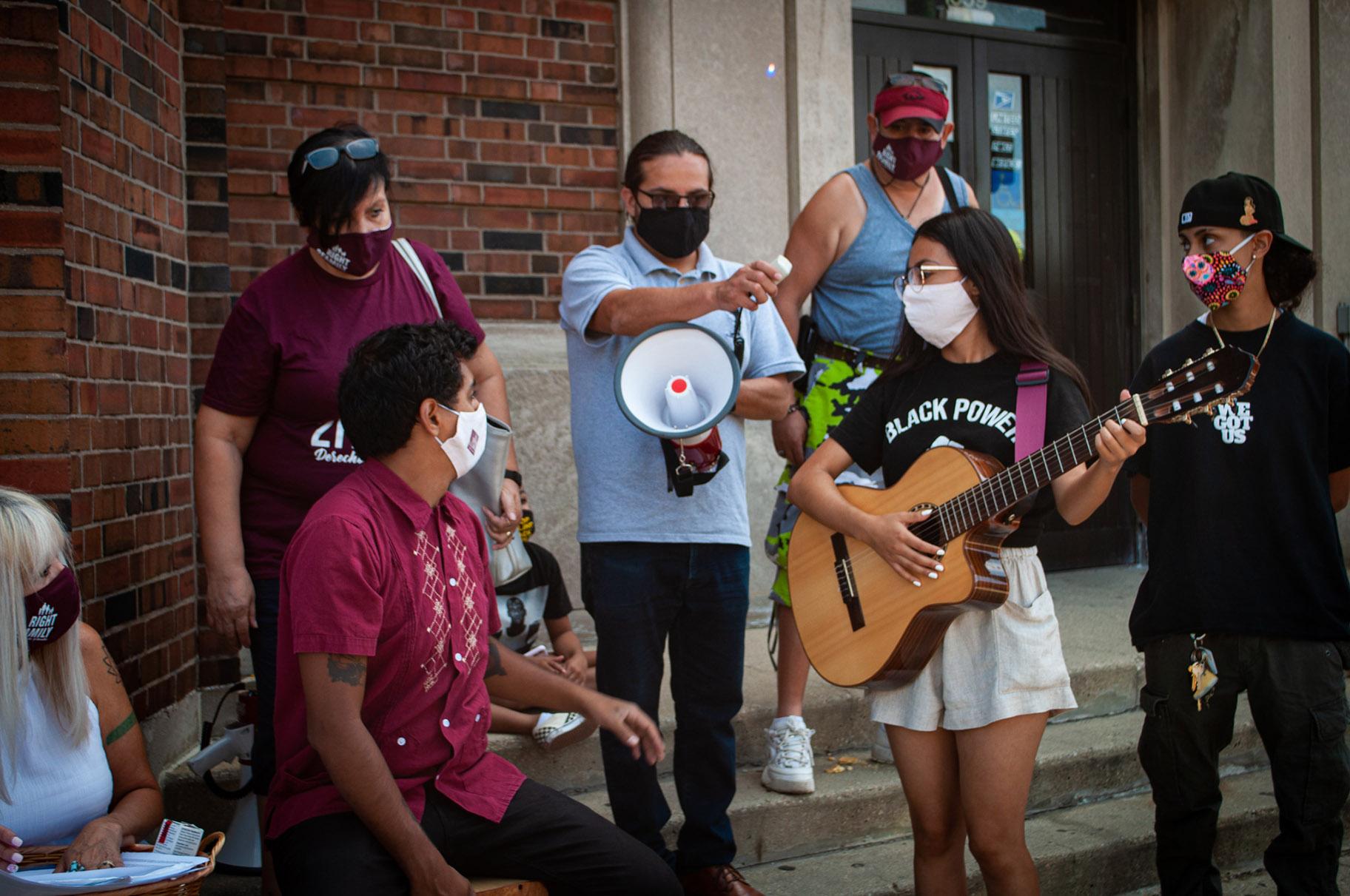 Activists and musicians Rosalba Valdez and Giovany Revelle perform Saturday, Aug. 22, 2020 outside the Pilsen post office. (Grace Del Vecchio / WTTW News)
Speakers expressed their disdain for both DeJoy and President Donald Trump. 
"DeJoy, a puppet for Donald (Trump) was appointed to begin to dismantle and privatize the USPS, one of the largest employers in the country and attempt to eliminate the 600,000 union jobs," said Tanya Lopez, activist and founder of Healthy Hood Chicago. "USPS employs 100,000 veterans, 40% women and 30% people of color. We are watching you." 
An attack on the USPS is not only an attack on the constitutional right to vote, she said, but an attack on those who receive medication in the mail. 
"He (Trump) will do anything suppress the vote in areas he believes are not his supporters," Lopez said. "This is extremely dangerous for those who are dependent on the post office to deliver medicine and health supplies."
Others shared personal stories about the impact of mail delivery.
Miguel Perez Jr., a disabled veteran, said he has to ration his medication, which he gets through the mail, due to postal delays. He said some of his fellow veterans have been able to get their medications through privatized companies such as UPS and FedEx, but he has not been able to do so. 
"Ninety percent of medications depended on by disabled veterans like myself, travel by the postal office," he said. "The United States Post Office employs over 100,000 veterans just like me, but I'll be damned if Donald (Trump) is going to mess with us." 
To further illustrate the impact of mail delays on people's health, Lozano brought out a basket full of medications she said she and her husband, Walter Coleman, rely on, all of which they receive through the mail. She said her mail carrier, who lives three houses down from them, voiced her concern that the medications would not get to them in a timely manner.
Lozano said she's also been told the checks she sends through the mail to pay for medications were lost. 
"It makes no sense, it's sabotage, it's cold-blooded murder, that's what it is let's call it what it is," she said. "Let's call Donald Trump by his name, who he is, he's a pathological liar, he's a narcissist, he's a child-cager, he's anti-Mexican and anti-Black … and now he's anti-union." 
Valerie Ramos said she depends on the USPS not only for her medications, but to communicate with an incarcerated family member. Recent delays in mail service have made that more difficult, at a time when Illinois prisons are not allowing visitors due to COVID-19.
She said while it used to take three to four days to receive a letter, it now takes two to three weeks. 
Ald. Byron Sigcho-Lopez, 25th Ward, also spoke at the event, calling Trump a "criminal."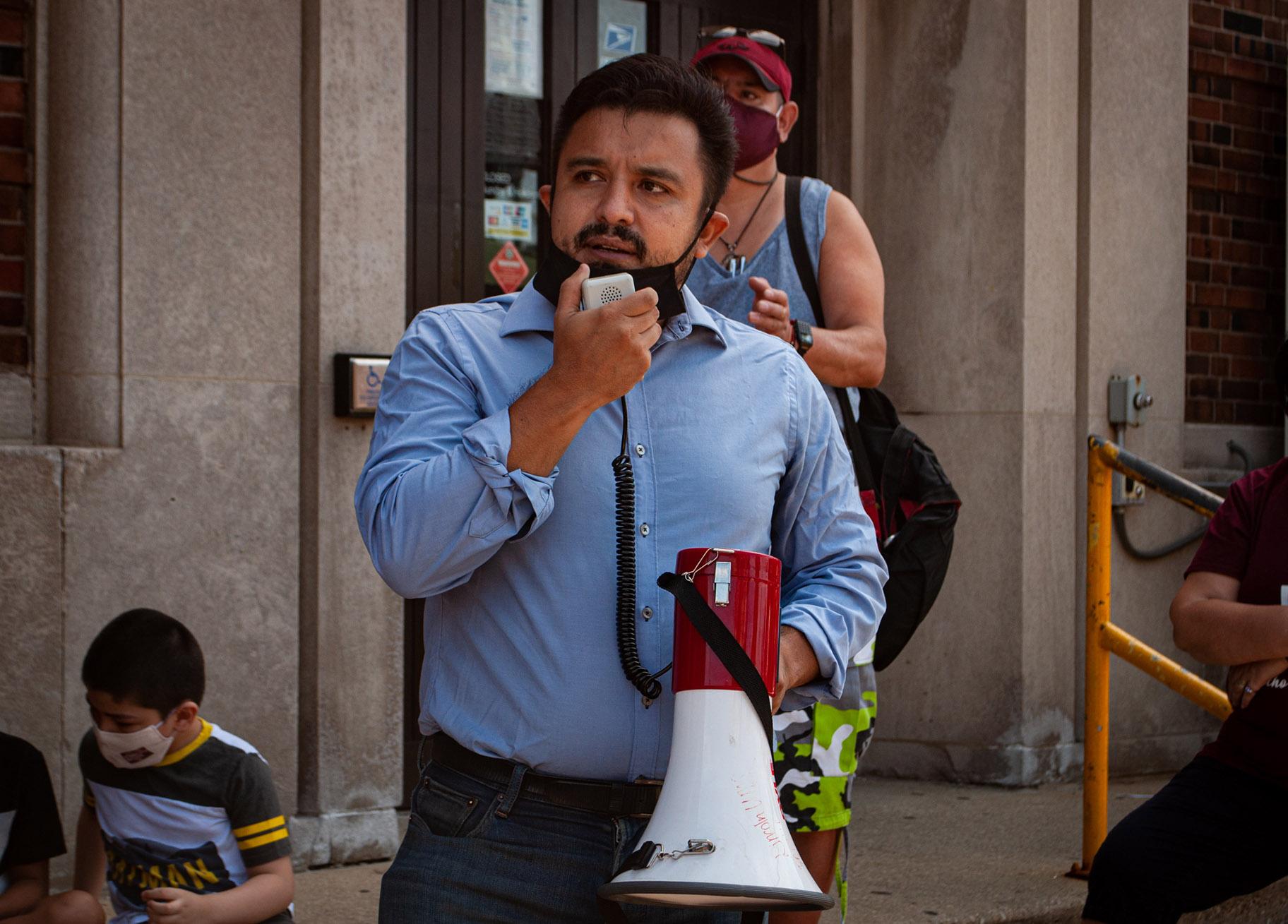 Ald. Byron Sigcho-Lopez, 25th Ward, speaks at "Save the Post Office Saturday" in Pilsen on Aug. 22, 2020. (Grace Del Vecchio / WTTW News)
"We have people, especially seniors in the middle of a pandemic, that are dying and are isolated from their loved ones," he said. "And we have a criminal in the White House, a sociopath, who is desperate because the election is going in the opposite direction and it's very clear, he's sabotaging the election and we have clear evidence."
"We're gonna keep fighting and we're gonna keep showing up until our vote is valued and it is fair and it is just," said Lozano. "And we will continue to register voters every day, every single day to get you (Trump) out of office."
Grace Del Vecchio is a freelance contributor to WTTW News: @delvecchiograce
---