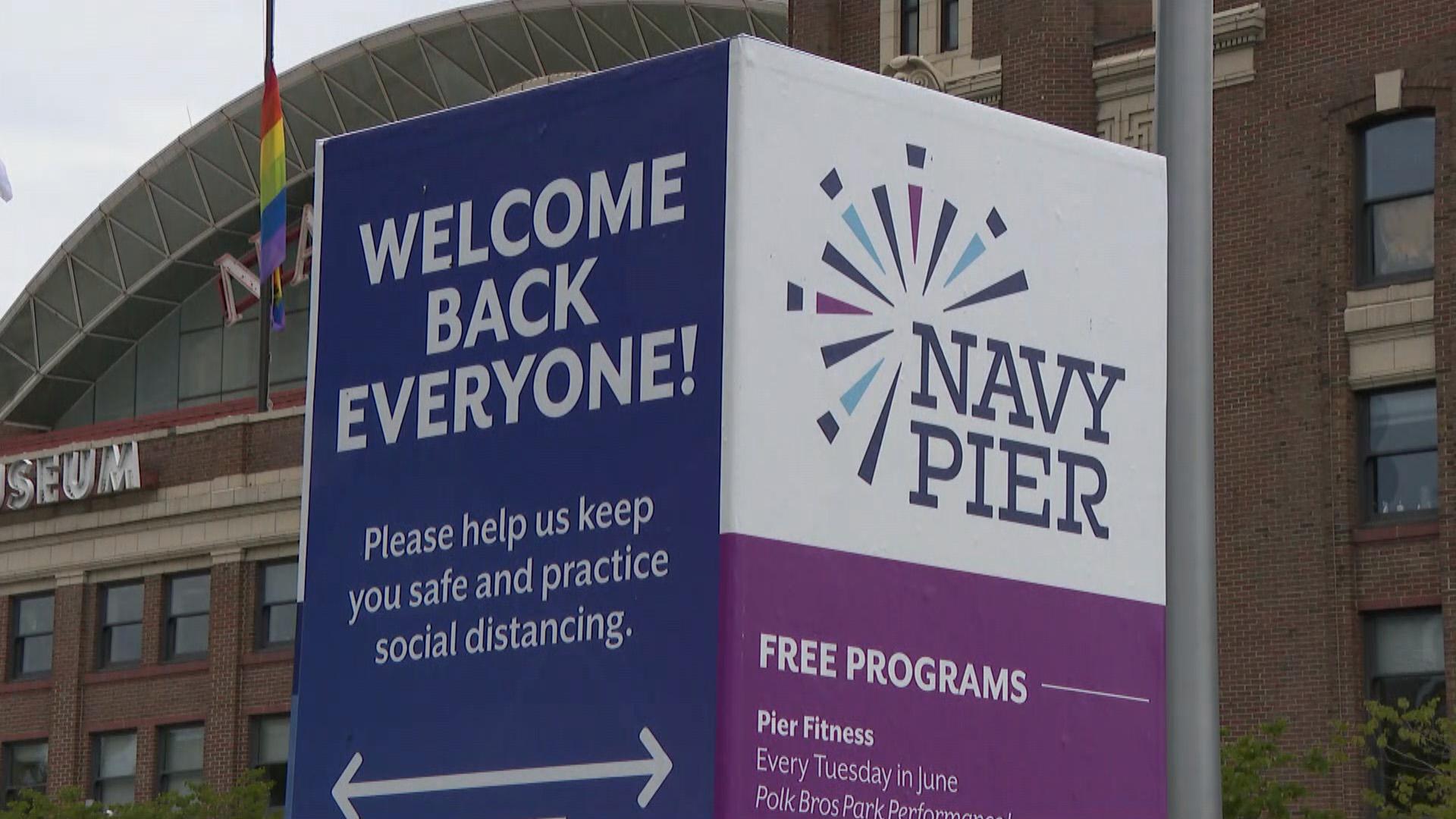 After weeks of being closed, Navy Pier prepares on Tuesday, June 9, 2020 for its partial reopening. (WTTW News)
Navy Pier will temporarily close in September because of the coronavirus pandemic. Unlike the pier's shutdown for several months in the spring due to government orders driven by COVID-19, directors of Navy Pier are this time choosing to close the cultural attraction for economic reasons.
"This is a big operation," said Cory Jobe, vice president of communications at Navy Pier, but right now there are "no visitors to help us, really, have the revenue to continue operating right now."
Jobe said in a typical year, more than 4 million people visit Navy Pier between Memorial Day and Labor Day; this year so far there have been only 400,000 guests.
"We need bodies through the gates here, or bodies to come onto the pier. Ride our boats with our partners, dine in our partner restaurants, park in our garages, and visit our attractions," Jobe said. "As we continue to hemorrhage a lot of money each month with very little revenue coming in – really, no revenue – it's just for the long-term future of this pier."
Navy Pier has lost $20 million in revenue this year, an amount equivalent to a third of last year's $60 million operating budget.
Jobe said executive staff have taken pay cuts and furloughs, and 20% of Navy Pier, Inc. staff were laid off during the pandemic.
Closing over the winter months – not a busy time for tourism in Chicago even before the pandemic – will allow Navy Pier to further reduce expenses.
"This makes economic sense and a majority of our business partners (at) the pier agree with us," Jobe said.
While the nonprofit Navy Pier organization created in 2011 is responsible for operations and does not receive government funding, the land – the structure and landmark dock into Lake Michigan – is owned by the Metropolitan Pier and Exposition Authority. The group did receive federal COVID-19 paycheck protection money.
It's possible that certain attractions could remain open even as everything else is shut down. Jobe said operators of the new Sable Hotel still hope to open in November, and talks are underway with the Chicago Shakespeare Theater, which has thus far been closed during the pandemic.
But otherwise, come Sept. 8, the pier — and the shops and restaurants inside it — will be closed until early spring, as well the south dock. The Centennial Ferris wheel has been closed since March, and will remain so indefinitely.
Jobe said there's no reopening date set. That, he said, is up to the coronavirus.
But he insists the closure will "absolutely not" be permanent.
"We will be back. This is not a goodbye," he said. "This pier will be back. … This pier has survived war."
Follow Amanda Vinicky on Twitter: @AmandaVinicky
---