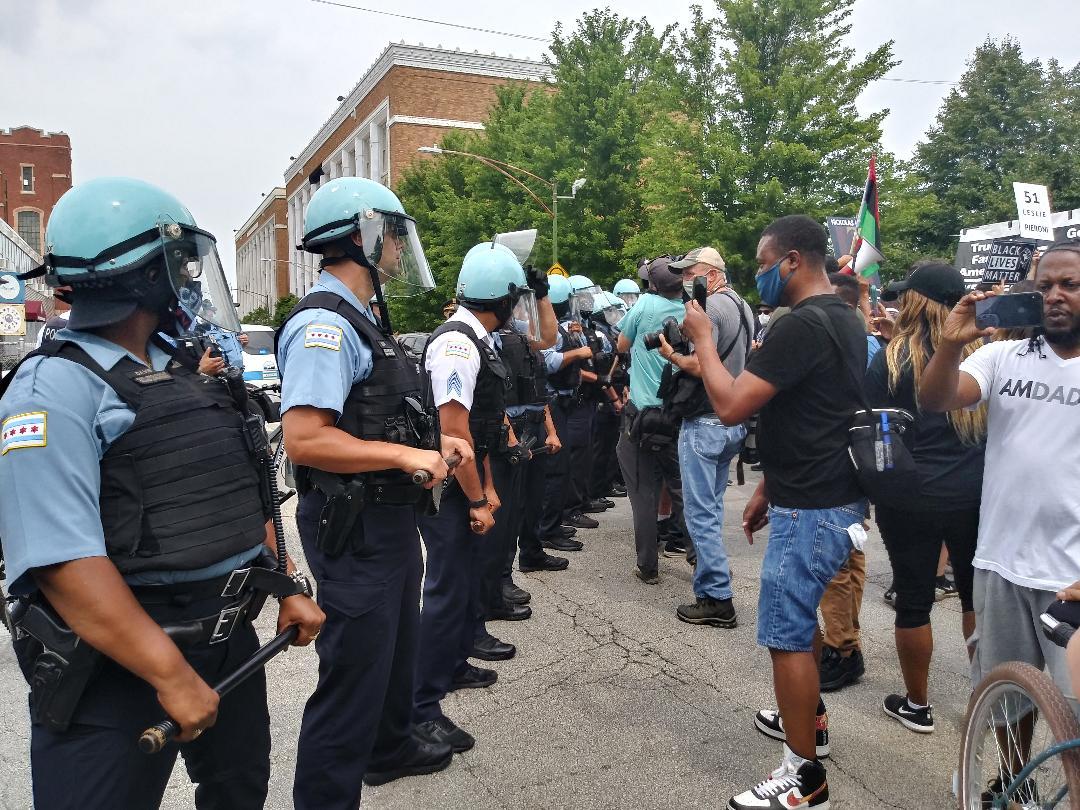 Chicago police officers redirect a planned march onto the Dan Ryan Expressway on Saturday, Aug. 15, 2020, on the South Side of Chicago. (Annemarie Mannion / WTTW News)
Protesters against police brutality were turned away by a line of police officers as they tried to make their way Saturday to the Dan Ryan Expressway to flood it with people and shut it down.
Although organizers failed in their goal to halt traffic on the expressway, they called the rally — which they also deemed a memorial to Black lives lost at the hands of police — a success.
Carrying signs and chanting "No Justice, No Peace," the protest drew a few hundred people — far fewer than the thousands they had hoped for — who gathered around noon Saturday at Robert Taylor Park, 39 W. 47th St., on the South Side.
"The turnout should have been more than this, but we're going to focus on what we need to focus on," said Rabbi Michael Ben Yosef of Chicago Activist Coalition for Justice, which spearheaded the rally, to the crowd that gathered around him.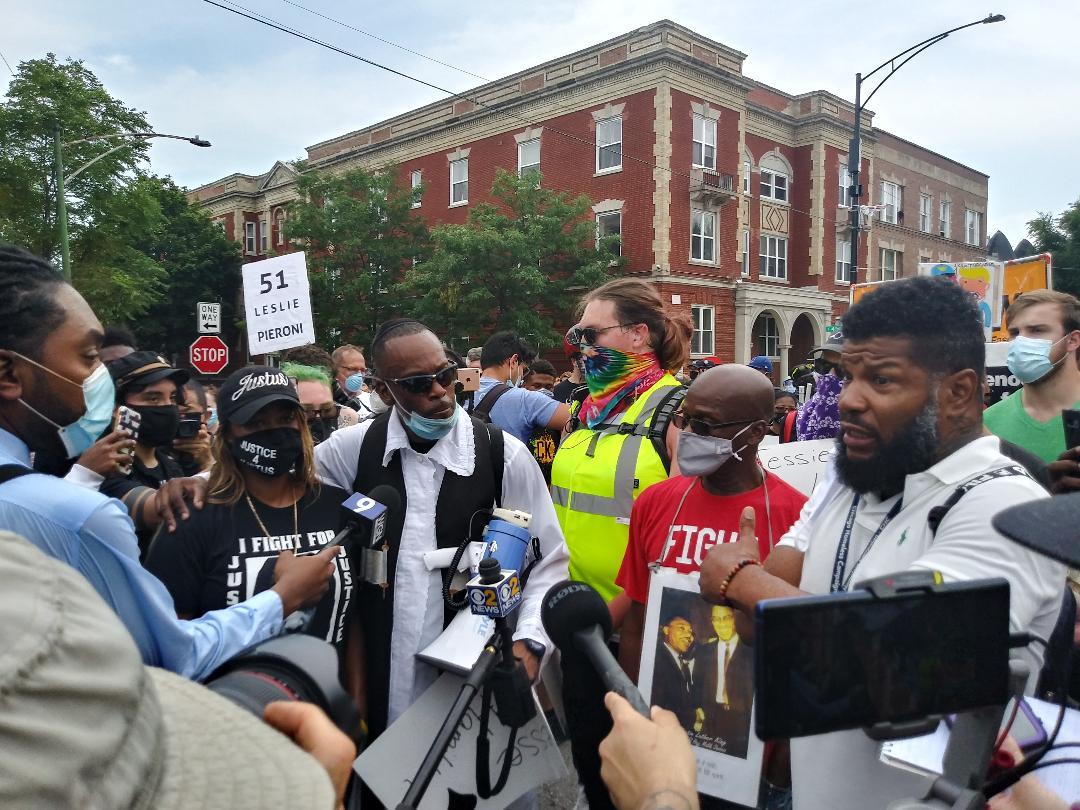 Members of the Chicago Activist Coalition for Justice, led by Rabbi Michael Ben Yosef (center, in white shirt with black vest), speak with the media at a protest against police brutality on Saturday, Aug. 15, 2020 in Chicago. (Annemarie Mannion / WTTW News)
Speaking through a bullhorn, Yosef listed some of the changes the coalition is seeking, such as an end to the qualified immunity that shields police from being held responsible for wrongdoing.
"The system is wrong for taking lives and letting people off scot-free," Yosef said. He also called for defunding the police and for abolishing the Fraternal Order of Police and firing its president, John Catanzara Jr. He said the coalition wants to see mental health facilities funded and reopened and money that currently goes to police diverted to schools and to after-school programs.
Before the group could attempt its march toward the expressway, the rally got tense when it was interrupted by a handful of counterprotesters led by Yashua Aton of the Original Men in Black, which he described as a community patrol in Englewood.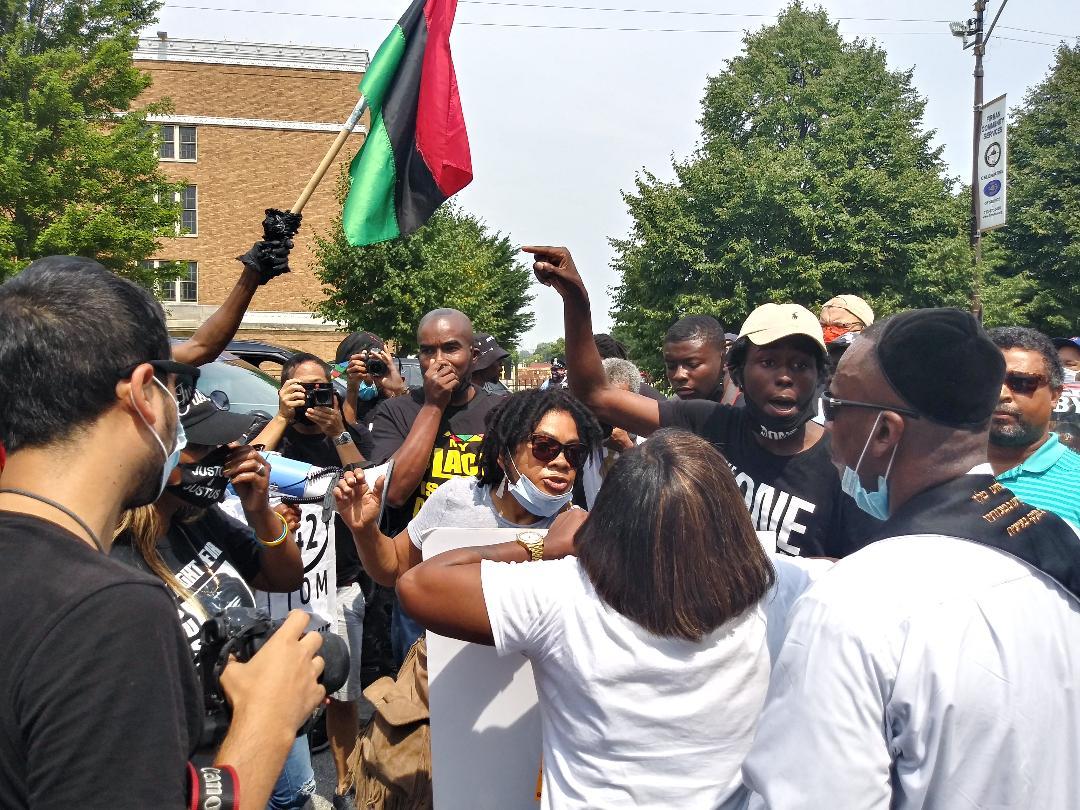 Counterprotesters appear on the scene, led by Yashua Aton (center, in black and yellow T-shirt), of the Original Men in Black. (Annemarie Mannion / WTTW News)
Shouting through his own bullhorn, Aton accused the other group of various alleged offenses including receiving funding from white people, inciting looting and not being committed to the community.
"You're going to shake the trees and leave," he said.
Aton and Yosef encountered one another in a brief face-off before Yosef and his group made their attempt to walk toward the expressway and were turned away. Instead, trailed by Aton and his few followers, they walked east on 47th and then north on Indiana Avenue.
Even before Aton disrupted the rally, Yosef had spoken against looting.
"I'd never tell my people to steal something (because) the police are going to come and get you. Then you'll be murdered in custody," he said.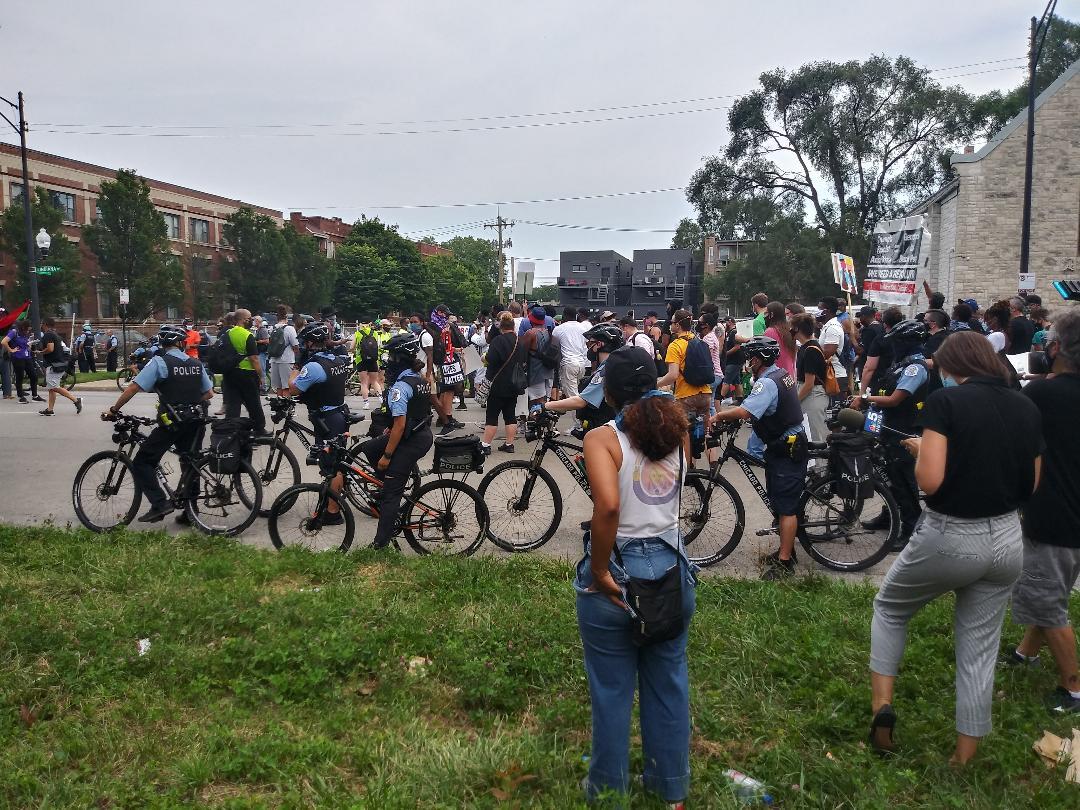 Protesters had hoped to draw thousands to the South Side on Saturday, Aug. 15, 2020, but still called the protest a success. (Annemarie Mannion / WTTW News)
Throughout the event, Yosef reminded the crowd it was intended to commemorate the lives of Black people lost by police brutality. Holding back tears, one of his supporters, LaToya Howell, the mother of Justus Howell, who was shot by police in 2015 during a foot chase in Zion, said she will not give up on seeking change.
"I'm here because I need to wake people up," she said. "I'm tired of all these murders. This is a movement."
Even through the coalition didn't shut down the expressway, one of its members, Jamie McDaniel, said as she walked along Indiana Avenue that it was still a success because of the media coverage it had garnered.
"We were re-directed for a purpose," she said. "Look at all the media. The memorial is a success."
Annemarie Mannion is a freelance contributor to WTTW News.
---