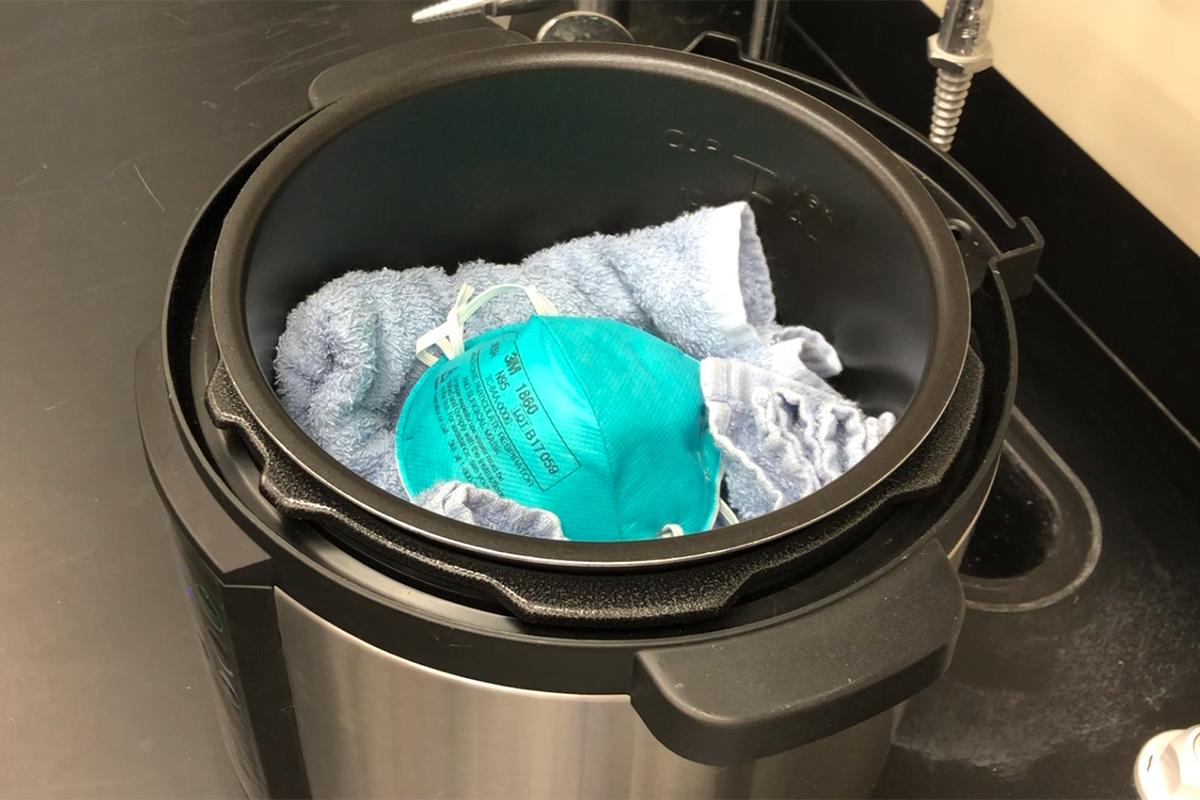 (Credit: Chamteut Oh / University of Illinois)
Limited supplies of critical protective equipment means that health care providers, companies and governments are looking for ways to safely stretch supplies a little further.
A common kitchen appliance may just be the solution.
Researchers at the University of Illinois found that an electric cooker can easily and efficiently decontaminate N95 masks up to 20 times without compromising their integrity.
Civil and environmental engineering professors Thanh "Helen" Nguyen and Vishal Verma led the research. They say the idea for the study came after talking with local health care providers who were seeking to extend their limited supplies of personal protective gear by reusing them.
Rather than rely on fancy lab equipment or chemicals, researchers wanted to use a device that was inexpensive and easily accessible, with a process that could be replicated at home. "We wanted to do something simple," Nguyen said.
Using a commercially available electric cooker, they were able to decontaminate the interior and exterior of 3M N95 masks from four different classes of viruses, including a coronavirus, in 50 minutes of dry heat, according to the recently published study.
"For safety, we worked with a coronavirus (that) infected pigs instead of humans," Nguyen said, adding the coronavirus they tested is in the same family as the one that causes COVID-19.
In the study, which has been peer-reviewed and was published last month, researchers used a cycle on their electric cooker which keeps the contents inside the appliance at about 212 degrees Fahrenheit (100 degrees Celsisus) for 50 minutes. To prevent masks from being damaged or melted by the electric cooker's heating surface, researchers placed a towel beneath the mask. Pressure is not needed for decontamination, according to the researchers, who said water should be avoided because it could compromise an N95 mask's integrity.
Once decontaminated, researchers analyzed the filtration of the N95 mask in an aerosol-testing lab and by measuring particles that passed through it, according to Verma. "These masks actually retained (their) efficiency after the dry heat treatment," he said.
Masks also retained their ability to fit snuggly over the mouth and nose, even after 20 cycles of decontamination, he said.
Multiple masks can be decontaminated at once by stacking them on top of each other, according to Nguyen. But if you're decontaminating multiple masks worn by different people, make sure the masks aren't touching to prevent cross-contamination.
And once masks are clean, try to keep them that way. Clean your hands before touching them, says Nguyen.
While this method could potentially be followed by the general public, researchers say their findings are limited to the 3M N95 mask and the specific electric cooker they used, though they posit other devices might work. "Always follow (a device's) manual," said Nguyen. "Don't create something that could cause a fire."
And don't use the same cooker for your food to decontaminate your masks. Instead, use a dedicated cooker for decontamination.
Nguyen and Verma are studying whether the same decontamination process could be used for cloth face masks. They've previously worked on a study that used a microwave to decontaminate an N95 mask.
That study, led by David Ruzic, professor of nuclear, plasma and radiological engineering, showed how a microwave, coat hanger, ceramic coffee cups, hydrogen peroxide and saline solution can create a plasma, which can decontaminate the mask in about 30 seconds. (Watch how it's done on Ruzic's YouTube channel.)
"It kills everything in 30 seconds and you can use the mask immediately. You don't have to wait for it to dry or for chemicals to leach out of it," Ruzic said, adding multiple masks could be disinfected at the same time. "It's been very exciting to make something that passes all these sterilization tests and it can be done by anyone, anywhere … in meatpacking plants, nursing homes, anywhere there's a PPE shortage."
More time in the microwave does not mean more protection, Ruzic warns. The metal bands on N95 masks can melt if they get hot enough and create holes in the mask, he said.
"If you know your mask is contaminated and you can't throw it away and you have to use it again, this could save yours and other people's lives," he said.
Ruzic envisions the method being used in health care settings, such as emergency rooms, and in countries that have very limited supplies of PPE, such as India and Brazil.
"I'm thinking about an emergency room doctor who intubates somebody who is really sick and they know they've got viruses all over (their mask) yet they're supposed to go to the next patient in the same mask because of limited supplies," he said. On the way to the patient's room, that doctor could disinfect the mask in a designated microwave in under a minute. "That's the reason for this type of technique," he said.
The project recently received a $30,000 grant from the Jump ARCHES endowment to address the pandemic. Ruzic said he's appreciative of the grant and that it shows that an organization finds it worthwhile.
The study on the microwave has not been peer-reviewed or published in a journal. 
Contact Kristen Thometz: @kristenthometz | (773) 509-5452 |  [email protected]
Note: An earlier version of this story incorrectly stated that one of the studies had not yet been peer-reviewed. The story has been updated.
---