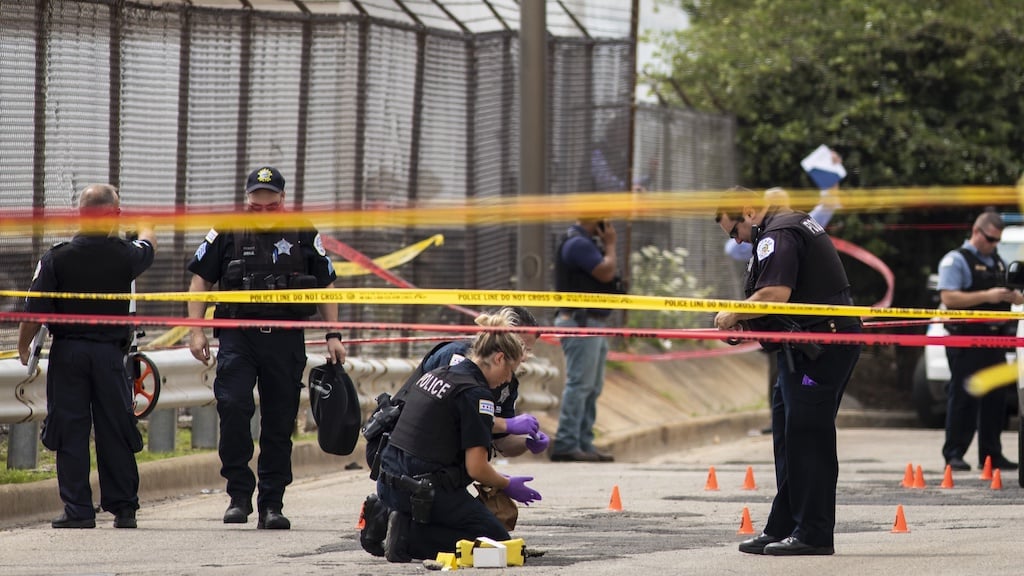 Chicago Police investigate at the 25th District station on the Northwest Side, after several officers were shot outside the station, Thursday, July 30, 2020. (Ashlee Rezin Garcia/Chicago Sun-Times)
The man accused of wounding three Chicago police officers in a shootout outside a Northwest Side police station Thursday morning has been charged with six counts of attempted murder and multiple other felonies.
Chief of Detectives Brendan Deenihan announced on Friday numerous charges against Lovelle Jordan, 25, who was allegedly able to conceal a firearm and open fire on police at the 25th District station following his arrest in connection with a previous carjacking.
While he remains hospitalized with multiple gunshot wounds, Jordan was ordered held without bond during a hearing Friday afternoon.
Police responded to a call about a suspicious vehicle on the 4800 block of North Avenue Thursday morning and located an unoccupied white Porsche that had been reported stolen earlier this month.
As the officers were going through the process to recover that vehicle, Deenihan said Jordan walked "right up to the car," entered the driver's seat and attempted to drive from the area.
"It just shows how emboldened these criminals are," Deenihan said. "The officers are right there, and this guy walks right past the front of the officers' car and just jumps in this vehicle trying to start it and drive away."
Officers immediately responded and pulled Jordan from the car, placing him under arrest. Deenihan said police did search the suspect, recovering some money and narcotics, but he was able to conceal a firearm as he was handcuffed behind his back and placed into the back of a marked squad car.
Assistant Cook County State's Attorney Kevin Deboni explained during Friday's hearing that during the search, the defendant "squirmed and shielded his body" from police, which allegedly allowed him to conceal a Glock pistol.
Jordan was transported to the 25th District station, and as soon as an officer opened the squad door to get him out, Jordan allegedly opened fire, striking that officer in the face, with bullet fragments hitting his chin and neck.
"The officer falls backwards and at that point is when the gunfight occurs between the offender and the other officers on the scene," Deenihan said.
After shooting the first officer, Jordan allegedly used the squad car as cover while firing at two other nearby officers, who returned fire. On four separate occasions, Deboni said, Jordan ducked out of the backseat of that vehicle to point his gun at police.
The officer who was shot in the neck crawled along the ground to the driver's side of his vehicle. Jordan eventually fled from the squad car and dropped into a "crouched firing position," according to Deboni, shooting and hitting two more officers in the protective vest and hip, respectively.
Jordan moved to the front of the car and fired at a female officer, but missed, instead striking her vehicle, Deboni said. He then attempted to run to another vehicle nearby, but was shot multiple times police and fell to the ground.
Three officers in total were wounded. The officer who was shot in the face remains sedated but is "doing well," according to Deenihan. Deboni said that officer is in a medically induced coma to prevent spinal damage, and will be re-evaluated in two days.
"We're hoping he's going to make a full recovery," Deenihan said, adding that the officer is not yet "out of the woods."
Jordan was shot multiple times by police and is in critical condition. Deboni said Jordan is paralyzed from the chest down "at this time." He faces a potential sentence of 20-80 years on each attempted murder charge.
On top of the attempted murder counts, Jordan was also charged with: unlawful use of a weapon, aggravated possession of a stolen motor vehicle and two counts of possession of a controlled substance, among other charges.
Deenihan said Jordan is a convicted felon who was out on parole following a 2018 arrest for felony possession of a firearm. He had been on electronic monitoring until June.
Despite being handcuffed behind his back, Deenihan believes Jordan was able to slide his arms under his legs from the back to the front while seated in the squad car. The specifics of how Jordan was able to conceal his weapon are not clear, but Deenihan said he likely hid the gun close to "his private area."
"These guys, they didn't do anything wrong," Deenihan said of the officers who initially searched Jordan. "It's the offender's actions. That's who is responsible for shooting the officer in the face. The offender."
Contact Matt Masterson: @ByMattMasterson | [email protected] | (773) 509-5431
---