Game day in Wrigleyville on Sunday, July 26, 2020. (Erica Gunderson / WTTW News)
In any other year, a parking spot near Wrigley Field on a game day would be a mirage or a miracle. But on Sunday, the third day of the 2020 baseball season, parking spots in Wrigleyville were easy to find, and the cheek-to-jowl lines that would normally snake along the many bars and restaurants on Clark Street were nonexistent.  
"You can find a parking spot across the street from us right now. That tells you everything you need to know," said Pat Odon, the official beer and baseball operations director of the Nisei Lounge, an unassuming tavern two blocks south of Wrigley Field. 
Odon says that even though a Sunday game day at the Nisei is usually on the slow side – "our crowd skews older, and Sundays are family day at Wrigley, so it's more relaxed than usual," he says – they would still have a healthy number of thirsty Cubs fans at their tables.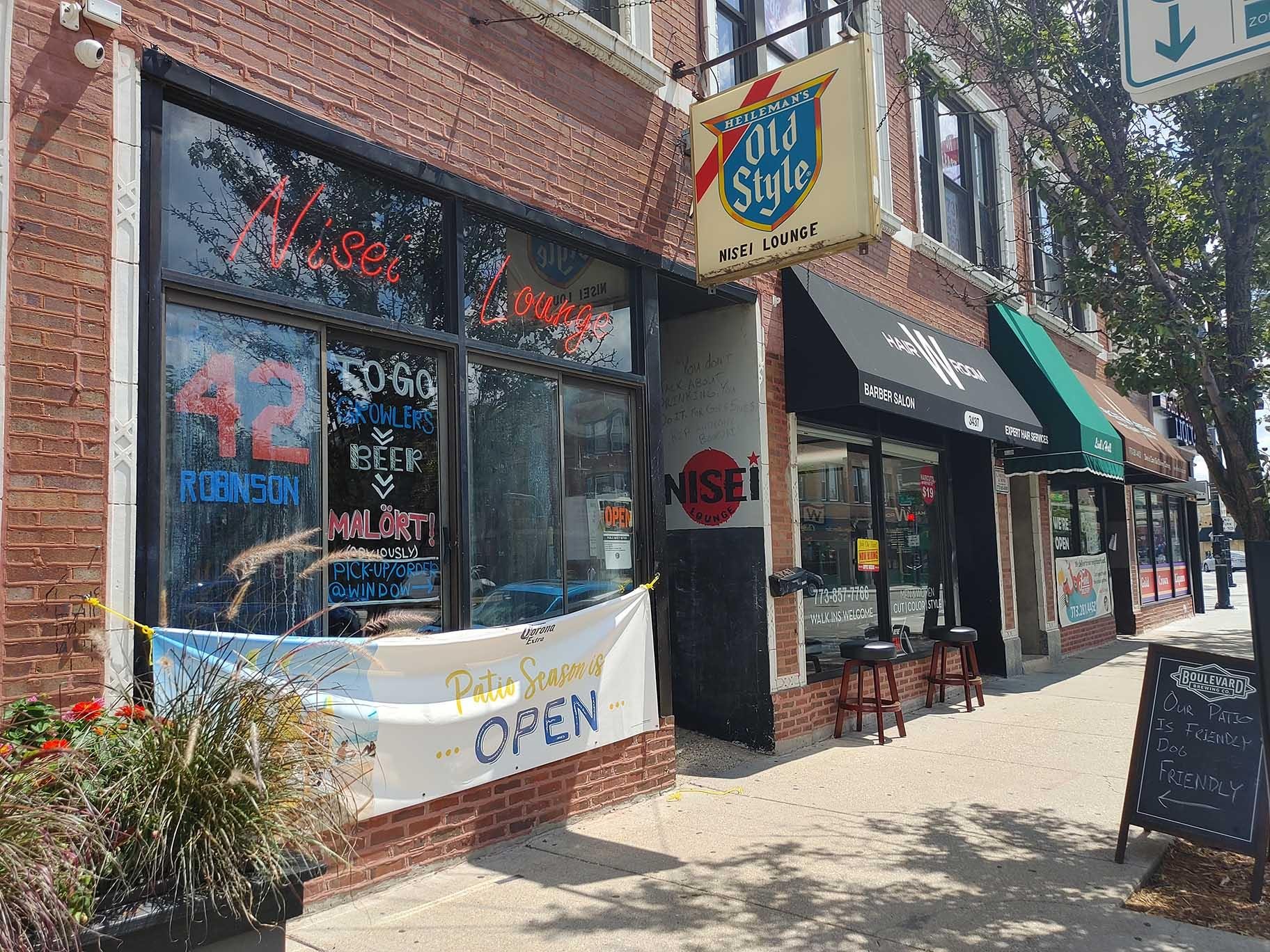 The Nisei Lounge (Erica Gunderson / WTTW News)
"We would have before the game, 50, 60 people in here after they got brunch somewhere in the neighborhood, and after the game we'd have 50 to 100 people sitting in here reliving the game," he said.
But this blisteringly hot and sunny Sunday in Wrigleyville, a day that would normally see throngs of fans clad in Cubbie blue, was eerily quiet as the Cubs notched their second win of the tardy and truncated 2020 season, and the Nisei was empty but for Odon, a bartender, four patrons in the outdoor patio, and a labradoodle named Nola. 
"We'll be lucky if we cover the electric and the staff bill today," said Odon. 
Sitting at a picnic bench waiting for the first pitch from Cubs starter Tyler Chatwood to start the game, regulars Kate Masiak and Matt Binning said first and foremost, they were at the Nisei to finally watch some day baseball.  
But as Lakeview residents, the couple said they were also there to keep the Nisei from meeting the same fate as nearby Guthrie's Tavern, a beloved 34-year-old bar that was unable to sustain financial losses from the pandemic shutdown and permanently closed on July 23.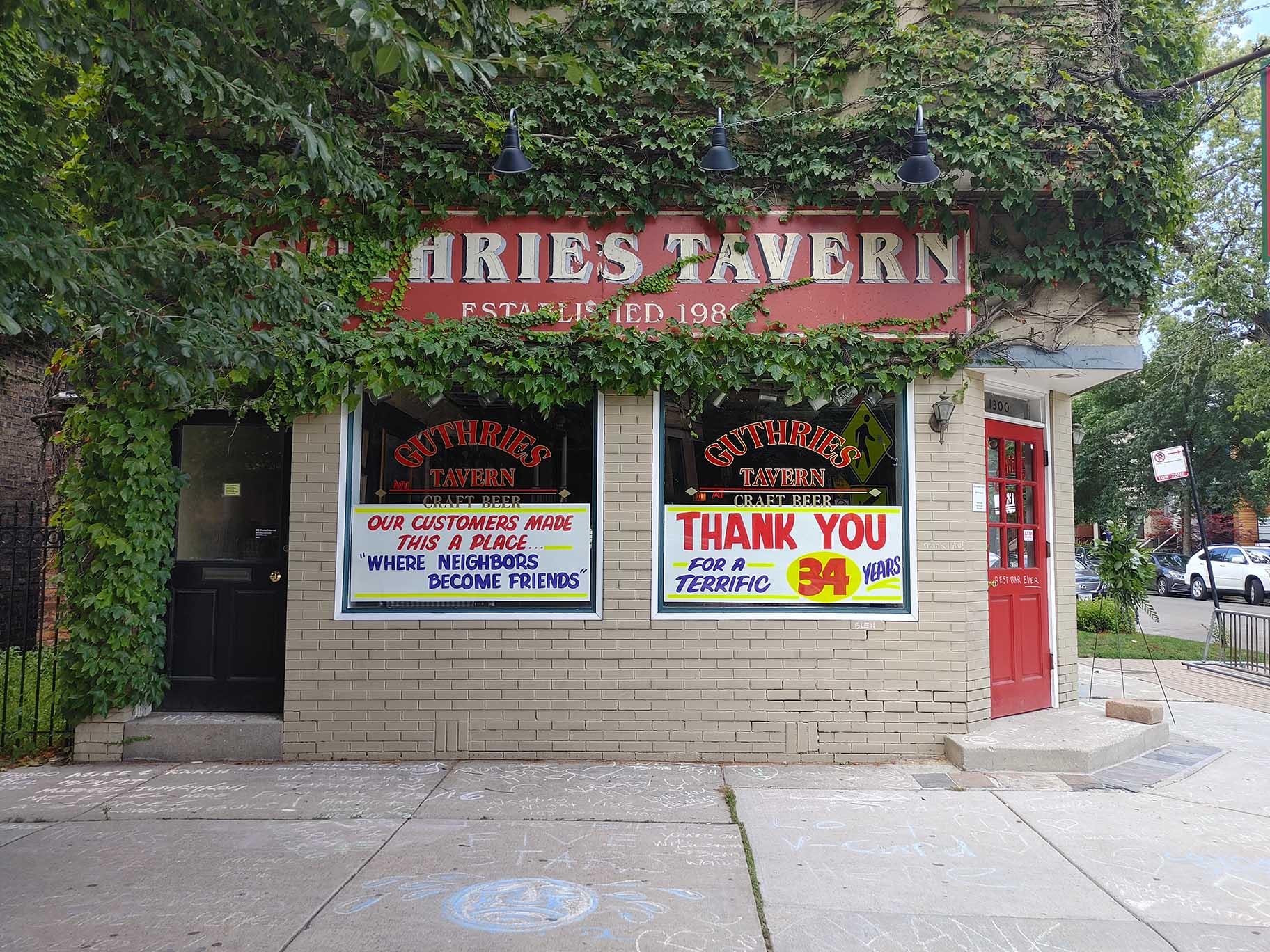 (Erica Gunderson / WTTW News)
"We're here to support local neighborhood businesses," Binning said. "We see the owners out and about in the neighborhood, and we like that. We don't want this to become Southport corridor." 
Binning said the bar's commitment to operating safely means he doesn't worry about spending a few hours there watching the game. "They really care about the COVID requirements, checking our temperature, making sure we have masks on, making sure we're social distancing," he said.
Waveland Avenue, which usually rings with stadium cheers and is packed with ballhawks jockeying for space with fans, was so quiet Sunday that when left fielder Kyle Schwarber scored the first run of the game, cheers from the few rooftop fans in attendance were startling. 
Lakeview residents Kali Drews and Thomas Stolley sat on the edge of a sidewalk planter on Waveland to take a break from the sun and listen to the sparse sounds from the stadium. 
Drews and Stolley said that even though it's a different baseball experience than they're used to, they're glad to experience live baseball any way they can.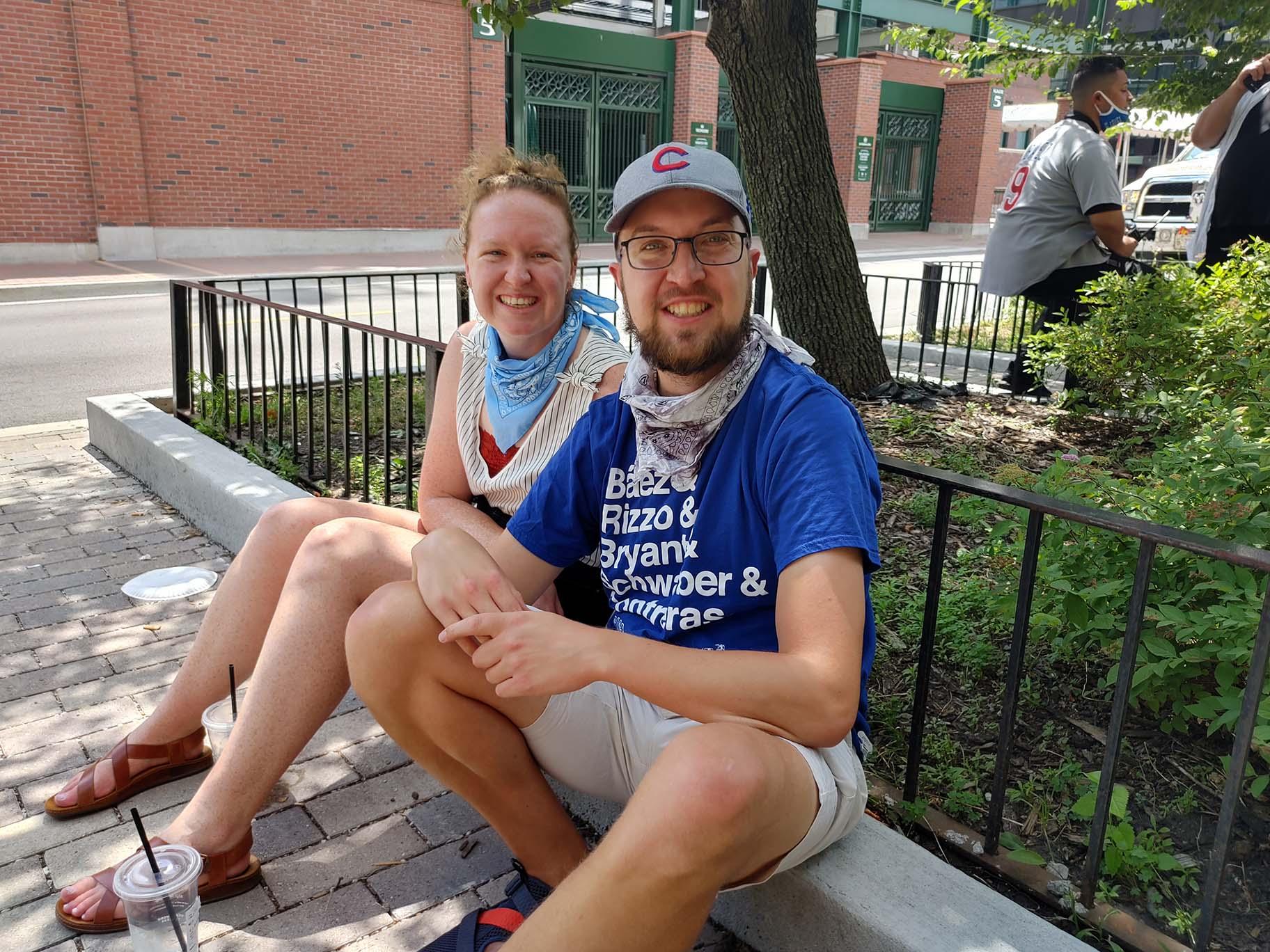 Kali Drews and Thomas Stolley (Erica Gunderson / WTTW News)
"Everyone's just kind of sitting out, hanging out on a Sunday," said Drews. "The energy's definitely there, but I feel like around here it's really chill." 
"I think people are excited that baseball's back in the neighborhood," said Stolley. "You can still hear the music playing from the organ, you can hear the announcer, it still feels like there's a game happening. It gives us something to cheer for." 
At the corner of Clark and Waveland, Clark Street Sports sidewalk vendor Ridvan Mustafa says his towering stand packed with T-shirts and hats has seen "a couple hundred, if that" people stop by over the weekend, but it's not nearly enough to make the daily rent on their corner worth the effort. 
"On a normal game day there's 35,000 people walking around having a good time. But now, it's not enough," said Mustafa. "Everyone's down right now. We gave it a shot, but with the labor, the rents out here, it's just not worth it."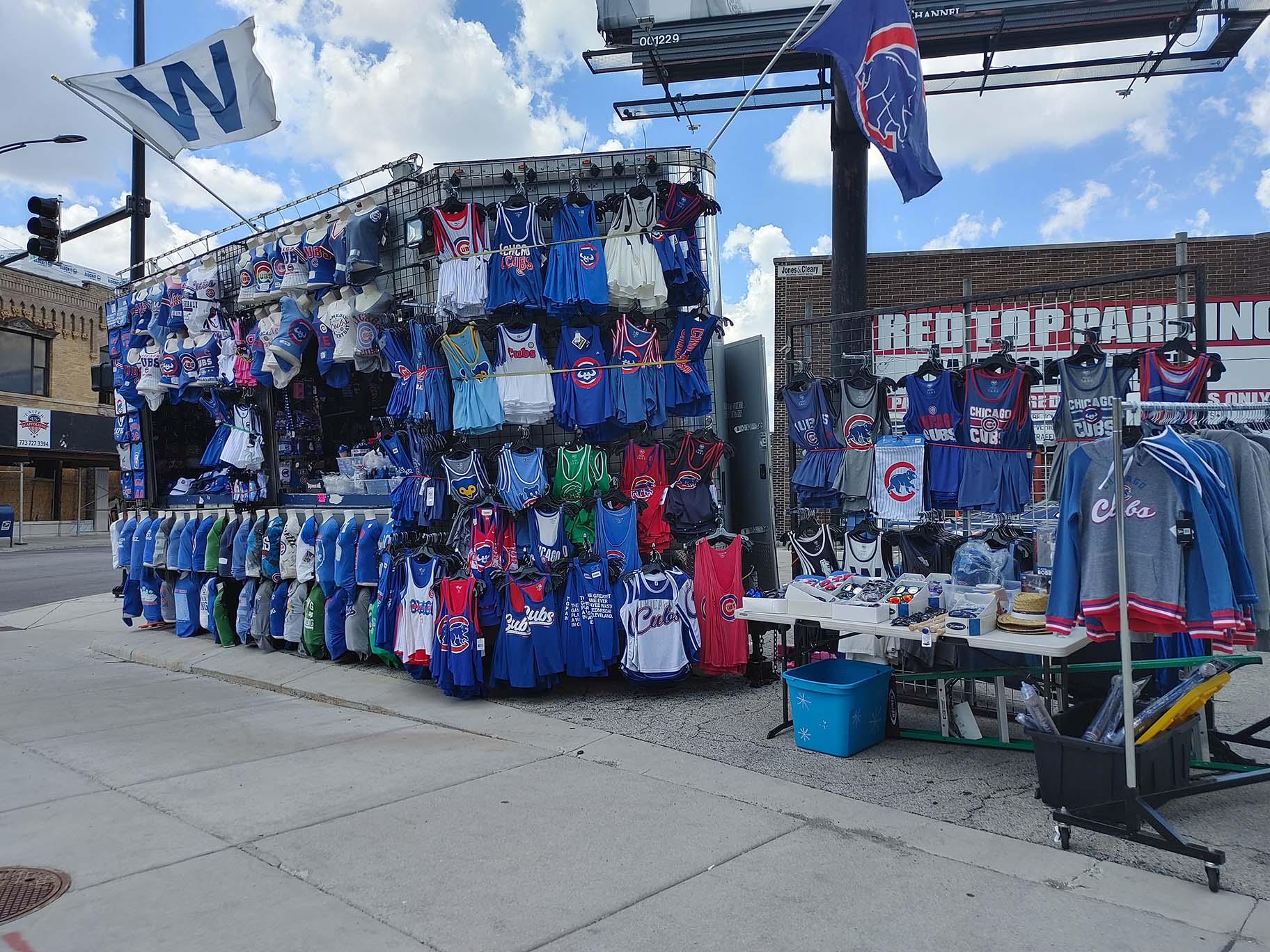 Clark Street Sports (Erica Gunderson / WTTW News)
Mustafa said that while the Cubs have presented a plan to allow limited numbers of fans into the park in late August or early September that might give sales a boost, he's not sure that even the truncated 60-game season will happen. 
"I don't think so. I'm optimistic, but I don't think they're going to get it in," he said. 
Back at the Nisei, Pat Odon worries about the Nisei Lounge's prospects for the rest of the baseball season and the months beyond as the pandemic continues. 
"We hope it'll be a full season but we're not betting on it," he said. "We've done everything we can to cut costs and keep this place going until there's a vaccine or some other development. But we won't be able to bring back all of the staff and the customers without being able to have fallback indoor seating. We can do it safely and it gives us fallback on 94 degree days or in rainy weather … but [the city] is denying us that fallback position for our exciting Chicago weather." 
Odon said that people need only look at what happened to Guthrie's Tavern, a loss he called "devastating," to know that the businesses that make Wrigleyville a game-day destination with or without a ticket are in real trouble.  
"It's worse than they think for all of us. But it's hard filling your bar or your restaurant if you're complaining 'woe is me.' So we try to be positive, and we definitely appreciate all the customers we've had. But it is so much harder than it's been at any point in the last decade since I've been here, and it's going to stay super hard," Odon said.
And that's why Nisei regular Kate Masiak says she and Binning are doing all they can to keep the Nisei afloat.  
"I worry about what this place would become if Nisei shut down, especially with how commercialized the neighborhood's gotten," she said. "I would hate to think of this becoming not the Nisei anymore." 
Follow Erica Gunderson on Twitter: @ekgundy.
---