A record 121,000 Chicagoans have sent in applications to vote by mail in the November election as states across the country are expanding their mail-in ballot offerings due to the coronavirus pandemic.
The situation has prompted a rash of statements and tweets from President Donald Trump, who claims without evidence that the 2020 election will be the "most rigged election in our nations history."
Election officials believe mail-in ballots in November will hit record levels in Chicago and Illinois as people avoid in-person voting in an effort to reduce their risk of exposure to COVID-19.
"We normally have in a presidential election 1.1 million votes cast and normally 65%-70% of those are cast on election day in the precinct," said Jim Allen, spokesman for the Chicago Board of Election Commissioners. "The entire script looks like it is going to be flipped this year where more than half of the votes (in Chicago) are probably going to be cast by mail and through secure drop boxes."
For the upcoming election, the General Assembly in Springfield passed new laws making Nov. 3 a state holiday — a move that makes more public buildings available as polling stations to better enable social distancing — and ensuring that voters who participated in any of the last three statewide elections since 2018 are sent an application to vote by mail.
"We expect by design, and through this new legislation that the General Assembly has passed, that far fewer people will be casting (votes) in person on election day," said Matt Dietrich, spokesman for the Illinois State Board of Elections. 
Dietrich said that in the last statewide election and primary 9% of voters chose to vote by mail. He also noted that the state will be sending a "very strongly worded letter" by Aug. 1 warning voters of the risks of coronavirus infection and encouraging them to opt to vote by mail.
"You have to figure that with the full-court press that we are doing now, at minimum that (9% figure) is going to double," Dietrich said. "But that's just a guess … we really will not know until maybe a month or so from now."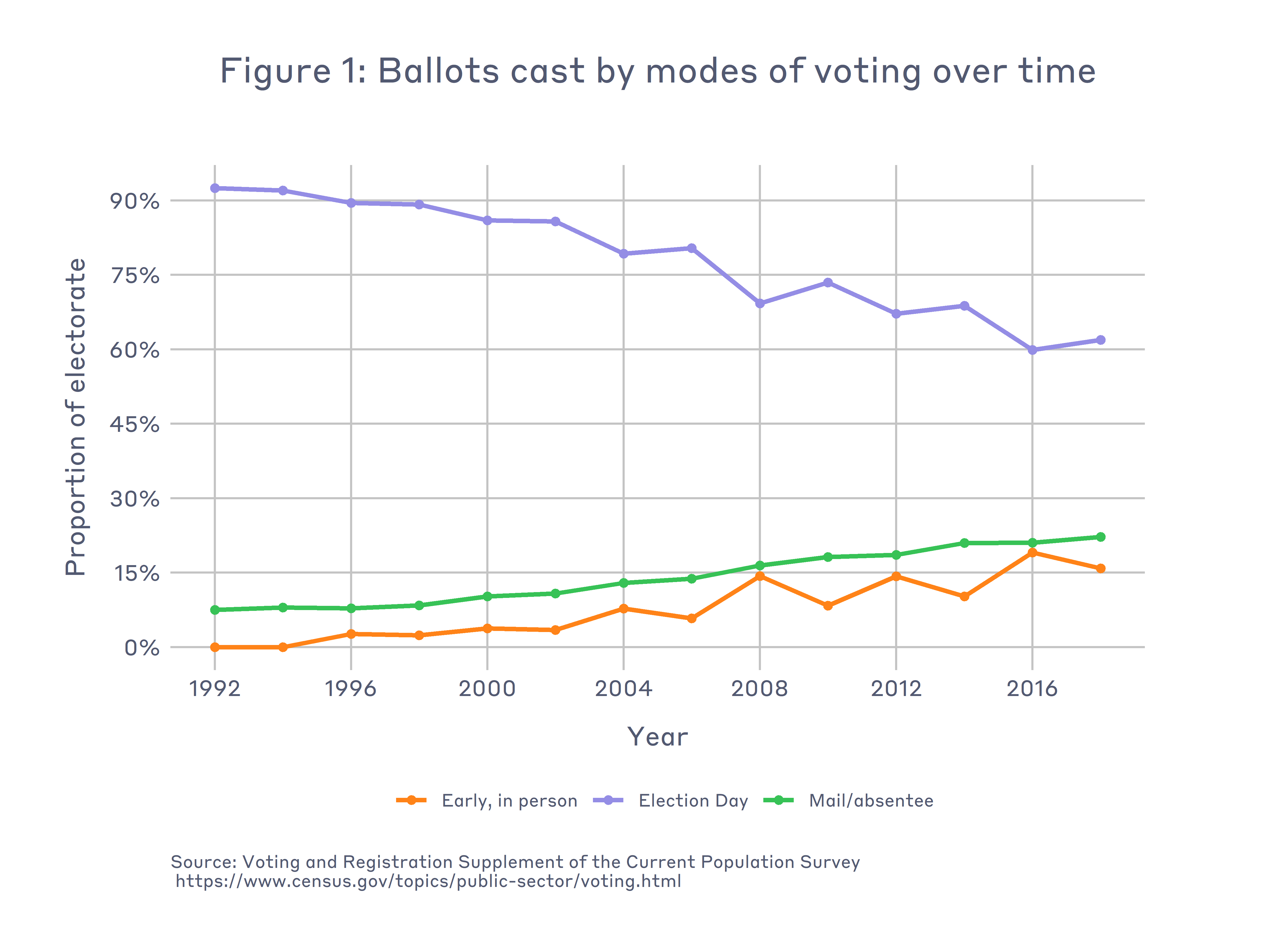 (U.S. Census Bureau)
For those who do choose to vote in person, the state will be following Centers for Disease Control and Prevention guidelines on how to ensure that that is safe.
Both Allen and Dietrich dismissed Trump's claims that mail-in voting will lead to widespread fraud.
Allen said that if voters had any doubts about the integrity of mail-in voting they should "research all of the bipartisan work that election officials across the country are doing to ensure that voting by mail is safe." 
Historically, Republican states have encouraged voting by mail, said Allen, adding that there is no evidence that it offers any partisan advantage or leads to fraud. He also said the few incidents of attempted voter fraud that have occurred across the country in recent years were easily detected.
And for voters concerned that someone else might steal their mail-in ballot and vote fraudulently, safeguards are in place. Ballot signatures are checked against signatures on file and voters will be notified by email when their ballots have been received and when they are processed. Voters can also monitor the status of their mail-in ballots online.
"To be honest our biggest concerns are about protecting the voters with follow-up if their signature doesn't match," said Allen, noting that some registered voters may have lived at the same address for 40 years and their signatures may have changed over time. "We don't want to see the kind of rejection numbers that we've seen in some other jurisdictions."
---