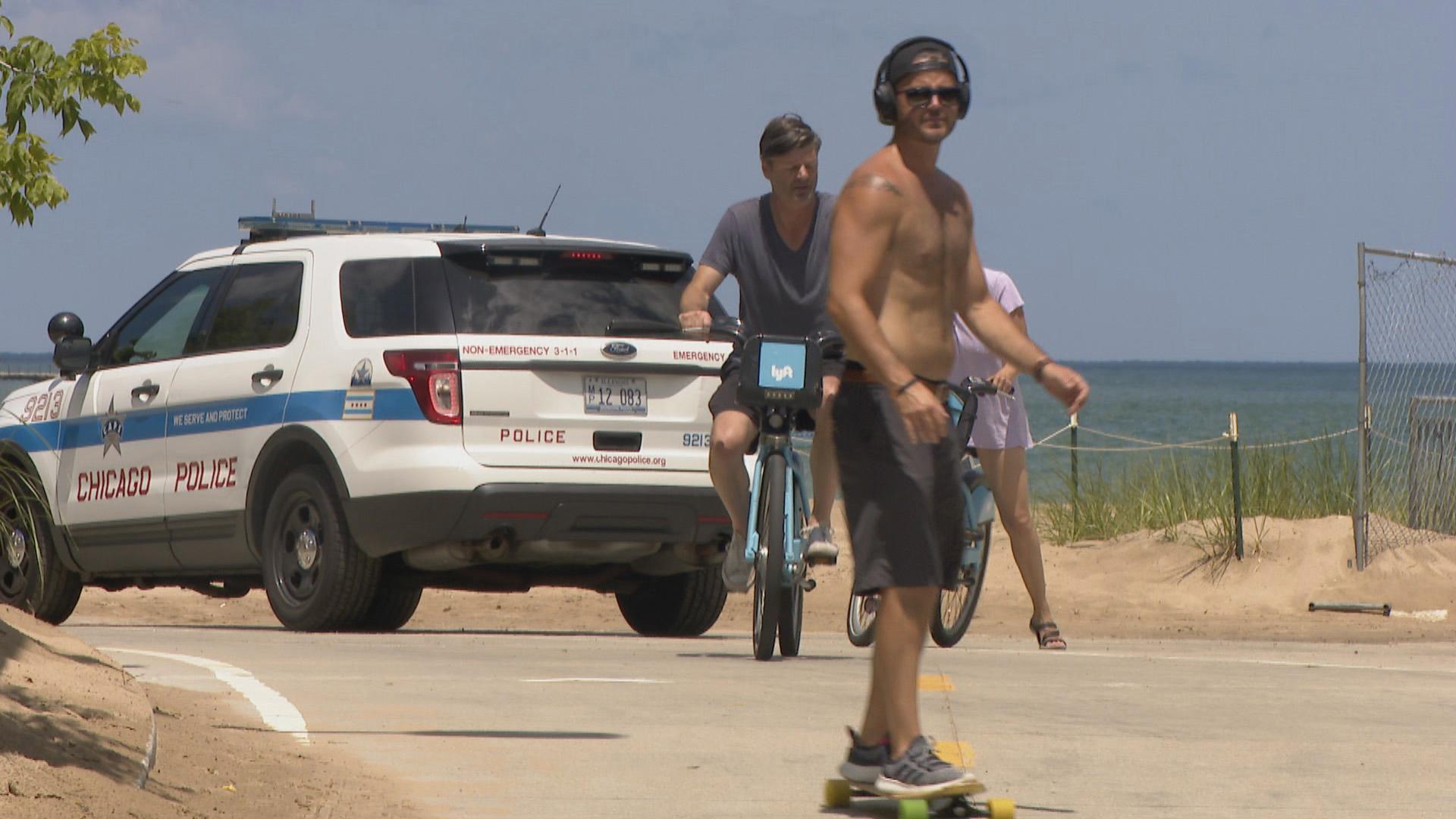 Chicagoans try to beat the heat along the lakefront trail in early July. (WTTW News)
Four months into the coronavirus wreaking havoc on everyday life in Illinois, and there's still room to be confused. Everyone knows (or should by now) to wash your hands frequently for at least 20 seconds, that a wearing a mask is mandatory and that it's safest to limit in-real-life social interactions.
"We cannot control this situation without masking and distancing. We cannot," Illinois Department of Public Health director Dr. Ngozi Ezike said.
But even if you're practicing safe habits, there's always the chance you will come into contact with someone with COVID-19, be it a hairdresser, friend, relative or coworker who tests positive for the coronavirus.
There's no guarantee you'll get COVID-19 too, but there's also no guarantee you won't – after all, the virus is feisty, and has proven itself to be super clingy.
What then?
Ezike on Wednesday spelled out what steps to take.
1. You must self-isolate for two weeks: "If you learn that a friend or a relation or a contact of yours tested positive, you have to undergo a 14-day timeout," she said.
2. Wait (at home, by yourself).
3. Answer the phone, even if the number is strange. Robocalls are annoying, and scammers suck. But after someone contracts COVID-19, they should be sharing information about their recent whereabouts and connections, and a growing cadre of trained "contract tracers" will be tasked with reaching out to anyone the coronavirus patient was near. They may be calling from an unknown number. They won't ask for personal information or a credit card number, so use common sense and caution. But officials ask for cooperation with contract tracers.
4. Then – after six or seven days – get a coronavirus test. It's free, and there are a host of places. Why the pause between the time of potential exposure and having swabs stuck up your nostrils? "You need to wait at least six to seven days after your exposure to get tested," Ezike said. That's when there's a better chance a test will be able to detect the virus, or as Ezike put it: when there's a "better chance of actually showing a positive test result." Before then is too early. Ezike said if a friend tells you they tested positive for COVID-19 "and you were with them just that day before, it's too soon to get a test. So please, a six or seven day window after your exposure is the ideal time to get tested."
5. Continue to stay isolated until 14 days after exposure – even if the test comes back negative. Yes, even if you wait a week, get tested, it comes back negative and you're feeling just fine, you have to wait out the remainder of the 14-day period. "A negative test does not buy you out of the 14-day timeout,"Ezike said. "I know that's hard to take: You're feeling fine. You got an initial test, it says you're negative. But that test is not enough to take you out of the 14-day timeout. We have many individuals that have not been positive on day six or seven. Up to 30% of people might still test positive or develop symptoms on day eight, nine, 10, up to day 14. So in the interest of not spreading it to other people, we have to do that 14-day quarantine."
6. Continue to stay isolated for 10 more days following a positive test. Even if you're experiencing no symptoms. "If you have a positive test, and you don't have symptoms, you still have to isolate for 10 days," Ezike said. "Not having symptoms does not mean that you're not infectious, and does not mean that the test was wrong."
7. Try DIY contact tracing. If you do contract COVID-19, "Take your own personal responsibility to reach out to those who may have been exposed," Ezike said. "Make sure you notify your employer, your social networks, your family networks, your religious groups, your sports groups. Please be a responsible citizen and share to people who may have been exposed, in case you get to them before the contact tracers do."
8. Watch your tracks. Illinois and local entities are in the process of hiring more contact tracers, though critics say the state is behind. Regardless, it's a good idea to be mindful about where you've gone and with whom. Just in case. "We have to be vigilant, keep track of where you have been and who you have been around in the event that you do test positive, then you can help identify as the contact tracers reach out to you," Ezike said.
9. Keep up with the 3-W's: Wash your hands. Wear a mask. Watch your distance (keep 6 feet away from strangers). The four months of the pandemic may feel like forever, but COVID-19 has not disappeared, and it will be a threat for some time. "Cases are increasing across the country. Even in some areas in Illinois, with our local health departments, we are aggressively identifying outbreaks in Illinois to control them before they spiral out of control," Ezike said.
Follow Amanda Vinicky on Twitter: @AmandaVinicky
---