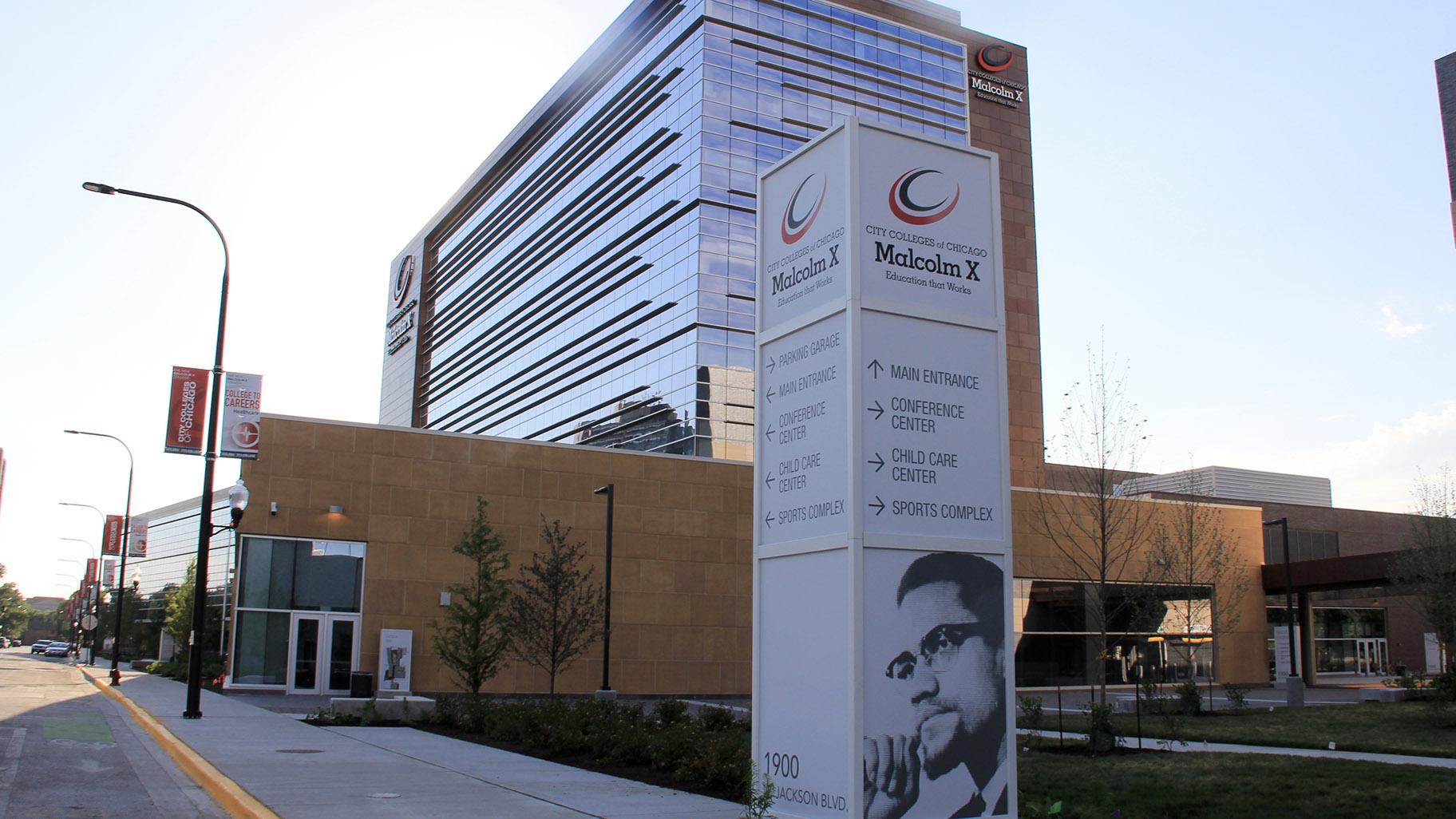 Malcolm X College (Daniel X. O'Neil / Flickr)
Former City Colleges of Chicago students who were held back by debt and dropped out before completing their studies can now re-enroll and finish their degrees through a new relief program that promises to forgive those unpaid dues.
CCC on Tuesday launched "Fresh Start," a debt forgiveness program that seeks to help get thousands of former students back into the classroom so they may finish their degrees or certificates.
"These students have had success with us before," City Colleges Chancellor Juan Salgado said. "They accumulated some college credit and left in good academic standing and now they can finish what they started."
Through Fresh Start, a returning City Colleges student will see half of their outstanding debt forgiven if they remain enrolled and make satisfactory academic progress through their first new term.
The remaining half will be forgiven when they complete their credential – either an associate degree, advanced degree or a basic certificate.
Mayor Lori Lightfoot, who said she faced a "mountain" of debt following her undergrad career, called the program the "next big step forward" in combating poverty in Chicago and giving residents meaningful career opportunities.
"No Chicagoan should be forced to fall so far behind while pursuing the very thing that can propel them to a stable, middle-class lifestyle and out of poverty," she said. "When that doesn't happen … we all lose."
The program is open to anyone who dropped out over the past 10 years, up to and including the spring 2020 semester, and remains in good standing with CCC.
That's about 21,000 students – with approximately $17.7 million in debt – more than half of whom are Black and a third of whom are Latino, according to Salgado. He said some eligible students may have only earned a handful of credits thus far, while others are just one or two courses away from graduation.
One of those students is Latil Willis, who attended Harold Washington College in 2018. Split between work and school, she tried to drop some of her classes, but missed a tuition refund deadline, and began accumulating debt to the school.
"I was working two full-time jobs and I was so motivated, but I was just unable to pay off the rest of that tuition," she said. "I have always dreamed of earning my business degree and having a career in fashion, and it was difficult for me to realize that I might not ever be able to do so."
Now with the Fresh Start program, Willis will be able to resume her studies without worrying about her past debt.
"I was beyond excited," Willis said about learning of the new program. "I would finally be able to go back in the classroom and work toward my degree, and I would be able to pursue my dream."
The Fresh Start program will begin with the fall 2020 semester and will run through 2023. Registration for the fall semester is open until Aug. 20. To apply for Fresh Start, eligible students can call 773-COLLEGE or visit ccc.edu/freshstart.
Contact Matt Masterson: @ByMattMasterson | [email protected] | (773) 509-5431
---