The Mississippi River has always inspired the creative flow of artistic people. The Chicago Department of Cultural Affairs and Special Events recently sponsored a musician who found inspiration on the mighty river that runs 150 miles west of the city.
He uses a timeless instrument to make timely music.
TRANSCRIPT
Michael Miles: The banjo came to America on slave ships.
And the banjo has this peppered history unfortunately used in minstrel shows that were racist, but as an instrument, as a drum-based string instrument used all over the world, there's all kinds of other possibilities, and I'm interested in those.
Marc Vitali: Whether it's Johann Sebastian Bach on the banjo, or an original work with a Cuban-style rhythm, Michael Miles is Chicago's go-to banjo man.
His latest music is a suite of songs about the river that forms the western edge of Illinois. We met him along the north branch of the Chicago River.
Miles: Most Chicagoans' experience with the Mississippi River is, if you're driving west you go over it -- and keep going.
I had two weeks on the Mississippi River. I was working with the Quad Cities cultural art center and on a Saturday morning they sent me to the prison, the East Moline Correctional Center, and I'd never been in a prison. I look at my schedule, oh my god: 9 o'clock Saturday morning go to the prison. And I get to the prison and I go into this room and there's about 250 guys and five of them are white guys.
Vitali: The experience inspired Miles to dive into the mystery and history of the Mississippi River and its racial undercurrents.
His words and music reunited him with a frequent collaborator.
Zahra Glenda Baker, singer, storyteller: I feel I'm interpreting it through my body, through my experiences as well, even though it's Michael's words.
It's much like theater where you take a script and you make it your own.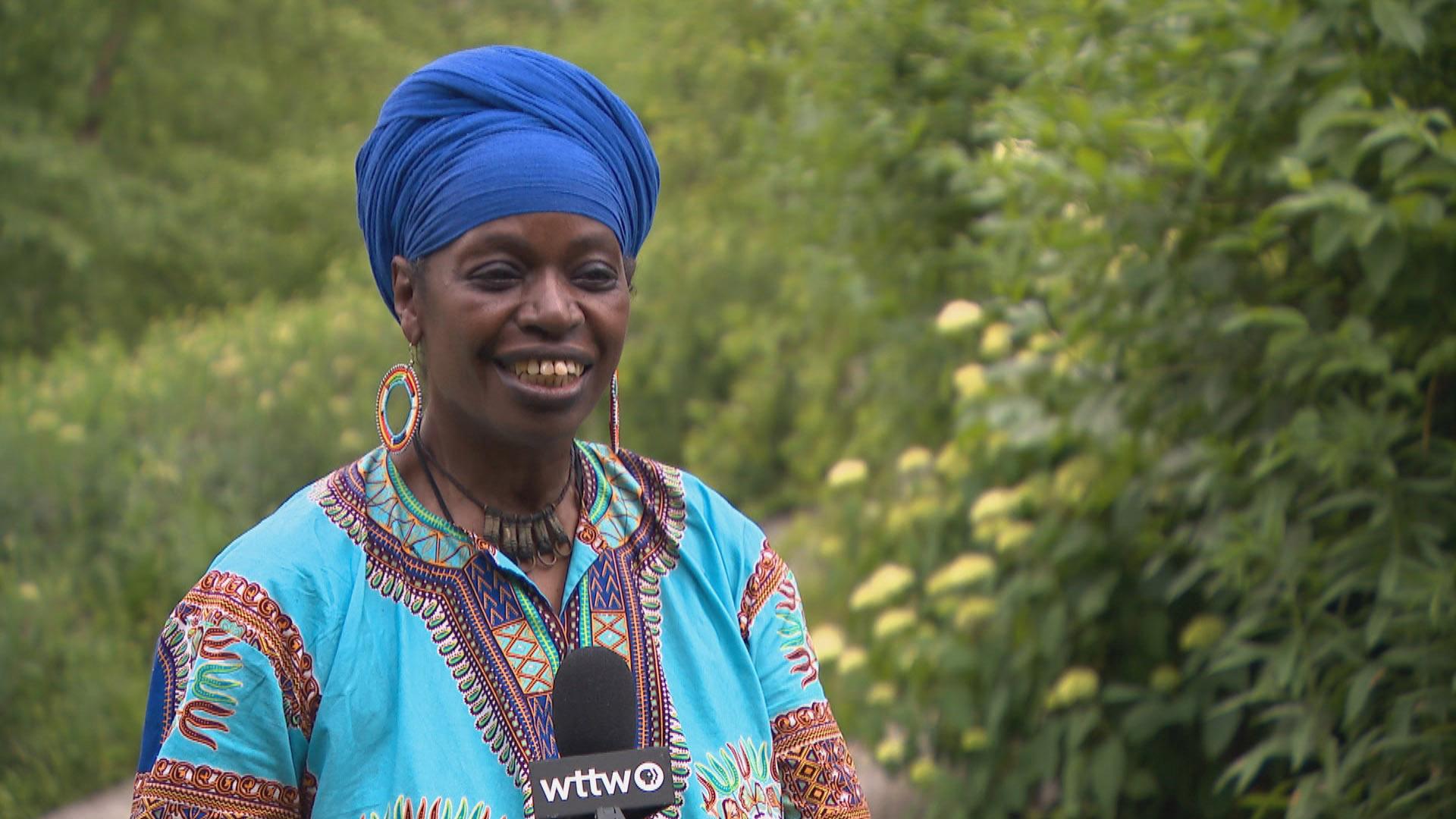 Zahra Glenda Baker (WTTW News)
I am originally from Louisiana. When I went to church and they started singing the songs – those songs were the same songs that my grandmother sang – and something in me activated, and I started singing this "Little Light of Mine" louder than the choir.
Vitali: The pandemic gave the composer a lot of time.
Miles: I had lots and lots of work that was canceled, like everybody else, but I'm perfectly happy to practice all day. Things are going to get better, and I'm hopeful for that.
Baker: Music is the soul of our survival.
There's power in our words, in our intentions, and in our communal gatherings.
---
More on this story
Michael Miles, Zahra Glenda Baker and friends will perform "The Mississippi River Suite" in a livestream concert on Friday, July 10 at the Old Town School of Folk Music.
Video: Michael Miles performs his composition "Guaracha."
Follow Marc Vitali on Twitter: @MarcVitaliArts
---