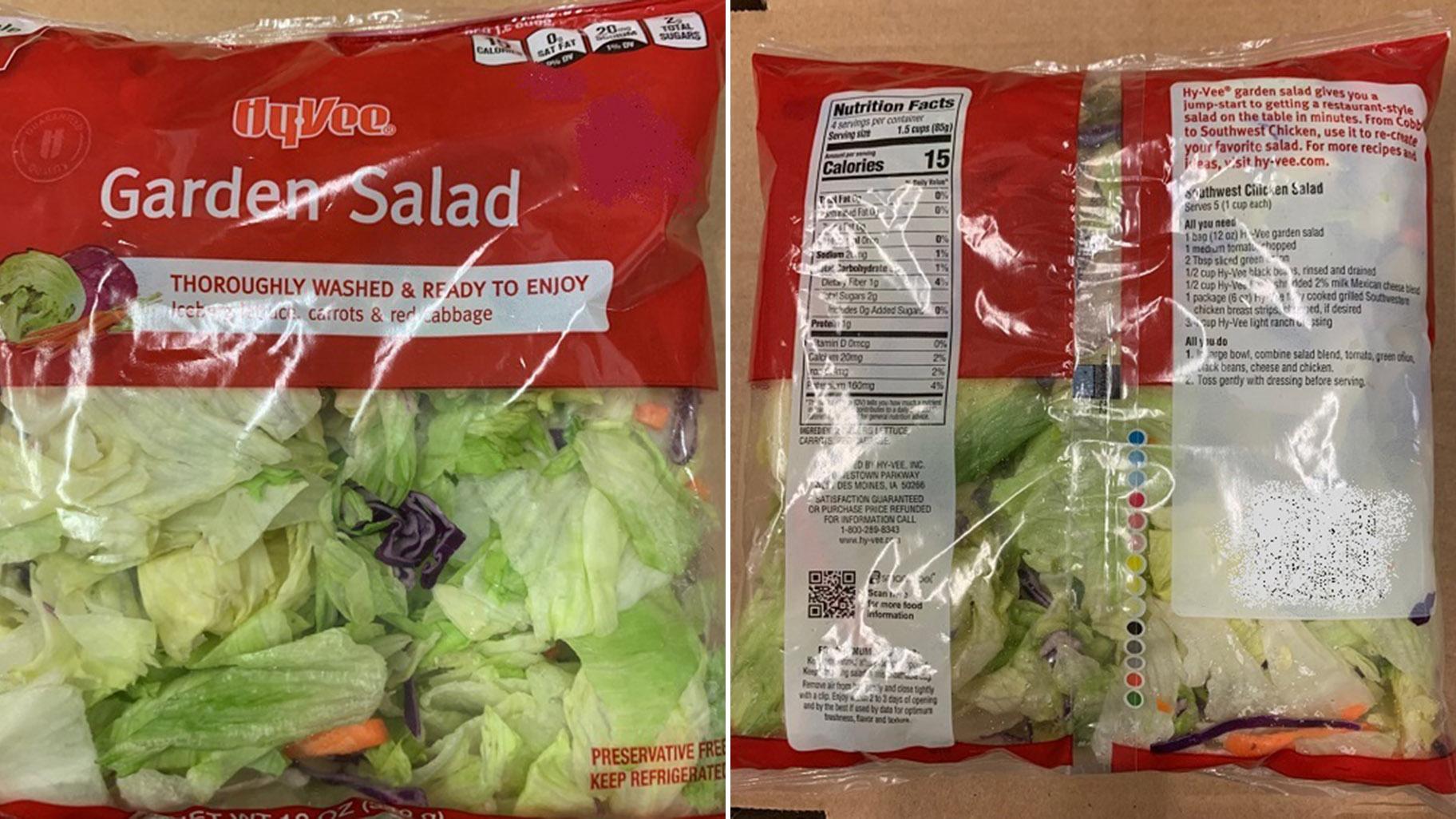 Packaged garden salads from various grocery stores, including Hy-Vee, have been linked with an outbreak of an intestinal illness. (Courtesy FDA.gov)
An outbreak of an intestinal illness linked to packaged salads has sickened 23 people across Illinois since mid-May, according to health officials.
On Saturday, the Illinois Department of Public Health announced the outbreak of cyclosporiasis, an intestinal illness caused by the microscopic cyclospora parasite, appears to be linked to a multistate outbreak.
An initial investigation indicates a link between the consumption of store brand packaged garden salads containing iceberg lettuce, red cabbage and carrots from Aldi, Hy-Vee and Jewel-Osco grocery stores.
According to health officials, consumers should not eat the following items and restaurants and retailers should not sell or serve them: all ALDI Little Salad Bar Brand Garden Salad sold in Iowa, Illinois, Minnesota, and Missouri; all Hy-Vee Brand Garden Salad sold in Iowa, Illinois, Kansas, Minnesota, Missouri and Nebraska; and Jewel-Osco Signature Farms Brand Garden Salad sold in Illinois.
The affected stores are cooperating with state health departments, the Centers for Disease Control and Prevention and the Food and Drug Administration, according to health officials.
"Although a link has been made to cyclospora in some Illinois cases, public health officials continue to investigate other sources," said IDPH Director Dr. Ngozi Ezike in a statement. "If you consumed store brand packaged garden salads since May and then developed watery diarrhea, please contact a health care provider about testing and treatment."
People can become infected by consuming food or water contaminated with feces that contains the parasite. Symptoms include watery diarrhea, loss of appetite and weight, nausea, fatigue and low-grade fever. People may also experience cramping, bloating and/or increased gas.
Cyclospora is not spread directly from one person to another and the infection can be treated with antibiotics. People who become sick with diarrhea should rest and drink lots of fluids and seek medical advice before taking medication to treat their diarrhea, according to CDC.
If left untreated, the illness could last several days to a month or longer. People who have been previously infected with the parasite can become infected again.
Previous cyclospora infections have been linked to various imported fresh produce, including raspberries, snow peas, basil and lettuce. Health officials recommend thoroughly washing produce before eating it and avoiding food and water that may be contaminated with stool to prevent infection.
Contact Kristen Thometz: @kristenthometz | (773) 509-5452 |  [email protected]
---