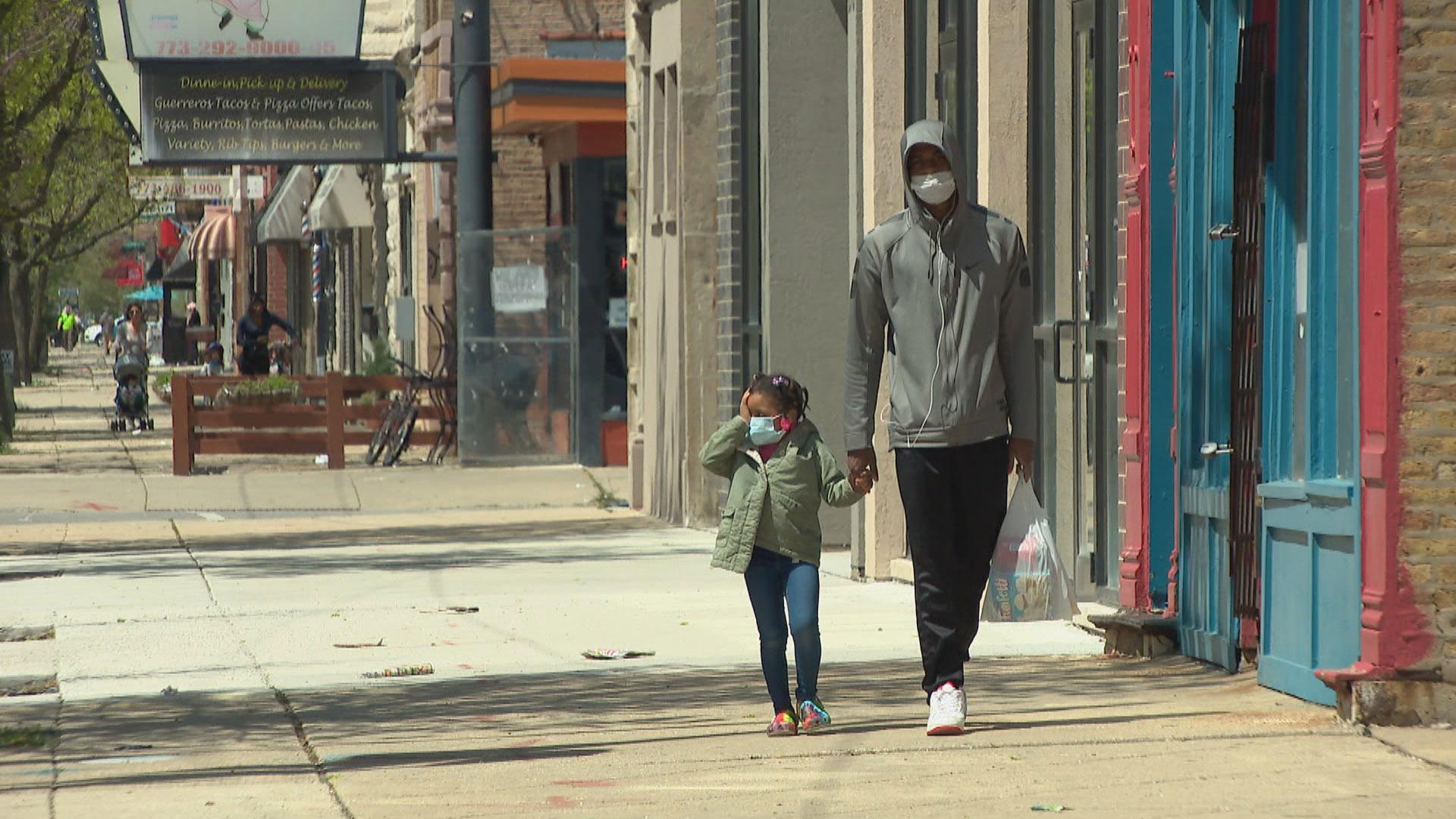 Pedestrians wear masks as they walk along the sidewalk in the Humboldt Park neighborhood on Thursday, May 7, 2020. (WTTW News)
As Illinois businesses and schools closed to slow the spread of the coronavirus, daily routines changed, with remote learning and telecommuting replacing in-person instruction and shared office spaces.
Will COVID-19 have a lasting impact on those behaviors and others — like long-distance travel? A new study by researchers at the University of Illinois at Chicago suggests it could.
"Old habits die hard, but the disruption is different from other shocks in that it may actually change habits," said study author Abolfazl "Kouros" Mohammadian, a professor and head of civil and materials engineering at UIC.
More than 900 Chicago-area residents responded to a survey from late April through early June about employment, spending, long-distance travel, working from home, grocery shopping and risk perceptions. Of those surveyed, around 1% reported they had a confirmed case of COVID-19 while 5% reported experiencing symptoms of COVID-19 over the course of a two-week period.
Not surprisingly, researchers saw a rise in telecommuting. Before the pandemic, 71% of respondents said they never worked from home and just 15% reported working from home five days a week. During the pandemic, telecommuting rose to 48%.
But all of those videoconferencing calls and makeshift home offices didn't lead to a drop in productivity, according to the survey. Of the self-reported new telecommuters, 59% said their productivity at home was the same or higher as it was at the office.
The biggest concerns people had about telecommuting were distractions and a lack of comfortable work spaces, which Mohammadian believes will impact people's future living arrangements. Previously, transportation and a person's commute time were big factors in living situations, says Mohammadian. "I think a new factor on residential location will be how suitable a location is to work from home," he said.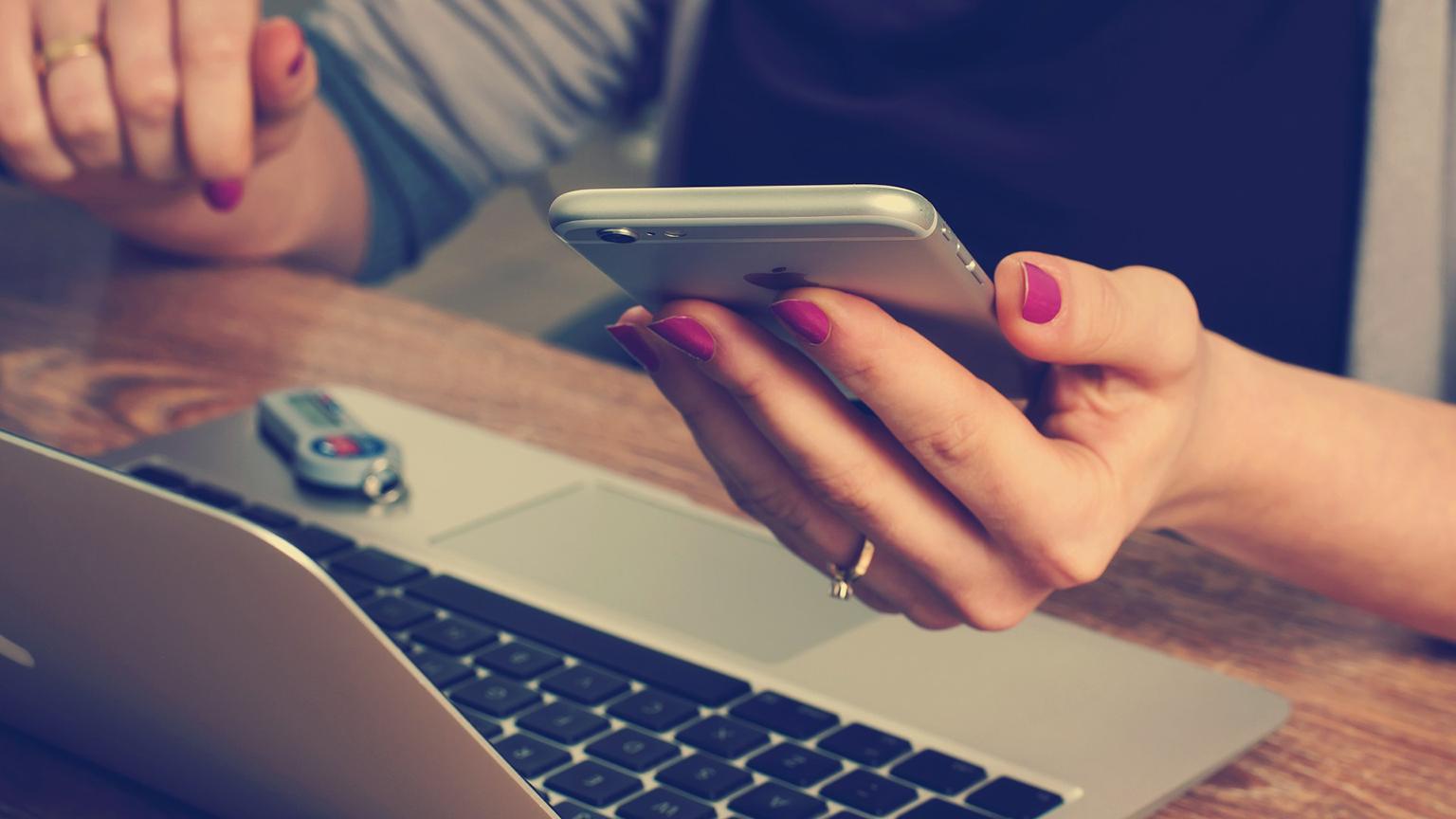 (FirmBee / Pixabay)
Mohammadian also foresees a shift in travel behavior, with people opting to travel long distance by car rather than plane. Of those surveyed, 43% said they expect to travel by airplane less frequently in the future, with the majority of respondents saying they don't feel safe or comfortable sharing space with others.
Getting passengers to feel safe on planes will be a difficult task, says Mohammadian. While air marshals and TSA screenings increased passenger security after 9/11, those measures might not prevent someone with COVID-19 being seated on a plane. "Changing people's perceptions about air travel is going to be a tough job," he said.
Public transit agencies, taxis and ride-hailing services face the same challenge, Mohammadian said. According to survey results, 93% of respondents viewed public transit, taxis and ride-hailing services as a potential risk for exposure to the coronavirus.
Those results surprised Mohammadian. "I never would've imagined 93% of people would associate (those modes of transportation) as being risky," he said, adding that respondents included a substantial number of low-income and minority residents who rely on public transit. "How public transit agencies in our region – CTA, Metra and PACE – can gain back the trust of commuters while providing adequate services … is going to be a really challenging task."
Personal cars, bikes and walking were viewed as the safest modes of transportation, according to the survey results. "Even taking a taxi privately or an Uber X, people felt were a little risky," said Mohammadian. "That's a little shocking."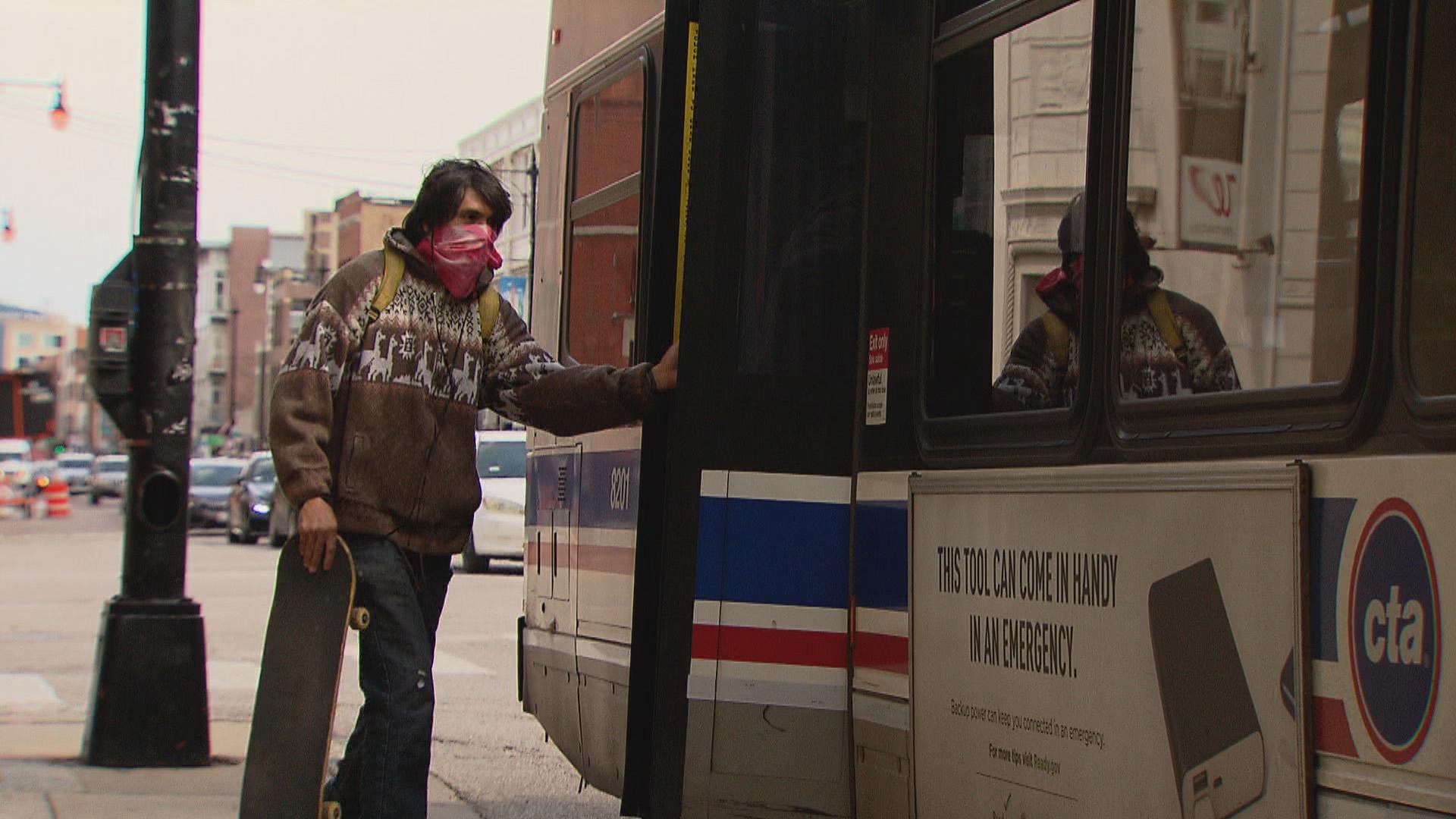 A passenger boards a CTA bus from the rear doors on Thursday, April 9, 2020. (WTTW News)
The survey also found a "considerably concerning gap" between the unemployment rates among full-time and part-time workers. Around 14% of full-time workers were laid off temporarily, compared to 35% of part-time workers. While only 5% of full-time workers permanently lost their jobs, 17% of part-time workers permanently lost theirs.
People who worked in restaurants, food services, bars, arts, entertainment and recreation industries were the most affected, according to the study.
Survey results also revealed that 44% of people who live in low-income households, defined in the study as those with an annual household income of less than $30,000, lost at least one source of income during the pandemic. By comparison, only 11% of households with an annual income of more than $150,000 lost a source of income.
Researchers also found people were spending more money on groceries and food and less on other items, especially those with lower incomes. People with household incomes of less than $30,000 were on average spending 37% more on groceries, according to the survey results.
"The cost of groceries has gone up for all of us," Mohammadian said, adding people have been prioritizing safety and accessibility over price. With more expensive stores adopting more safety measures, low-income people may have to switch to more expensive stores to minimize the risk of catching the virus, he added.
"They didn't have any money to spend on anything but food and groceries before (the pandemic)," he said. "Now they're paying 37% more for groceries and 10% more for prepared food. This is too much."
Researchers also noted a rise in shopping online for groceries, a practice roughly two-thirds of respondents said they never did before the pandemic, according to the survey. Around 74% said they planned to use online grocery shopping more in the first few months after the pandemic, with around 59% saying they would shop online more frequently after the pandemic ends.
People were also asked about the perceived risk of visiting certain locations and participating in various activities during the pandemic. Indoor activities were considered to be riskier than outdoor activities, according to survey results.
Around 91% of people said hospitals and gyms/fitness centers were among the riskiest places to visit during the pandemic. In-store shopping and restaurants were second and third, respectively, with 86% and 83% categorizing them as risky.  
As people venture out of their homes more, Mohammadian believes their risk perceptions will change, which is why researchers intend to follow up with participants in three months.
"People might be more resistant immediately after reopening to go out and do shopping in person," he said. "It's going to take some time for people to adjust to the new normal."
UIC researchers are also launching a national survey in partnership with Arizona State University. They received a $170,000 grant from the National Science Foundation to survey more than 5,000 U.S. residents.
Contact Kristen Thometz: @kristenthometz | (773) 509-5452 |  [email protected]
---