(WTTW News)
As the number of COVID-19 cases decline at the Cook County Jail, Sheriff Tom Dart announced Monday he would resume allowing in-person family visits for detainees for the first time in months.
"We have worked hard to find alternative methods to allow families to stay in touch with detainees, but nothing can replace seeing loved ones face-to-face, and that only adds to the already significant stress experienced by the families of those incarcerated," Dart said in a statement Monday.
"We believe this is not only beneficial for those in our custody, but also our staff, since it reduces anxiety among detainees."
According to the Sheriff's Office, visits officially resumed Friday, as detainees were allowed to see family or friends in one of 10 visitation areas set up outside in the yard of the jail's Division 1.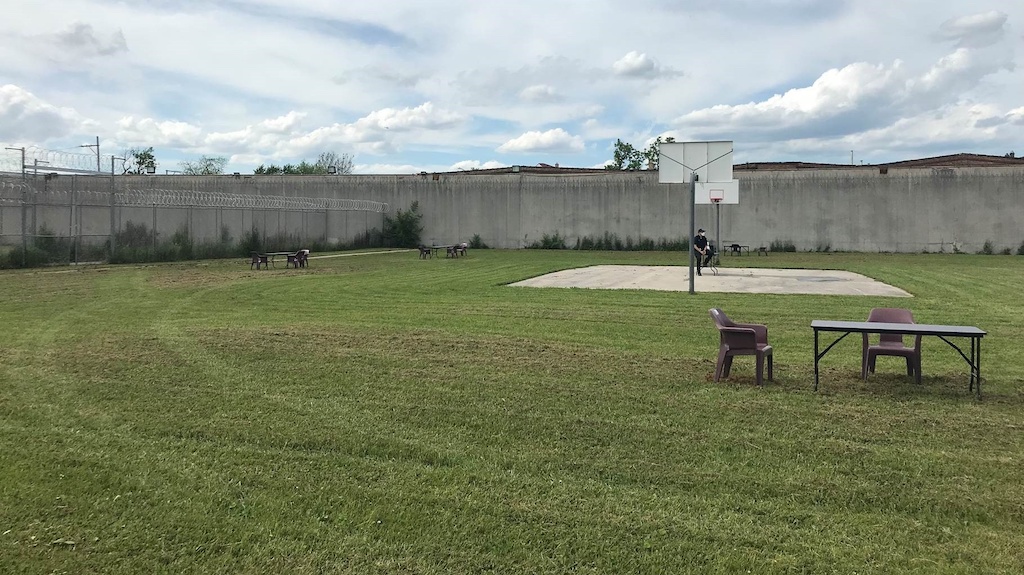 Cook County Jail detainees will again be allowed to see friends and family in one of 10 outdoor visitation areas. (Cook County Sheriff's Office)
Those areas are approximately 10 feet from each other. Visitors and detainees must also remain at least 6 feet apart from one another and no physical contact is allowed.
Any visitor must be screened for COVID-19 and have their temperature taken before they're allowed to enter the jail, according to the Sheriff's Office. Once there, they are given hand sanitizer and a mask, which must be worn during the visit.
Visitation hours will run seven days per week, weather permitting, from 9 a.m. to 8 p.m. Staff believe they can facilitate approximately 100 visits each day.
While attorneys were still able to go into the jail and visit clients, in-person visits with family and friends had been off limits since March 15 in an effort to stem the spread of COVID-19.
The reason these visits are now allowed to resume, the Sheriff's Office said, was because the number of coronavirus cases in the jail has dropped "precipitously" over the past two months.
As of Sunday evening, there were 36 detainees who currently have COVID-19, and 511 others who had tested positive for the disease but have since recovered. The Sheriff's Office also noted that 40 of the 48 cases identified in the jail between May 8 and June 7 came from newly arriving detainees.
"We are extremely proud of the work we have done to contain the spread of the virus," Dart said, "and believe that we can once again safely invite family members to visit detainees in person."
Contact Matt Masterson: @ByMattMasterson | [email protected] | (773) 509-5431
---